If you're reading this, you're probably sick of being entrenched in that check-to-check cycle.
Maybe you're aware that there aren't really that many fulfilling jobs anymore. You've looked to the path of entrepreneurship, but perhaps you don't have a ton of capital to quit your job and invest in growing your business from the ground up. You don't want to sell a product for someone else, or have to deal with a manager breathing down your neck because their boss is breathing down theirs.
It's a story I know all to well myself and the story of Mustafa Al-azam aka "Moose" of Moose Gang Trading. Trying everything from hustling real estate, to car sales, binary options, seeing people lose it all in the stock market, Moose had his intentions set on finding that freedom horse to hitch his wagon to. The drive, the work ethic was always there; now all that was needed was a platform to execute upon. That's when Moose discovered Forex, and his life was forever changed.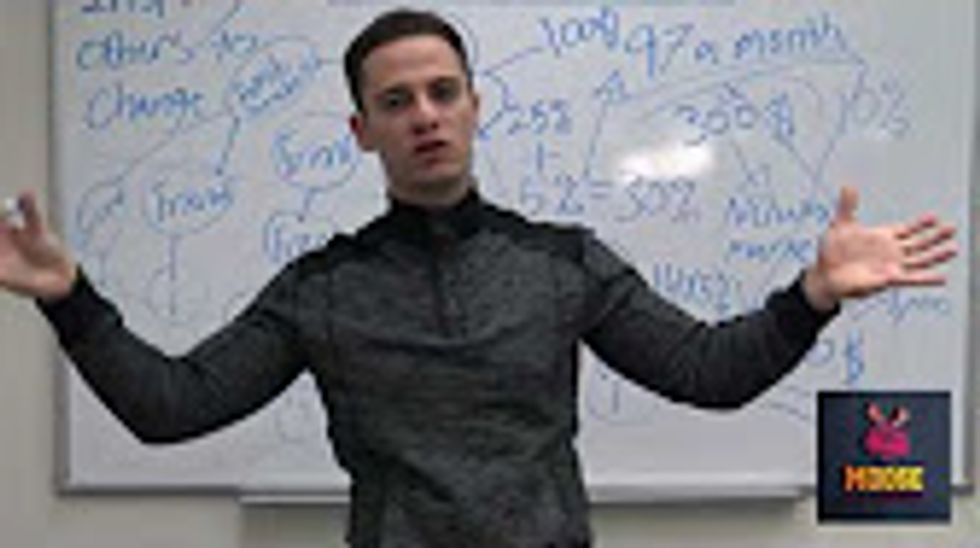 At this point Moose, in a few short years, has turned 10K into over 200K via trading, and has built an awesome mentorship program that is now guiding others on the same success path.
But what exactly is Forex? Can anybody do it? I'll spare you the hassle of the Google search, I asked Moose and he gave a pretty concise breakdown.
Forex is short for Foreign Exchange Market. This is fast paced market, one of the most volatile markets out there. This market has seen an exponential growth in traders being able to trade these markets, as it used to be only allowed/permitted to be traded by the hedge funds, major financial institutions, central banks, and extremely wealthy people. So the average Joe like you and I couldn't trade these amazing markets until recently. With the expanding of the internet age, online brokers were born and they give us the opportunity to trade this extremely lucrative market with a click of a button with super lighting speed to allow us to do all our required tasks with ease. This market allows you to exchange currencies for 24 hours a day 5 ½ days a week! This gives us the time to produce good returns without having to worry about the markets not being opened or closed like the Stock Market.
Forex is the largest market in the world with an estimated $5.4 trillion in traded currencies a day. Now compared to the stock market, which only brings in around $20 billion a year; with that much in difference in traded market values you can see why the Forex market is favored by most investors and keeps rapidly growing. The Forex market is an over-the-counter market or an off-exchange market, which means it's not tied to a contract base or a stock exchange like New York.
With the advent of the Internet, the barrier of entry was shifted from sole wealthy folk with at lest $200K to start with to anyone with $100 and an online connection. Yes, that is correct, you can in fact enter into a 5 Trillion Dollar a Day industry with $100 and your cell phone. Most broker sites even offer demo versions so that you can get a feel for the flow of things before you dive in with your own cash.
But before you leave this article and dive in, let me take you back to the story of our good friend Moose. Aware that no skill or great fortune comes over night, I wanted to get more into Moose's mind and the real nuts and bolts as to how he built his fortune. I wanted to get a more in-depth look into the life of a trader. According to Moose, discipline is paramount. "Trading is 90% mindset, 10% trading". And this is very apparent in the group chat that is an integral part of Moose's mentoring system. There is a constant exchange of motivational material, and material dedicated to developing what is known as the "Trader's Mindset". You have to become a stone cold master of your emotions to truly ride the wave and not spend your days in constant panic mode. "Trade with confidence" is one of the central goals of
Moose Gang Trading
.
Even for Moose it was rough at first, and when we was starting he had a difficult time finding much mentorship, knowledge or guidance, but persistence would lead him to discover a method with which he could repeat with a success rate of about 87%. After our conversation, I would go on to do further research on what is known as "
The Elliot Wave Principle
" and was delighted by my findings. A huge fan of all things Fibonacci, golden ration, pi, and sacred geometry related, I was astounded when I saw that the once overlooked discovery of Ralph Nelson Elliot, could serve as a path to financial freedom for many, as well as many other practical applications. Elliot saw that human psychology - crowd psychology in particular - flowed in a mathematical, chartable wave between optimism and pessimism. Though it has faced some skepticism from skeptics, it has been used to foretell several market crashes and rises. In Moose's case, he used it to leverage his funds, and predict the markets to constantly double his money. Moose was determined to "Master the Wave".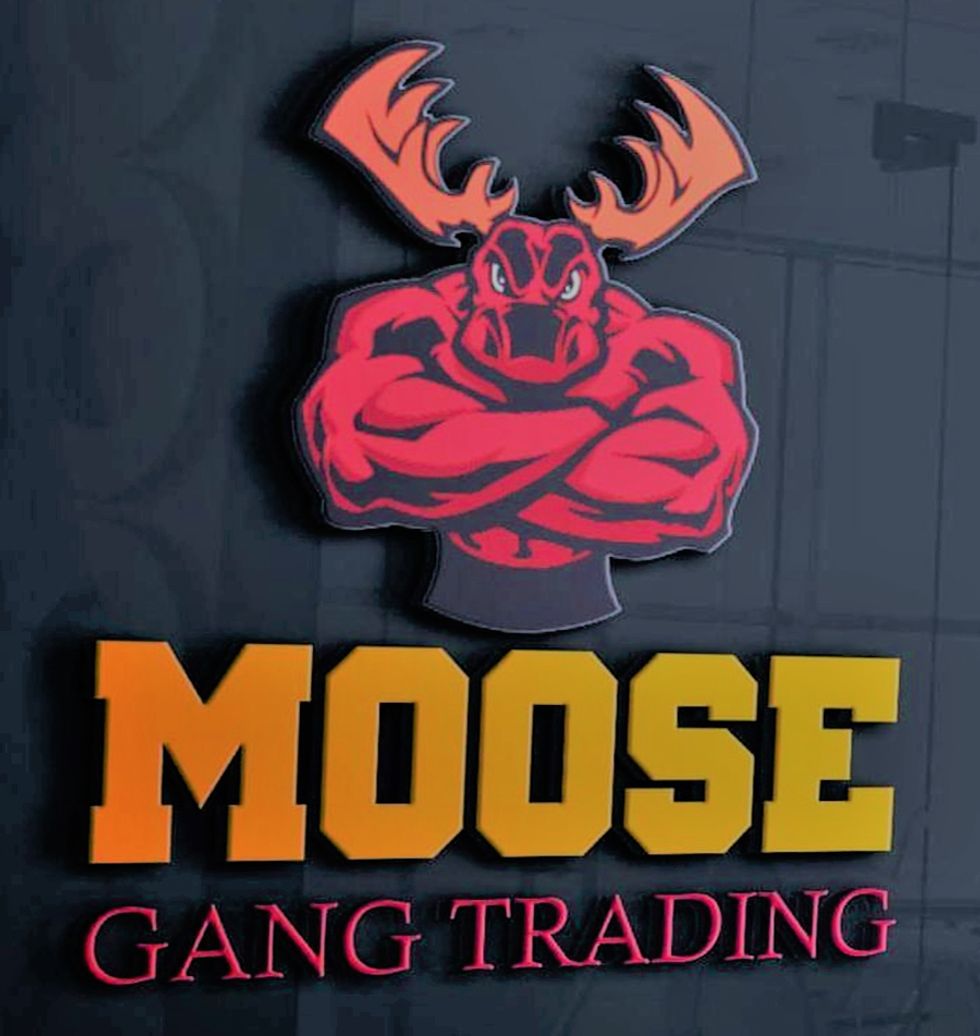 As his Mastery of the Wave filled his coin purse, friends in more conventional jobs began to inquire about Moose's fortunes and wanted to learn his new form of alchemic wizardry to build their own freedom. Unable to sit down with everyone and teach them one by one, but wanting to help, Moose Gang Trading was born. For a nominal fee, you receive daily winning trade signals, a full scale academy course on how to make money and master the wave for yourself, daily video updates, one on one mentorship, and access to the group chat, which is possibly the greatest asset of the membership. Everyone in the group shares common goals of improving quality of life, attaining financial freedom, and operating to their fullest potential. Moose says one of his greatest goals is to be a mentor to "that 16 year old kid that's puzzling life, and looking for a better way".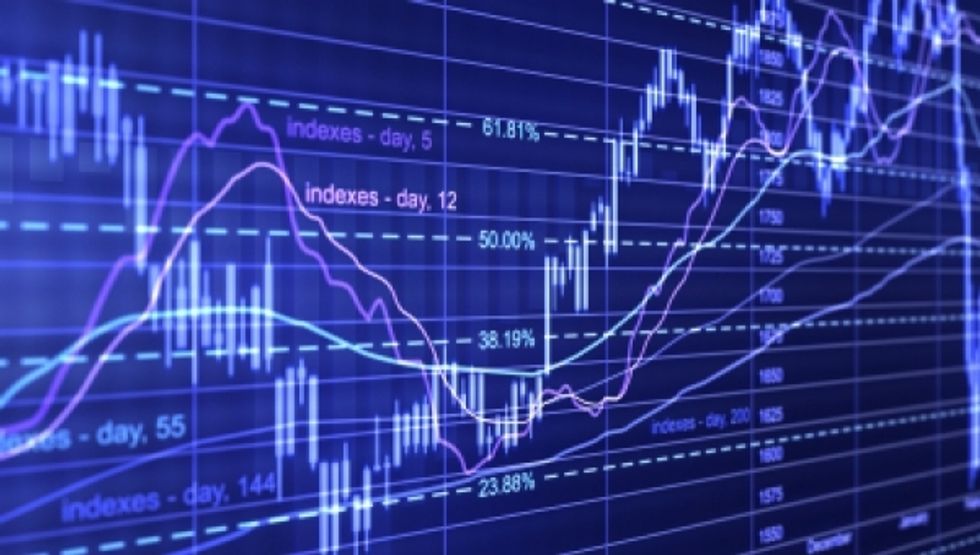 Devoting about 4 hours a day to analysis, and several more hours to reading and watching videos the promote mind state, has become a the basis Moose's daily lifestyle ensuring success in the craft. Lately he's also been super busy working to revamp the site and be able to provide even more value. While it does take some time and possible loss to learn and master the skill, this is something that you can do while leveraging funds even from your 9-5 job, and Moose's site even offers a referral program so that you can earn funds to open and bankroll your trading account. If you can take the time to learn and master the skill it can prove to be invaluable and provide a limitless supply of income (I actually feel like the guy from Limitless when I trade).
Related Articles Around the Web
via Tiffany & Co.
When the new Tiffany's campaign was unveiled, reactions were mixed.

Tiffany's, the iconic jewelry brand which does not (despite what some might be misled to believe) in fact serve breakfast, featured Jay Z, Beyoncé, and a rare Basquiat painting in their recent campaign.
The aesthetics were undeniably luxe and historic. The campaign showcased the rarely-seen Basquiat painting Equals Pi (1982), which the brand acquired for the background's proximity to its distinctive Tiffany blue. Also notably historic is that Beyoncé was the first Black woman to wear the 128.54 carat Tiffany Diamond.

Before Beyoncé, the only other stars to wear the yellow diamond were Mary Whitehouse, wife of American diplomat Edwin Sheldon Whitehouse, Hollywood icon Audrey Hepburn, and singer Lady Gaga.
"Beyoncé and Jay-Z are the epitome of the modern love story …. Love is the diamond that the jewelry and art decorate," said the press release accompanying the campaign.
The campaign, titled "About Love," is stunning and has both classic and contemporary references. The image of the couple posing in front of high art recalled the iconic stills from their "APESHIT" music video, for which they famously rented out the Louvre and posed in front of the Mona Lisa.
THE CARTERS - APESHIT (Official Video) www.youtube.com
Their "APESHIT" photo made a giant cultural impact for its juxtaposition of Western beauty and Blackness. Tiffany's campaign seemed to have similar goals — showcasing Beyoncé and Jay Z as the peak of luxury, this time juxtaposing the Basquiat and the Tiffany diamond.

As a Black couple, their appearance in such a luxury campaign was a big move for representation, but in a post 2020 landscape, there was an outcry of criticism.
Despite the aesthetic beauty of the image, the high capitalist undertones didn't sit right with some on the internet — largely younger demographics. Though this campaign was an effort by Tiffany's to appeal to younger audiences and make the brand feel more relevant, Twitter's verdict was clear: a blood diamond wasn't the way to go.
The diamond, which was mined in South Africa in 1877, comes from origins laden in the implications of colonialism. The practice of mining in South Africa at the time was exploitative and destructive, eschewing the livelihoods and safety of African miners and their communities for... what? Money? So Tiffany could try to sell us some dream of affluence using Black celebrities as to "Blackwash" the history behind their treasured piece?
The Washington Post also had some choice words, saying: "Its campaign does not celebrate Black liberation — it elevates a painful symbol of colonialism. It presents an ostentatious display of wealth as a sign of progress in an age when Black Americans possess just 4 percent of the United States's total household wealth. If Black success is defined by being paid to wear White people's large colonial diamonds, then we are truly still in the sunken place."
Alongside the campaign, Tiffany & Co have promised to donate $2 million to HBCUs to fund scholarships and internships. But this measly amount (considering the multi-billion dollar net worth behind LVMH) is not enough to cover up that, despite their performative efforts to promote "diversity," Tiffany's is entrenched in a colonial history that neither beauty nor Beyonce can make us ignore.
While Black representation has been increasing over the past few years, the question of how we are represented is starting to be considered with more nuance. And as we examine the structures of wealth and hierarchical values, many people are starting to ask whether these should be the standards we aspire to anymore.
Jay Z and Beyoncé have come under fire before for their promotion of Black Capitalist values — which the kids don't seem to want. Jay Z especially seems invested in the trappings of traditional (read: white) success and wealth. His cannabis line recently unveiled a campaign based on the work Slim Aarons — which was famously focused on "attractive people doing attractive things in attractive places" — and its unashamed opulence raised some eyebrows.
Images like this aren't as revolutionary as they once might have been since they reinforce the status quo and tell marginalized people to reach for the same luxuries and lifestyles deemed aspirational by the people who have oppressed them.
Anti-capitalist theory has been around as long as capitalism has, but younger generations are more likely to question the status quo — even when it comes packed with Basquiat and Beyoncé.
The conversation about the Tiffany campaign is indicative of how Gen Z thinks differently about money and what it means to them. They are less likely to be seduced by the luster of the aspirational, and more receptive to relatability.
This is why apps like Cleo have been on the rise. Cleo is a budgeting and personal finance app which makes money feel less inaccessible and makes engaging in personal finance relatable and easy.
No more does financial literacy seem restricted to the pretentious or the elite — we get it, finance bros; you love capitalism. With Cleo, understanding your money is something that can align users with their values.
And those values don't look like blood diamonds or corporate pandering.