Billionaire investor Warren Buffett is known for his business savvy, his money making prowess, and his investing wisdom. But there's one piece of advice he has echoed that he feels has too often fallen upon deaf ears. "Invest in Index Funds" is a staple piece of Buffett investment advice. As a matter of fact, he claims that the nations's elite have wasted an estimated "$100 billion" over the past 10 years by not heeding his advice. So what exactly are index funds? Should you be investing in them? Let us explore.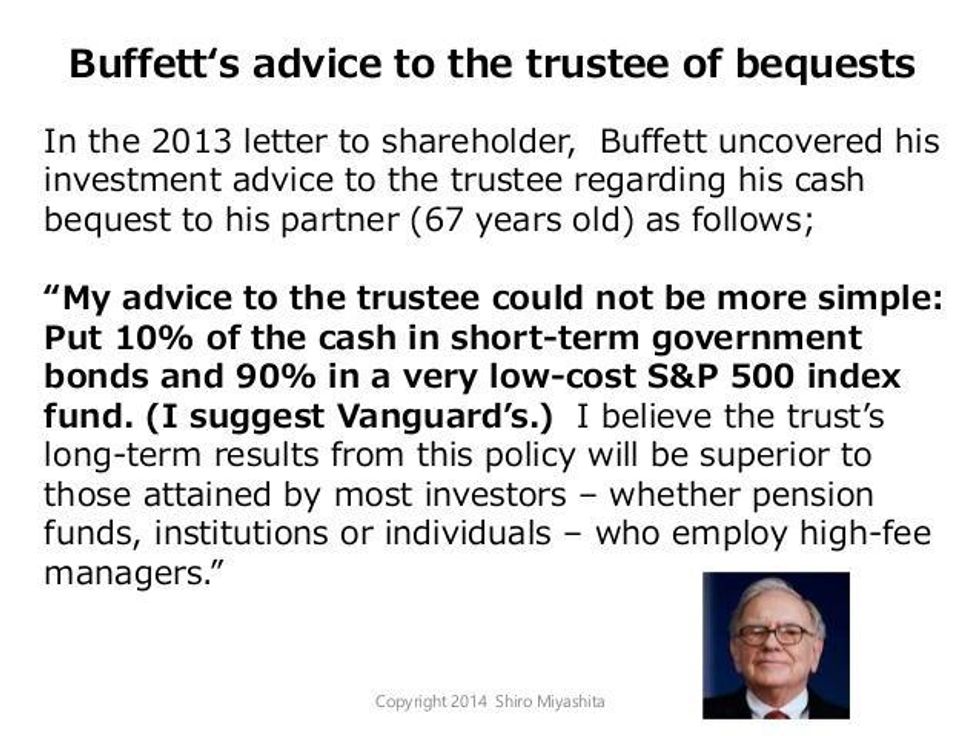 Back in 1974 Jack Bogle would found the Vanguard Group. Bogle, with the Vanguard Group would change investing forever with the Index Fund. A Princeton graduate, Bogle's senior thesis " The Economic Role of the Investment Company" laid the foundation for the creation of the index fund.
Started on December 31. 1975, Bogle's initial index fund was met with widespread ridicule and derision. It was even labeled as "un-American" and viewed as "Bogle's Folly". As of today the Vanguard 500 index Fund - which started with a meager $11 million investment - is worth over $310 billion, with a "B".
An index fund passively tracks a market index like the Nasdaq or S&P 500. This allows the average Joe to be able to invest in the market with way lower fees than your actively managed funds.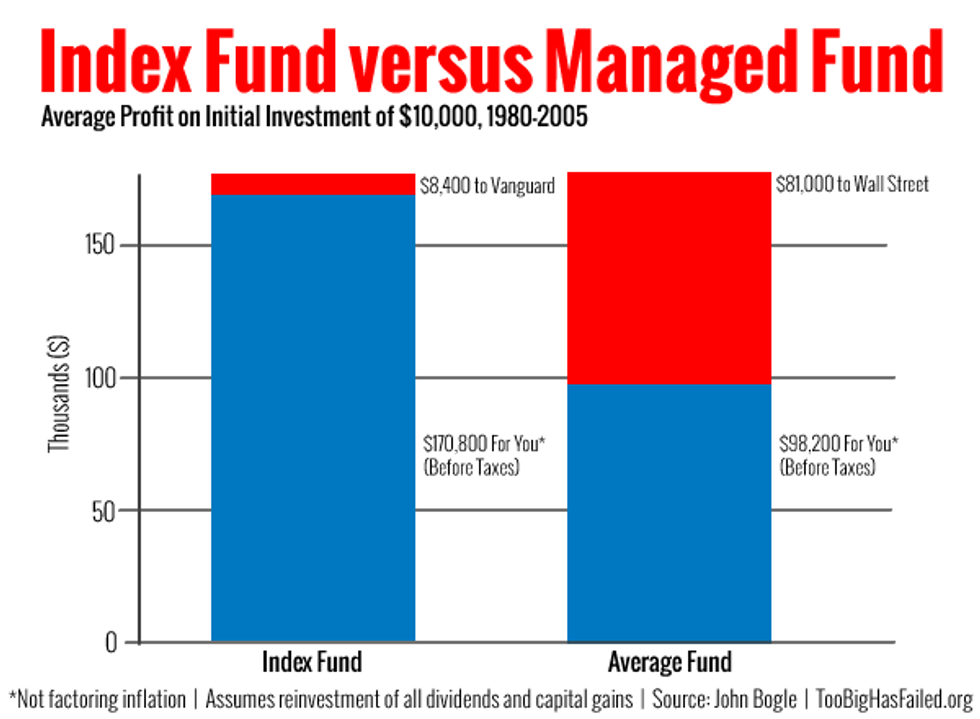 Bogle's research indicated, and his results proved that passively managed index funds yield greater returns than actively managed funds, especially when factoring in what at times can be exorbitant management fees. Nobel Prize winning economist Paul Samuelson stated that the index fund is in the same breadth as "the invention of the wheel, the alphabet, Gutenberg printing, and wine and cheese."
Index funds exist as mutual funds and ETFs and follow preset rules to maintain tax efficiency and low cost. Currently index funds make up for over 20% of all equity funds in the U.S.
Buffett jokes that the desire the mega wealthy have for exclusivity and having something better than the general population has actually cost them billions in the process. Meanwhile all of his friends of more modest means have seen exceptional results investing in passive index funds.
As always, do your due diligence, know your risk, and make sure your having fun. Get out there, get investing, and as always, may the force be with you.
Getty Images/Maria Stavreva
Whether you're leaving a job involuntarily, departing for something new, or just want to prepare for the unknown, it is smart to understand all your options regarding your 401k.
<h2>Leave It Where It Is</h2><p><a href="https://www.irs.gov/retirement-plans/401k-resource-guide" rel="noopener noreferrer" target="_blank">401k plans</a> differ based on the employer, but most will give you the option to leave your 401k where it is even when you don't work for them anymore.</p><p><div id="ezoic-pub-ad-placeholder-129" style="width: 100%;"> <!-- /10937338/Paypath/post-page-in-content-1 --> <div id="adslot" style="text-align: center;"><script>moreContentIC1()</script></div> </div> <!-- End Ezoic - In-Content 1- mid_content --></p><p>Depending on the 401k's money options, your money might be better off in the investments at your old job than moving it elsewhere. If you are happy with the investment options in the existing 401k, but not necessarily with your other options, it may be best to stay put. I personally did this with an ex-employer's 401k, because I was happy with the expense ratios and investments they offered. </p><p>Larger employers tend to offer 401k programs at lower fees. Compare any fees from your previous employer's 401k plan to whichever vehicles you are considering transferring to first. To do so, check the expense ratios of the mutual funds offered in both plans. </p><p><div id="ezoic-pub-ad-placeholder-131" style="width: 100%;"><!-- /10937338/Paypath/post-page-in-content-2 --> <div id="adslot" style="text-align: center;"><script>moreContentIC2()</script></div></div> <!-- End Ezoic - In-Content 2 - long_content --></p><p>Depending on how much money is in your 401k at the time you leave, it may not be a good idea to leave it and do nothing. Often, accounts with balances of $5,000 or less may be closed automatically. If this happens, the employer may end up sending you a lump sum check, or deposit the money into an IRA in your name. It's best to check with your employer first.</p><p>Know that you won't be able to make more contributions to the existing 401k once your employment ends. Withdrawal options are also limited. 401k benefits, such as retirement loans, are usually not allowed once you are no longer actively participating in the plan.</p><h2>Roll It into a 401k with Your New Employer</h2><p>Simplicity is the key to easy 401k management. The standard routine for 401ks when you switch jobs is to roll it into your new employer's retirement plan. </p><p><div id="ezoic-pub-ad-placeholder-133" style="width: 100%;"><!-- /10937338/Paypath/post-page-in-content-3 --> <div id="adslot" style="text-align: center;"><script>moreContentIC3()</script></div></div> <!-- End Ezoic - In-Content 3 - longer_content --></p><p>Having just one 401k to manage can be beneficial if you don't continuously dedicate time to review all your accounts. However, as we mentioned before, you should closely compare expenses and investment options before making that decision. </p><h2>Roll It into an Individual Retirement Account (IRA)</h2><p>You also have the option to roll over the funds from your 401k into an <a href="https://www.fidelity.com/building-savings/learn-about-iras/overview" rel="noopener noreferrer" target="_blank">IRA account</a> with a bank or brokerage firm, where your money will continue to grow tax-deferred.</p><p>One possible benefit of an IRA rollover is the plethora of investment options available to you. Many 401ks are limited to just a handful of mutual funds and bonds, whereas IRAs give you more choices. </p><p>Likewise, many 401ks limit the number of times in a year you can make investment changes (known as portfolio rebalancing). With IRA accounts, you're not limited to a select amount of times you can make such changes, giving you more freedom and flexibility with an IRA.</p><p>Many brokerages and banks are known for giving out incentives to new customers — and there's no shortage of handouts when it comes to opening a new IRA with them. You may be able to snag yourself a bonus while gaining more control over your retirement money. </p><p>As promising as IRA rollovers can be, it's not always going to be the best option for 401k funds. For example, let's say you've left a job for another and you're debating moving your previous 401k into an IRA or your new employer's plan. Always take into consideration employer matching contributions. Most employer's 401k programs will contribute a certain percentage or match what you put into the account. For example, let's say the program will match up to 6% of your contributions, and you contribute 6% of your salary that year which ends up being $3,000. With the employer matching contributions, you end up gaining another $3,000 for the year. If you choose the IRA, you could possibly miss out on a ton of money. </p><h2>Take the Money</h2><p>You always have the option to simply close out your 401k when you leave your job, but this is almost always a bad choice. </p><p>If you decide to take the cash when you aren't 59 ½ or older, then you will end up paying an <a href="https://www.irs.gov/newsroom/early-withdrawals-from-retirement-plans#:~:text=If%20a%20taxpayer%20took%20an,Nontaxable%20Withdrawals." rel="noopener noreferrer" target="_blank">excessive amount of taxes along with penalty fees</a> that are usually around 10%.</p><h2>Your Next Steps </h2><p>Once you have decided which rollover option to take, your first step is to set up the new account. When the account is opened, the new provider will provide you with instructions to transfer the money. Usually, this means you are in charge of contacting the former employer's plan administration and letting them know you need to make a direct rollover. </p>