Getty Images
If you're building a first aid kit, there are a couple of important things to take into consideration. Your comprehensive personal needs, the kit's placement, and situational supplies are all key. You want to make sure your gear is not only fully stocked with the things you need but that it's conveniently placed and easy to get to when you need it. Following these guidelines, you can make sure you're building the best protection possible.
Making A Kit Your Own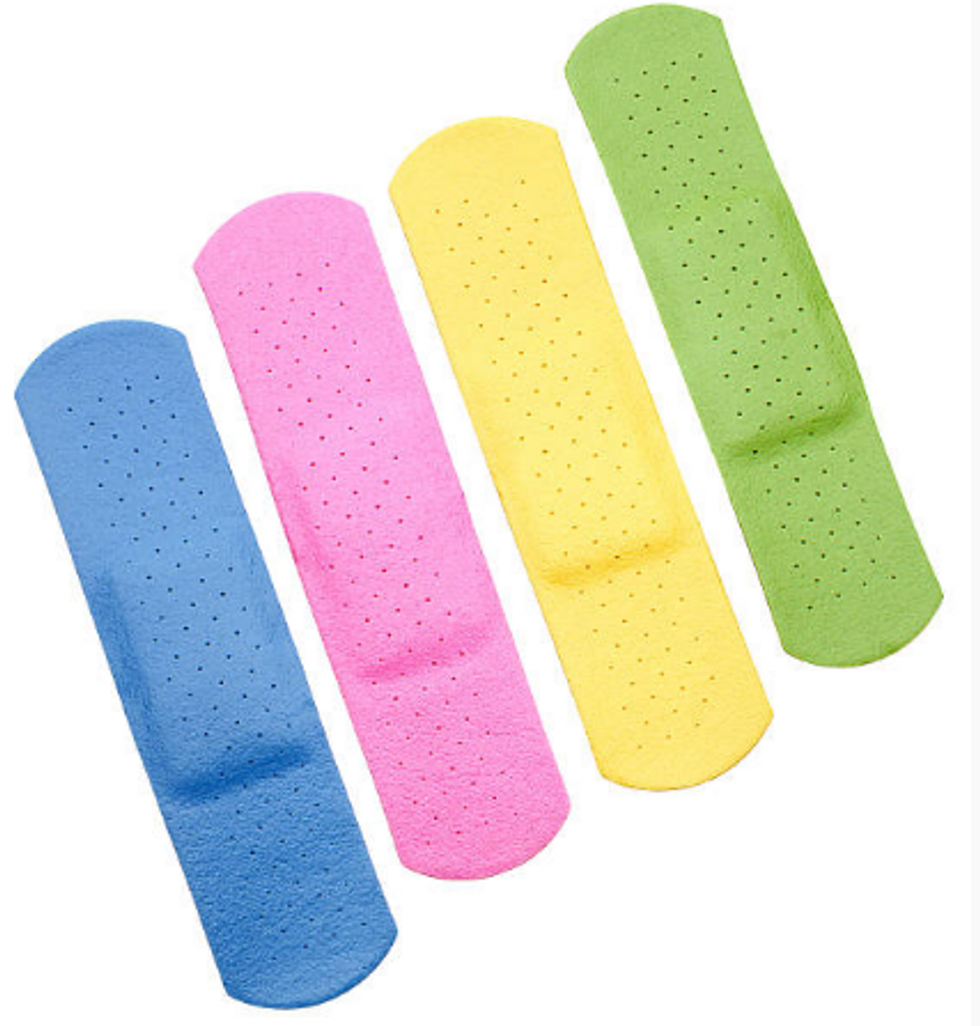 Cover wounds with a little color.Getty Images
It's easy to buy a basic first aid kit, and there are plenty of distributors from the Red Cross to Amazon to your local drugstore. These include things like bandages, antiseptic wipes, pain medication, etc. This a fantastic place to start, but if you're looking for a first aid kit that's more personalized, then you should start taking note of your specific needs. If you have medication that you need, whether it's for physical or mental health, then carry a backup of that medication. Be sure to check out the basics of other kits so you don't accidentally miss an important component when building your own.
Making It Fit Your Space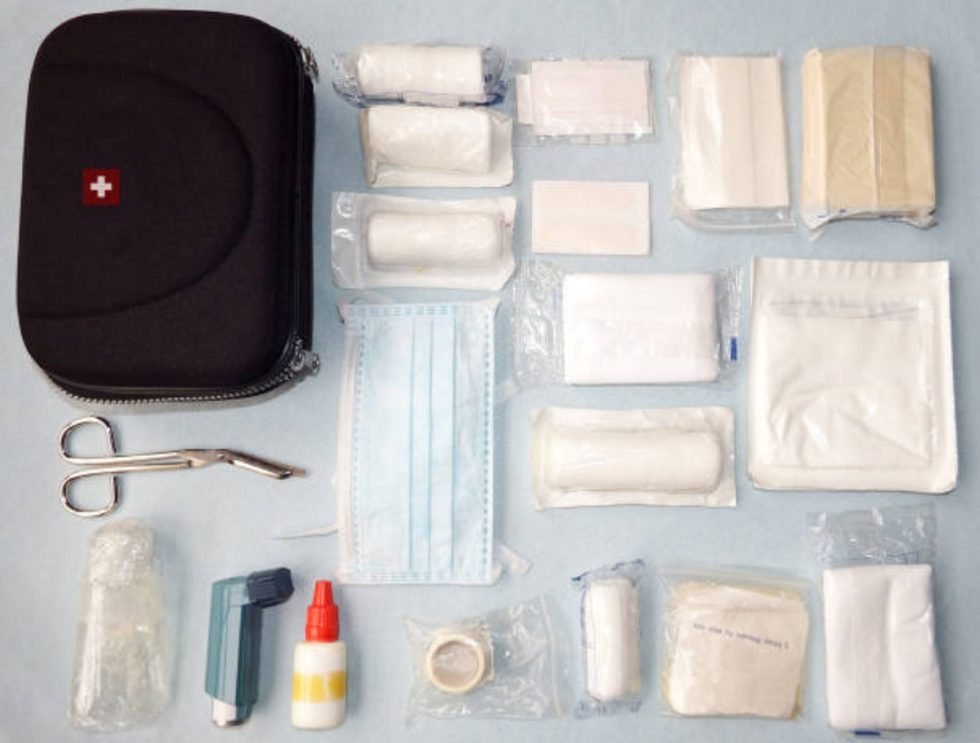 Buying supplies in bulk makes it easier to build multiple kits and keep them restocked.Getty Images
If you're building or buying a first aid kit, you should get more than one, as you never know when an emergency might occur. It's a great idea to design your larger office kit with disasters or emergencies in mind. It's also important to consider your environment and the type of supplies you'll need. If you're packing a kit and in an area prone to blizzards, pack some hand warmers for the cold. First aid is a key element of every earthquake preparedness kit. Simple changes like this can up the usefulness quotient of your personal first aid kit. Disaster kits are much larger and more comprehensive, but adding some disaster kit supplies into your regular first aid can be lifesaving.
Make Sure Its Office-Approved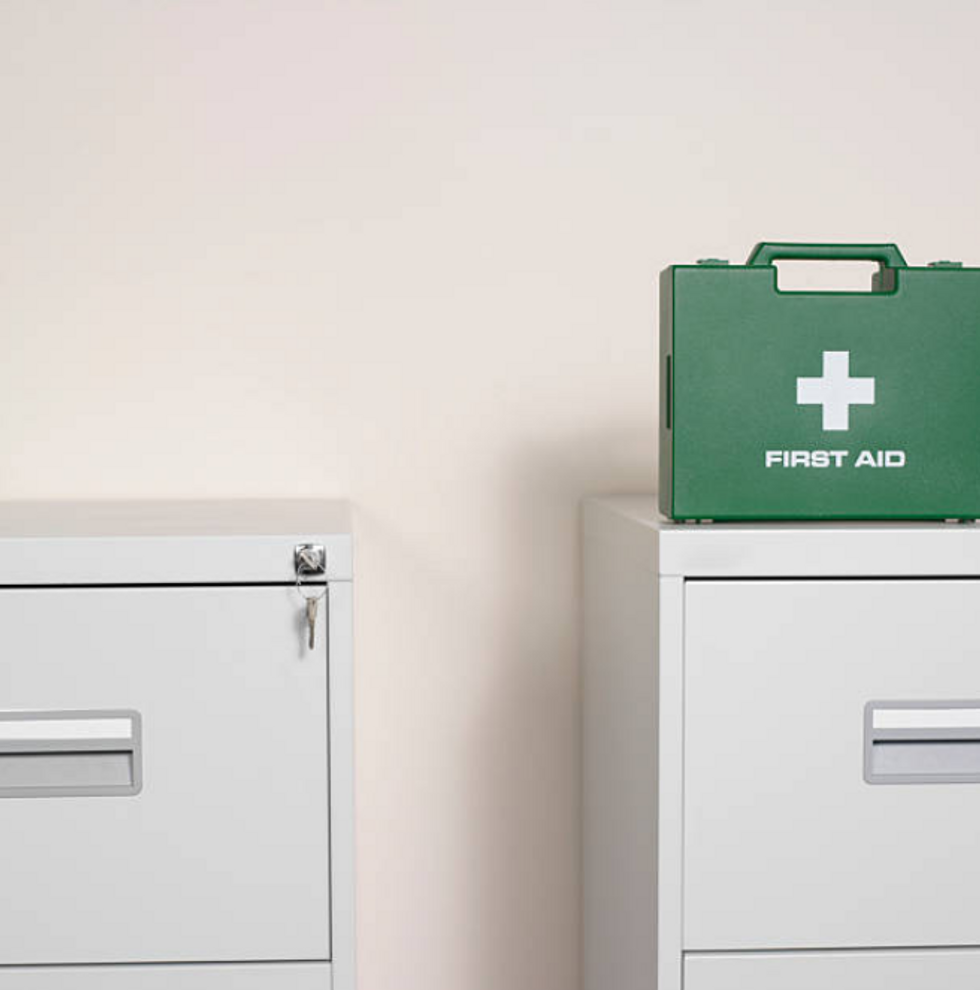 Keep your kit in a safe place where it won't get damaged.Getty Images
If you're making your official office first aid kit, then you need to check the OSHA regulations. If you go to the US Department of Labor's website they clearly list out the mandatory components of your workplace first aid kit. Every office is different, so make sure your kit is suited to your space. Think about where the safest location to keep it is, whether you need a waterproof container or something that can fit into a smaller space.
Making a kit can be easy and is definitely important. Just remember to keep an eye on it because kits are not meant to be forgotten about. Keep the medication and supplies up to date, replenish anything that gets used up, and keep your kit in a safe place away from fluctuating heat, cold, and moisture.
Be prepared and stay safe!
Via thewhitehousemarketplace.com
They say a messy desk is a sign of creativity (at least the messy people do) but wouldn't some organization be a breath of fresh air? Papers everywhere, not a pen in sight, and Post-Its floating around like a ticker tape parade may make it seem like you're working hard, but when your 2:00 meeting rolls in, your area looks more "pigsty" than professional. Get your items in order, clear your chaos, and you can still be as "creative" as before…just now you'll know where your staple remover is. Here are seven desk top items that add style, sophistication, and storage.
Gold 4 Cup Kiara Desk Organizer with Tray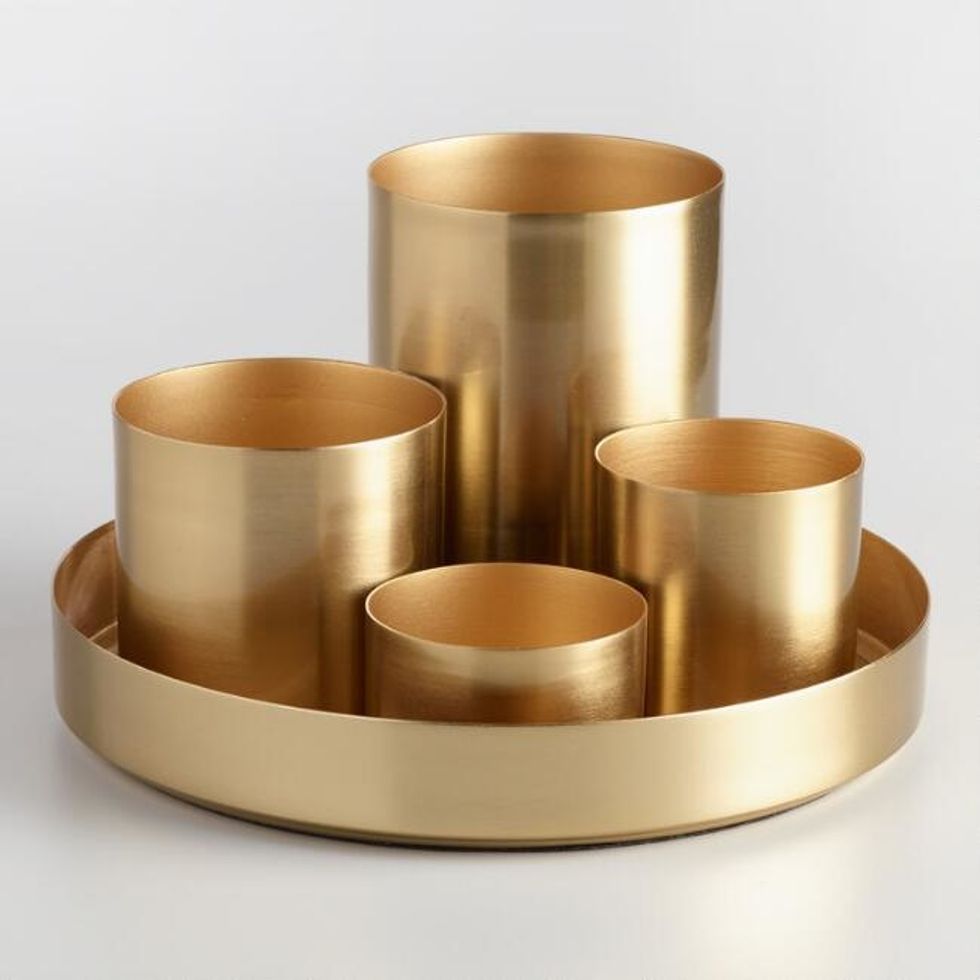 Gold 4 Cup Via worldmarket.com
Give your desk the royal treatment by keeping your odds and ends neatly stowed away in cups of gold. The Gold 4 Cup Kiara Desk Organizer with Tray adds a high-end touch to your workspace, keeping your things in order while serving up stylish appeal. The golden metal cups are attached to the tray, so everything stays in one area, leaving you plenty of desk space to work. Place your pens, paper clips, thumbtacks, and other items in the gold cups, giving way to a tidy space that shines.

Cost: $22.49 (on sale!)
PBteen Organize It System Homework Caddy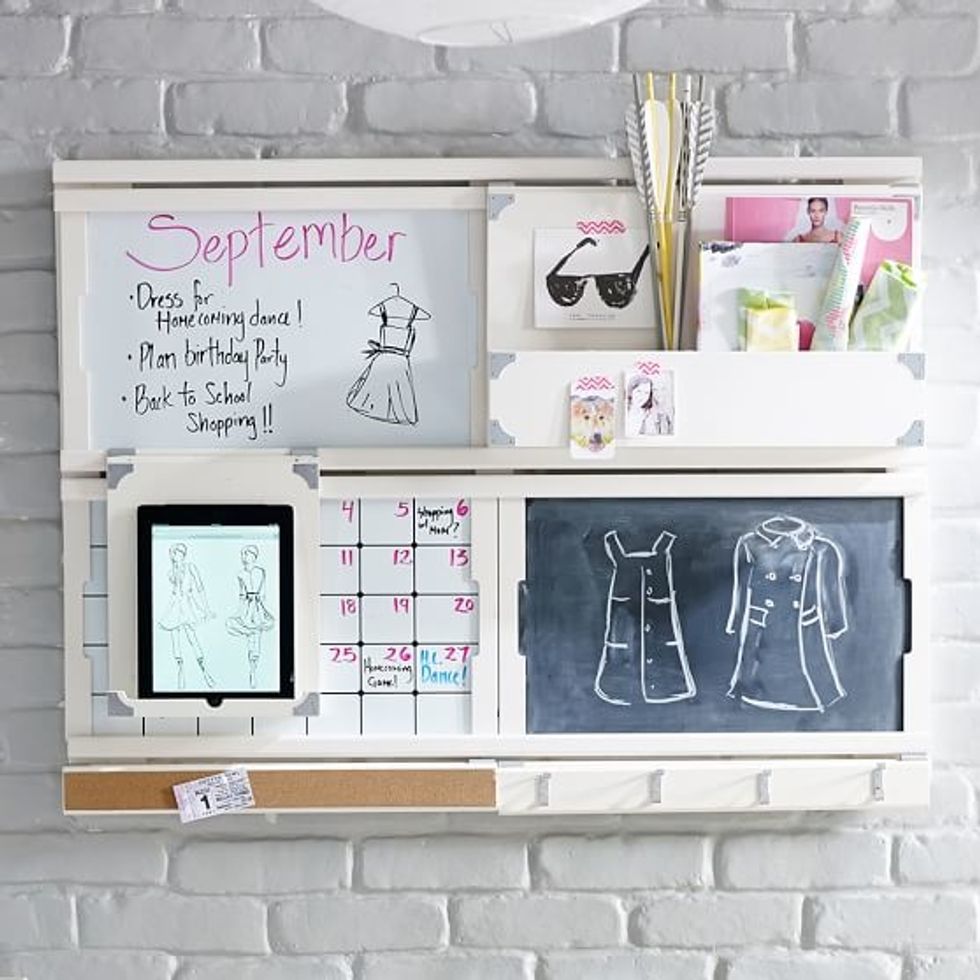 PBteen CaddyVia pbteen.com
While this caddy is catered towards tweens and teens, anyone can make use of this fashionable and functional setup, perfect for office or cubicle use. The PBteen Organize It System Homework Caddy is just as effective for workplace organization, with handy places to keep desk supplies, a calendar for marking appointments, and other areas for notes, reminders, and everyday to-dos. Hang on the wall for convenience and a clearer desk top, and transform your space into something more stylish.

Cost: $9.99 - $34.99 (various size options)
Mind Reader Axel Desk Organizer with Charging Station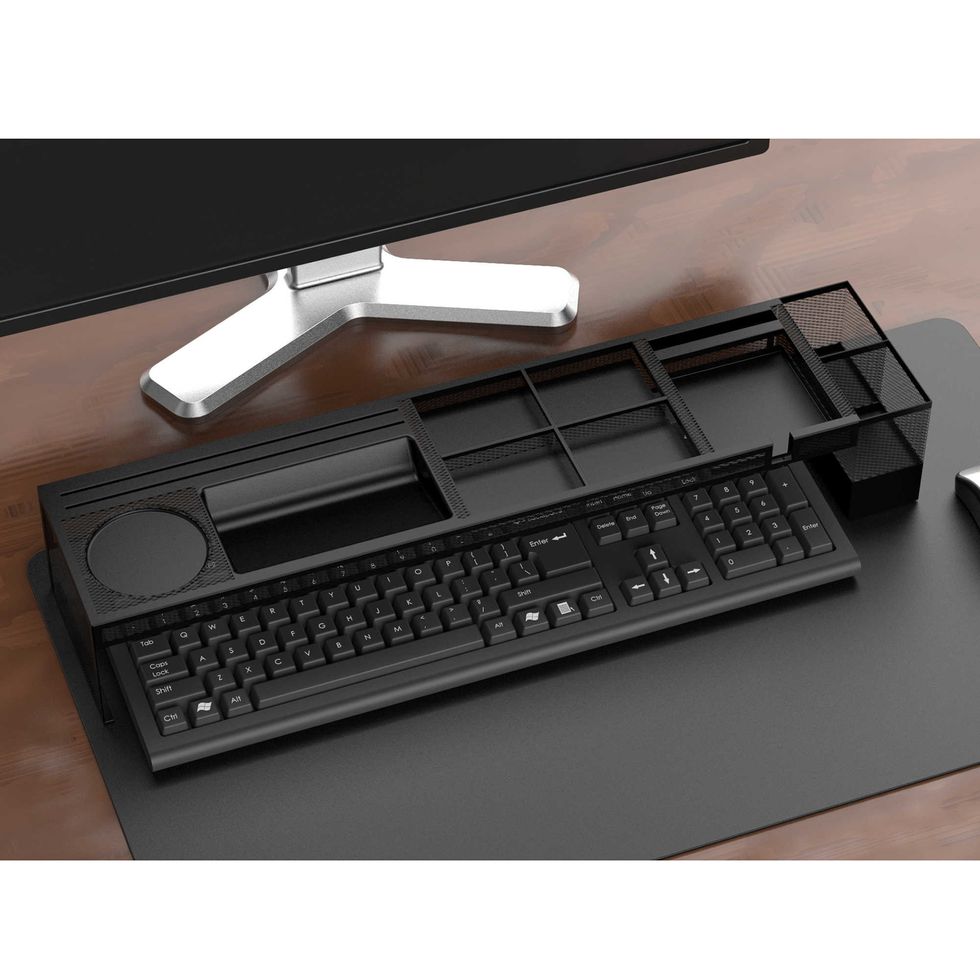 Mind Reader Via bedbathandbeyond.com
Keep your space sleek, "juice" up your tech gear, and even tuck your keyboard away with one snazzy on-desk organizer. The Mind Reader Axel Desk Organizer with Charging Station is super for maintaining an organized desk with all the bells and whistles you need for modern convenience. You can even place your coffee mug on top when you need a full desk for papers and projects. Charge your devices, confine your gear, and feel put together when everything has its place.

Cost: $19.99
Lipper 4-Tier Bamboo Desk Organizer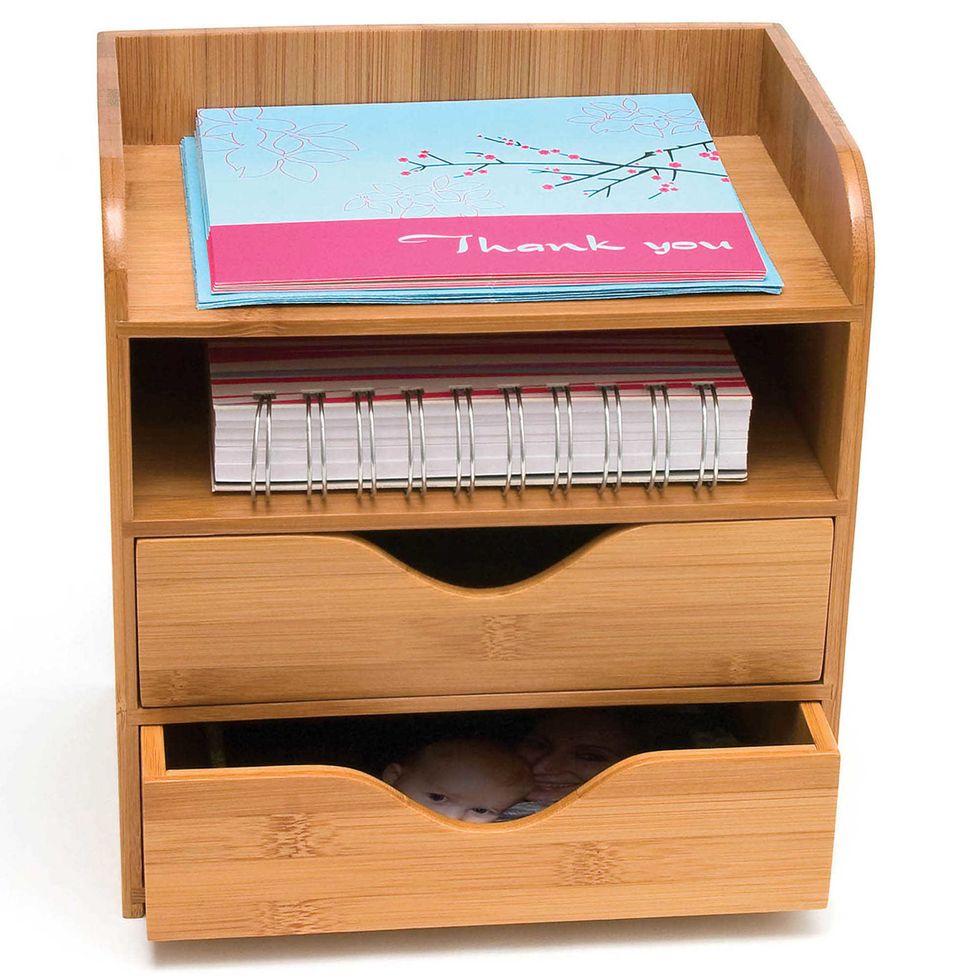 Lipper 4-TierVia bedbathandbeyond.com
Stow away your staples, spreadsheets, and everything in-between inside the Lipper 4-Tier Bamboo Desk Organizer. Use the top shelf for easy reach, the storage shelf for books or files, and the bottom drawers for items you want to keep out of site. The natural bamboo is neutral and classic, the design is simple and sturdy, and you'll feel much better about the state of your desk top when everything is orderly and organized.

Cost: $25.99
White House Marketplace Three Bin Desk Organizer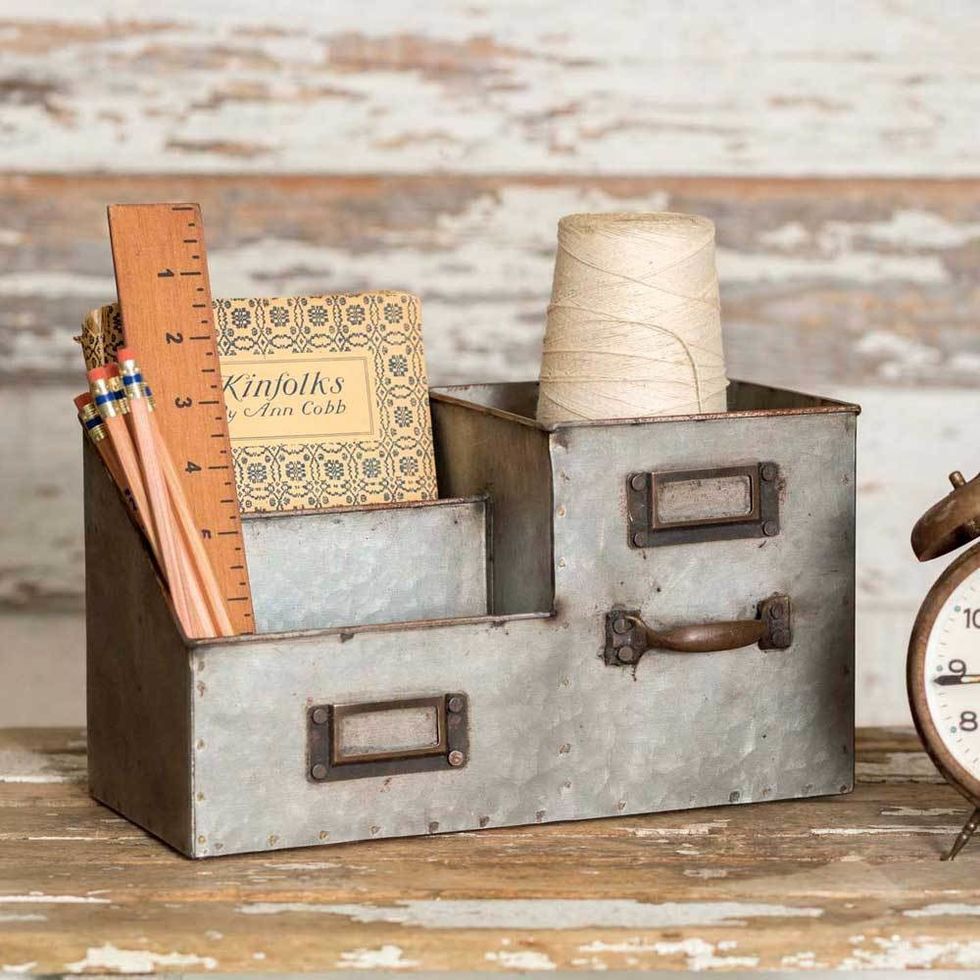 White House MarketplaceVia thewhitehousemarketplace.com
Rustic and reliable, the White House Marketplace Three Bin Desk Organizer is a "shabby chic" storage piece for a desk that's prone to become untidy. Various compartments of different sizes provide space for the usual desktops items that haven't had a "home" until now. The handle and fixtures add a nice touch when you want something eye-catching as well as organizational.

Cost: $24.49
Offex Supplies Organizer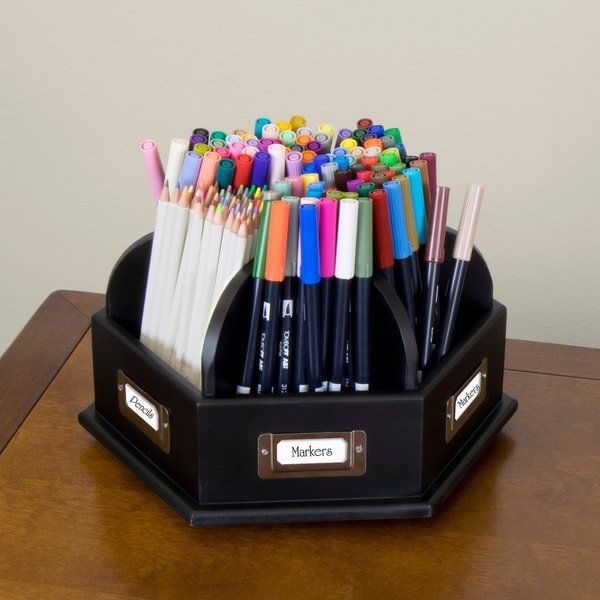 Offex Via overstock.com
Bold and beautiful with a carousel shape and lots of labeling, the Offex Supplies Organizer will turn your previously disheveled desk into a cleaner corner. This organizer rotates for convenience as you keep the essentials in order yet ready when you need something in a snap. Made of all wood and richly colored in deep brown, this supplies organizer will be the centerpiece of a much cleaner workspace.

Cost: $55.99
Tilt Desktop Storage Bin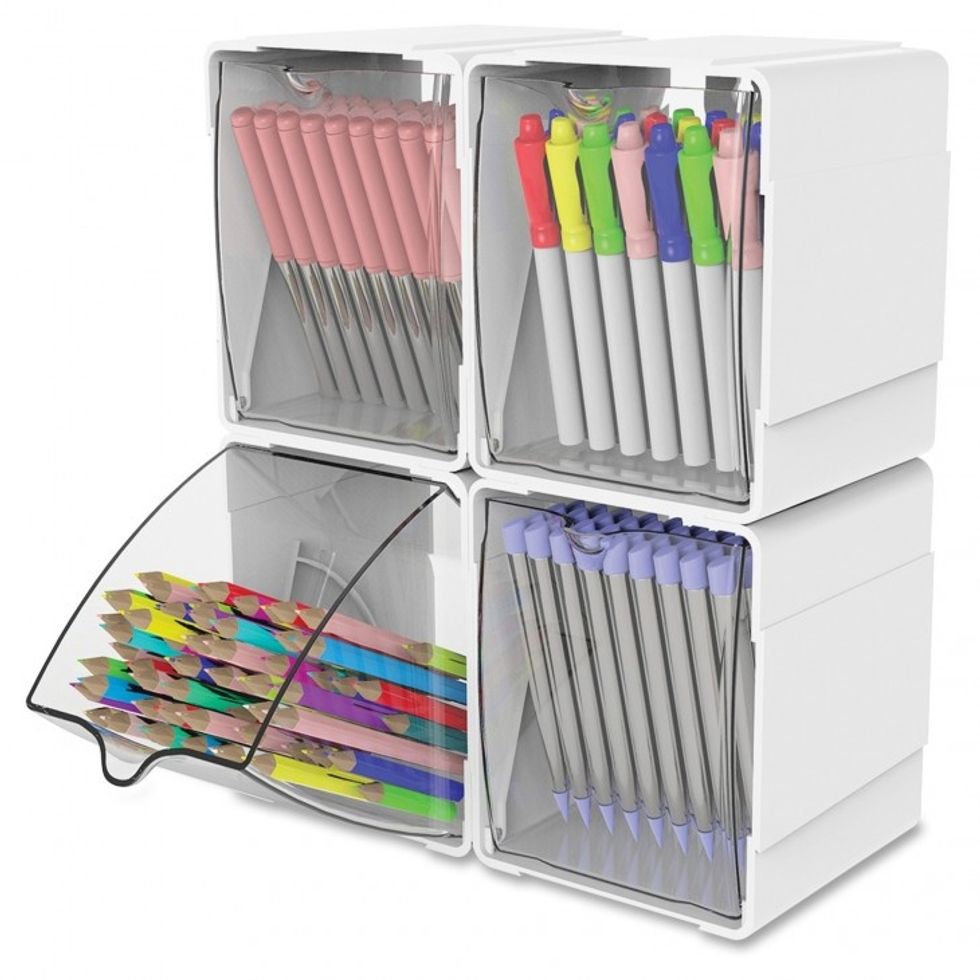 Tilt Storage BinVia ldproducts.com
Placed on your desktop or mounted to the wall, the Tilt Desktop Storage Bin is the perfect way to stock supplies nicely and neatly within reach. The clear bins let you peer inside so you know where everything is without rummaging through drawers like you used to do. Fill them up with pens, pencils, tape, note pads, you name it. All of your supplies will be stocked seamlessly.

Cost: $25.39
A clear desk = a clear mind. Get organized!
workingmother.com
Some people are born to engage a crowd – they're confident, cool, and collected, even while speaking publicly.
They can get right up there, deliver their spiel, and never seem to break a sweat. No fear, no frets, and no fumbles. If this doesn't sound a thing like you, you're likely lumped in with the rest of the folks who dread public speaking. It's nothing to be ashamed of, but it's also not your destiny. You can get over your fears and turn anxiety into accomplishment.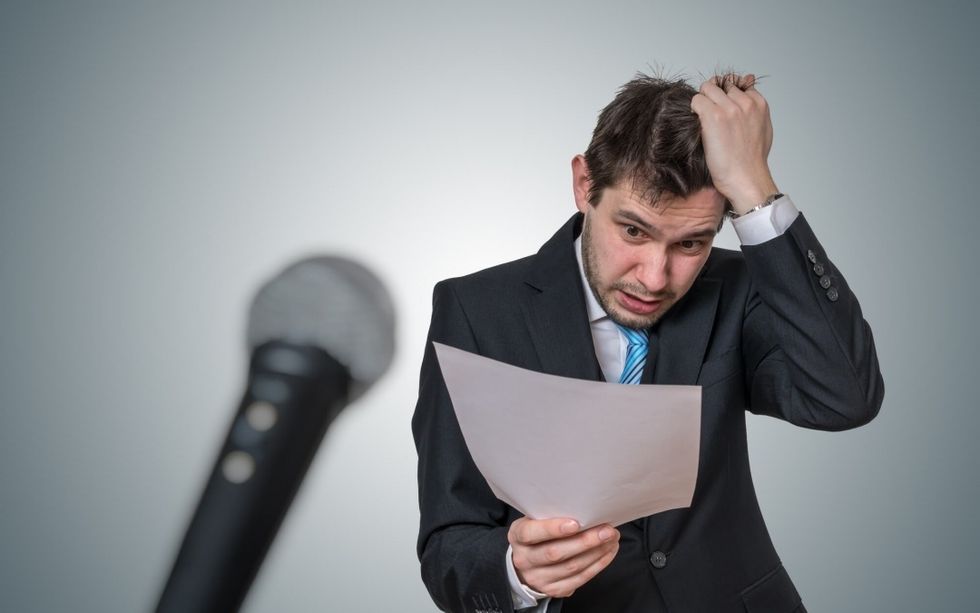 Face your fears josephcostello.ie
Prepare

If fear of public speaking already weighs on you, "winging it" will only make matters worse. No matter the topic, you must study up on the facts and figures, background, studies, etc. The more you research and learn, the better you'll be able to present the information. You need to know what you're talking about and that it's factual and informative.
As per Mayo Clinic, "The better you understand what you're talking about — and the more you care about the topic — the less likely you'll make a mistake or get off track. And if you do get lost, you'll be able to recover quickly. Take some time to consider what questions the audience may ask and have your responses ready."
Rehearse
Just like a stage actor rehearses his lines before opening night, you should practice your presentation before your "performance." Harvard Business Review suggests, "Enlist your friends to help you rehearse your speech. They can help review your material, ask you tough follow-up questions, or act like an indifferent audience."
The Balance adds, "Rehearse several times before the big talk. Time your presentation and always have back up material in case time is left over."
Practice may not make perfect, but you'll be closer to it.
Envision Success
When you're a ball of nerves, it can be difficult to see the light at the end of the tunnel. But with a sunny outlook, you can effectively will your way into doing a job you're proud of. Mayo Clinic explains, "Positive thoughts can help decrease some of your negativity about your social performance and relieve some anxiety."
Huffington Post notes, "By being able to paint a concrete picture of what success looks like to you, it becomes less abstract and more obtainable to you." So, think about yourself standing up there, well-prepared, well-received, and realizing it wasn't so bad after all.
Breathe
Fear and worry can cause anything from sweaty pits to something closer to a panic attack. You need to concentrate on your breathing to calm yourself down and gain clarity and focus. The Balance recommends, "using deep belly breathing to reduce stress and build confidence."
CNBC expands, "Deep breathing before and during your presentation or pitch calms your nerves and adds power and strength to your voice. Deep breathing also keeps your voice centered and prevents dangerous uptalk, which undermines your credibility and confidence. (Allison Shapira, founder, and CEO of Global Public Speaking)."
Be Yourself
Authenticity and ease of yourself will go a long way. You want to connect with your audience, and how better to do that than by being you? Too much memorization and rigidity will cause you to come off as more of a robot than the real thing. Be conversational and friendly. Nobody is waiting/hoping for you to mess up, they just want to be engaged and enlightened.
CNBC advises, "Telling personal, true stories are the best way to impart information and inspire others. (Gary Schmidt, Past International President of Toastmasters International, a nonprofit organization that helps members improve their public speaking skills)."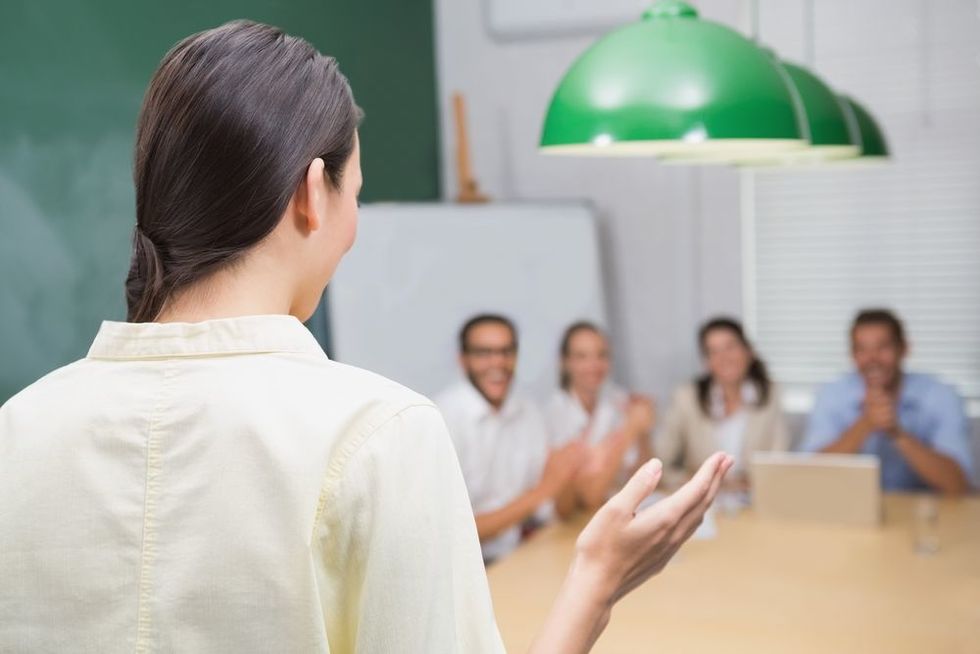 You can do this!workingmother.com
Forget the fear and find your place front and center.
Feng Shui is about manipulating how energy flows through your space. By manipulating this energy you can reinvent your space. Using Feng Shui in the office is all about organizing in a way that makes you feel energized, focused, productive, and powerful. Without making big changes you can retake control. So use these Feng Shui steps to harness your offices' chi for your success.
Step 1: Declutter Your Desk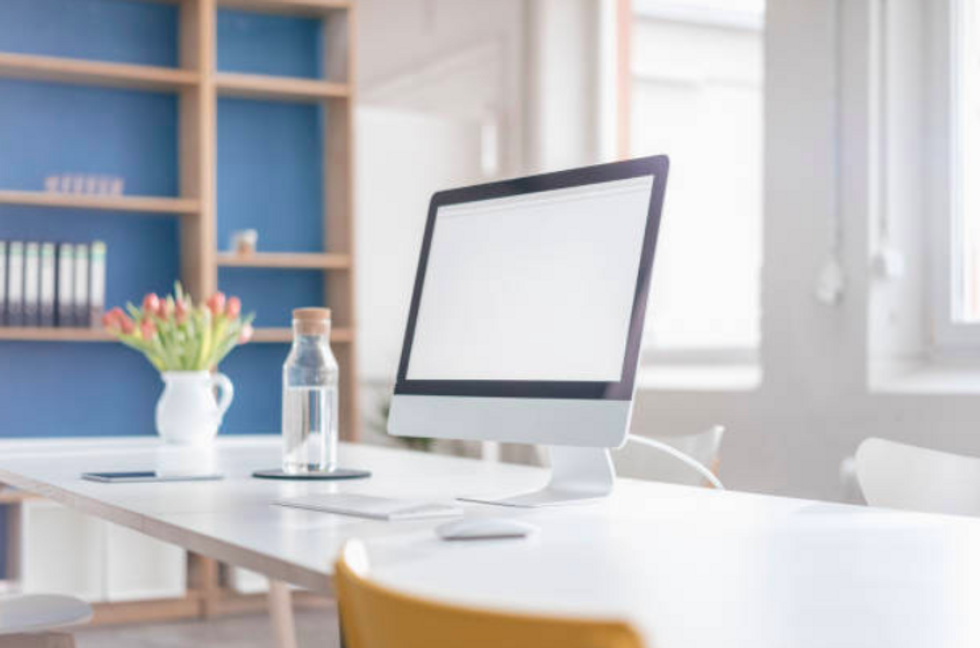 getty images
The first thing you need to do for any Feng Shui is to declutter. If you want to manipulate your space's energy you can't have anything blocking or clogging it up. There's a mentality that if you have everything on the surface you'll find it easier but it really distracts you and slows you down. Cluttered desk = cluttered mind so take everything off the surface and organize it out of your sightline.
Step 2: Find Your Power Position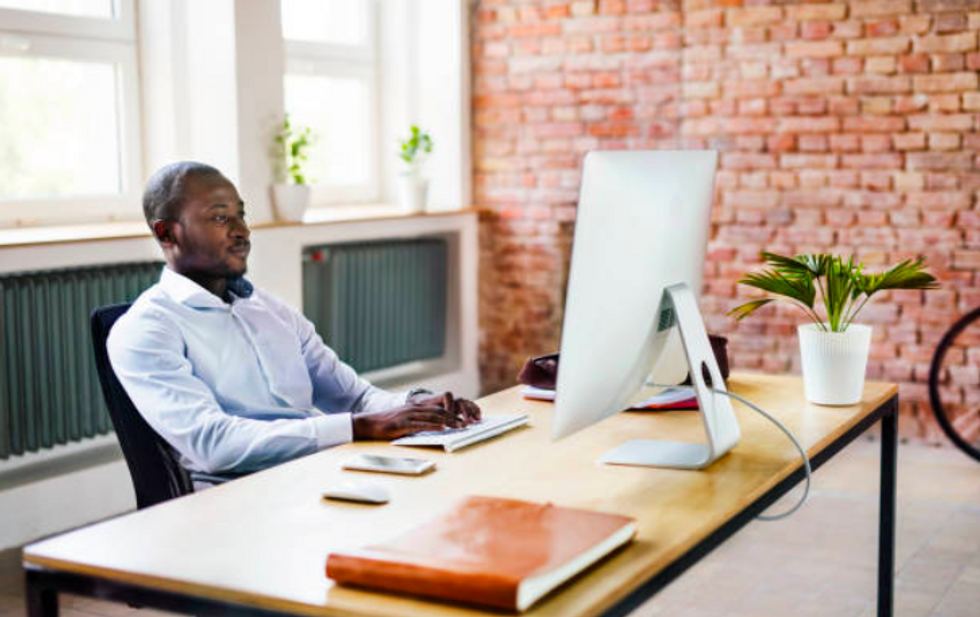 getty images
A principle of Feng Shui is that your chair should always see the door. It makes sense why that's the command position, because you have heightened awareness of your surroundings. This isn't typically possible for a cubicle so make your space your own by creating a barrier. You don't want to be face to face with anyone.
Step 3: Consult the Bagua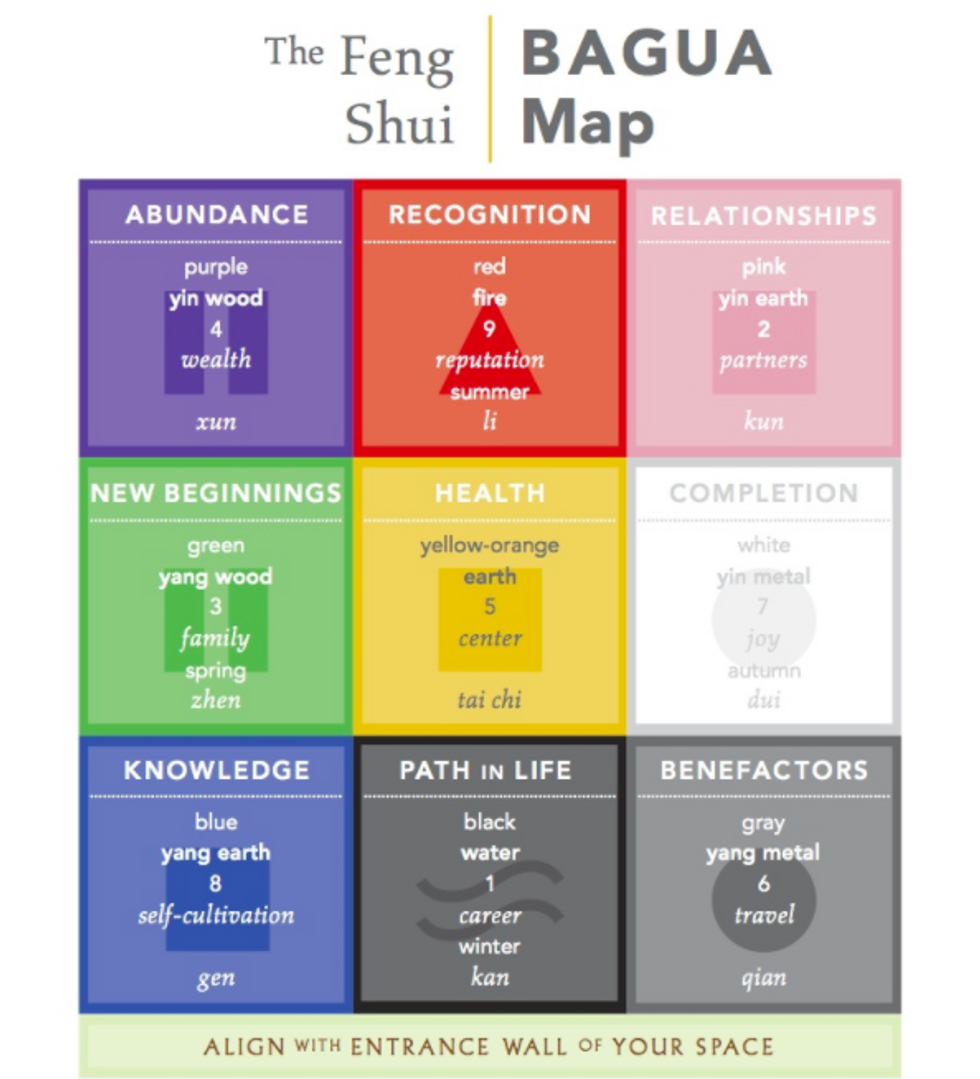 angie cho
A bagua is an energy map that will help you organize your space by bringing the power of intention. There are two different styles so pick which one is best for you. It's all about inviting energy into specific areas that you want to focus on in your life; ie. wealth, family, creativity etc. To use the bagua make a simple map of your space then break it up into 9 equal sections. You then place significant objects in the corresponding area. A plant can invite in wealth, a photo of a loved one can help your relationship, and it's all about exploring what is important to you. You can do this over your entire office, or on your desk.
Step 4: Bring Nature into Your Space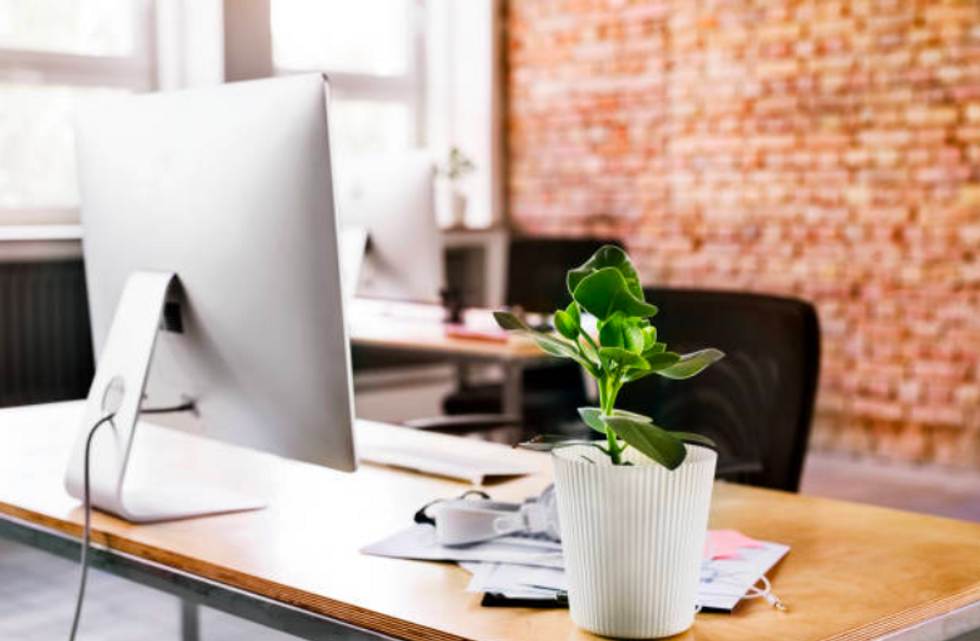 getty images
Plants, running water, and elementals are a crucial part of Feng Shui. They invite life into your space and living plants help the chi flow around while also filtering out air pollutants. If you don't think your office could sustain a plant check out this fantastic list of options. Water can be tricky and if you can't have a fountain consider artwork that is H2O inspired.
Step 5: Make Sure There's Balance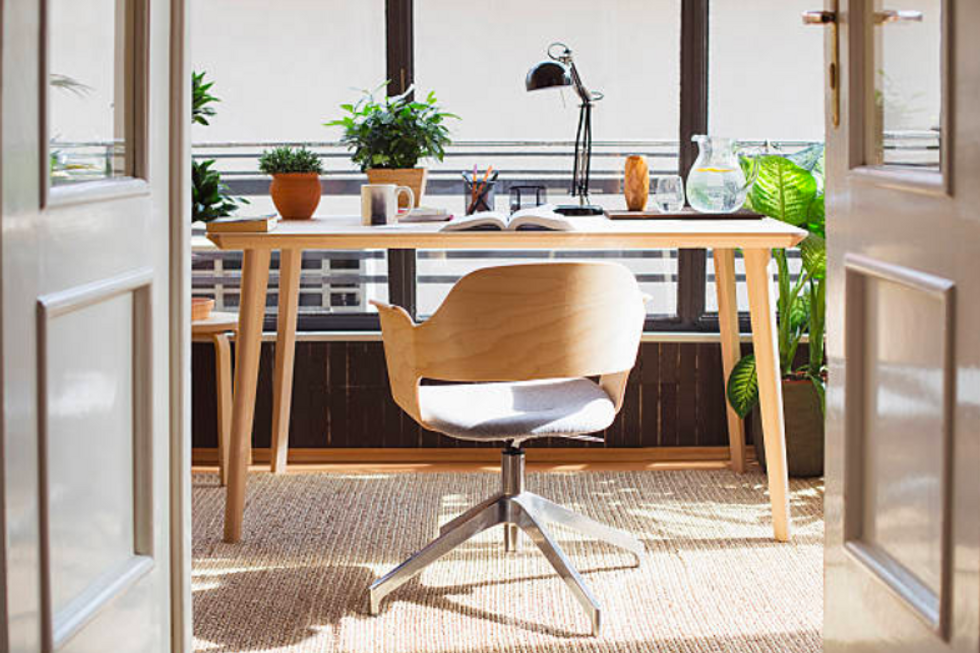 getty images
Balance is key so make sure that everything is in harmony with each other. To do this you should think about all different kinds of balance. The forces of yin and yang can be seen as more than darkness vs. the light and are often equated with feminine and masculine energy. The elementals wood, earth, metal, fire, and water should also be balanced in your office. Most offices start out full of fire and metal, namely the lights and your computer or filing cabinets. To balance you need to bring in elements of wood, earth, and water for a calming and focusing effect. Plants work wonders. Earth and water colors or artwork are great substitutes for real nature. Remember it's your office, so do whatever feels right to you.
If you follow these 5 simple steps you are sure to increase the energy flow of your office, bringing in positivity and harmony. This can help you stay focused, energized, and inspired in an otherwise stifling environment. Use these tools to help you achieve your optimal Feng Shui so that you can achieve all the success you deserve.