It's the dream: money you can count on to keep rolling in, even while you sleep.
Passive income isn't entirely passive, of course. You'll put in work up-front to get the profits rolling, so don't relax in your recliner just yet. But with so many potential sources of passive income available to you, picking one or several will mean that the day you can finally kick back will draw steadily closer.
Rental Properties
Real estate is a tried-and-true wealth builder for a simple reason: people will always need somewhere to live. Research the market in a growing community until you know a good deal when you see it. You can maximize rent by fixing up a deteriorating property or upgrading a mediocre one. The key is to hire a property manager to do all the day-to-day landlord duties for you—and you'll need a good one. Smart investors put their profits in another property and repeat the process until they have a diverse portfolio.
A YouTube Channel
You can start a blog if you're more comfortable hiding behind a computer, but consumers are more likely to prefer video content. Post a series of "how-to" videos to answer questions about whatever you're an expert in.
You can put up any content you want, but if you don't want to commit to regularly updating it, focus on "evergreen" topics that will draw clicks for eternity. Ads will create your income, especially if your channel grows in popularity. Better yet, sign up for affiliate marketing. If you recommend a product and provide a link to buy it, you'll get a small percentage of those transactions.
Auto Advertising
If you don't mind vinyl-wrapping your car with an ad for a company, you can get cash just driving around and running your errands. Make sure you contact a reputable company that doesn't ask for any money from you; if they're the real deal, they'll evaluate your car, your driving habits, your area, and more. Bonus: the brighter the ad, the easier it'll be to find your vehicle in the parking lot.
Digital Products
What's something that people will pay for but doesn't require shipping on your part? Finding that item is what can supplement your income indefinitely. Write an e-book, charge for your cross-stitching patterns, design prints that people can digitally download, invent an app, record a "masterclass," or whatever else you want. Every time someone new discovers it, the cash register rings. With a little more effort, this is a potential source of passive income for you that can continue to grow. Once you build up a customer base, they might want more products. The good part is that it's up to you whether you wish to give it to them.
<
The National Financial Educators Council (NFEC) surveyed young adults in 2017 and asked them what high school level course would benefit their lives the most.
The majority responded that money management was the course that would be most beneficial.
With personal debt is at its highest record and COVID-19 threatening to have the hardest economic effects on youth, understanding money and finances is an important life lesson that should be taught to children at a young age.
The following is a list of the best financial literacy lessons and tips to teach children throughout different life stages.
Younger Children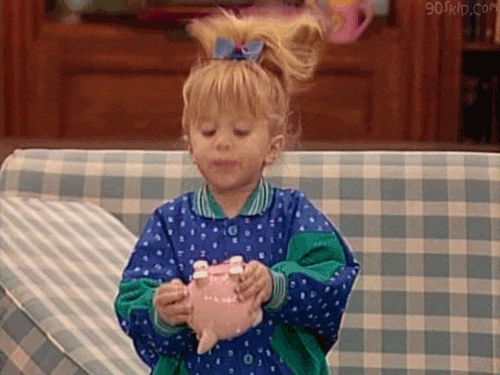 paying full house GIFGiphy
A 2013 University of Cambridge study stated that by the time children are just 7 years old, they have already formed money habits. While toddlers are still too young to be taught the value of money, it's never too early to introduce money and spending to them. Here are some great ways to introduce money to young children.

Get them their first piggy bank. Clear piggy banks work best so that the child can visually see their money grow. If you would like to take it further, give your child two separate piggy banks—one for spending and one for saving.
Encourage play money. While getting familiar with money is important at a young age, you don't necessarily want your child handling dirty money. Investing in a money play set and teaching money lessons through play is a great way to introduce money to children—because what toddler doesn't love to play store?
Children learn by example, and setting a good financial example for your younger children to follow is important.
Open a joint savings account with them. I am an avid believer in parents holding at least two types of saving vehicles for their children—one that the parent can fully control and one for the child to be on jointly. When the time is right for you and your child to open the account, make it a fun and exciting event for them. This is a great opportunity to get them familiar with banks and depositing money.
Check for educational games and apps that have money learning games. Savings Spree is great for kids and well worth the $5 price.
Elementary/Middle School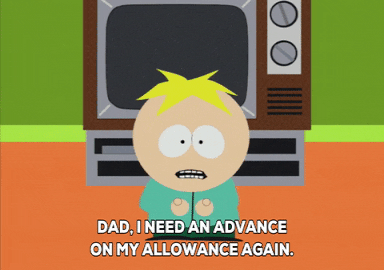 money talking GIF by South Park Giphy
By now most children know financial basics, such as the different denominations, but keeping up with their financial learning at this stage in life can be crucial. Here are some tools and tips to help your child navigate through the beginning steps of learning what it means to control their own finances.

Don't simply give your kids allowances—instead, teach them about earning money by assigning chores and rewards. iAllownce is a great resource and management tool to create chores, automated payouts, and rewards that can be synced to children's devices in your household.
Gift your child a stock that has meaning to them. Giving a kid a piece of paper and telling them they own a share of stock isn't that exciting. But perhaps presenting it to them as they are now the proud owner of stock—and in turn, a part of the company itself—may be a little more satisfying, especially if it's coming from a company they are familiar with and has meaning to them (i.e. Disney). This is a great way to introduce kids into the world of investments and stocks.
Teach lessons about value in goods and opportunity costs. If your child only has enough money to buy one of the two things they want, talk it over with them. Have them figure out the value of each item by comparing costs, longevity, and desire; this will show them that if they choose one thing, they can't have the other (the opportunity cost). Likewise, encouraging kids to think a purchase over for a day before making decisions instills strong values that will prevent them from making impulse buys as adults.
Teenagers/Young Adults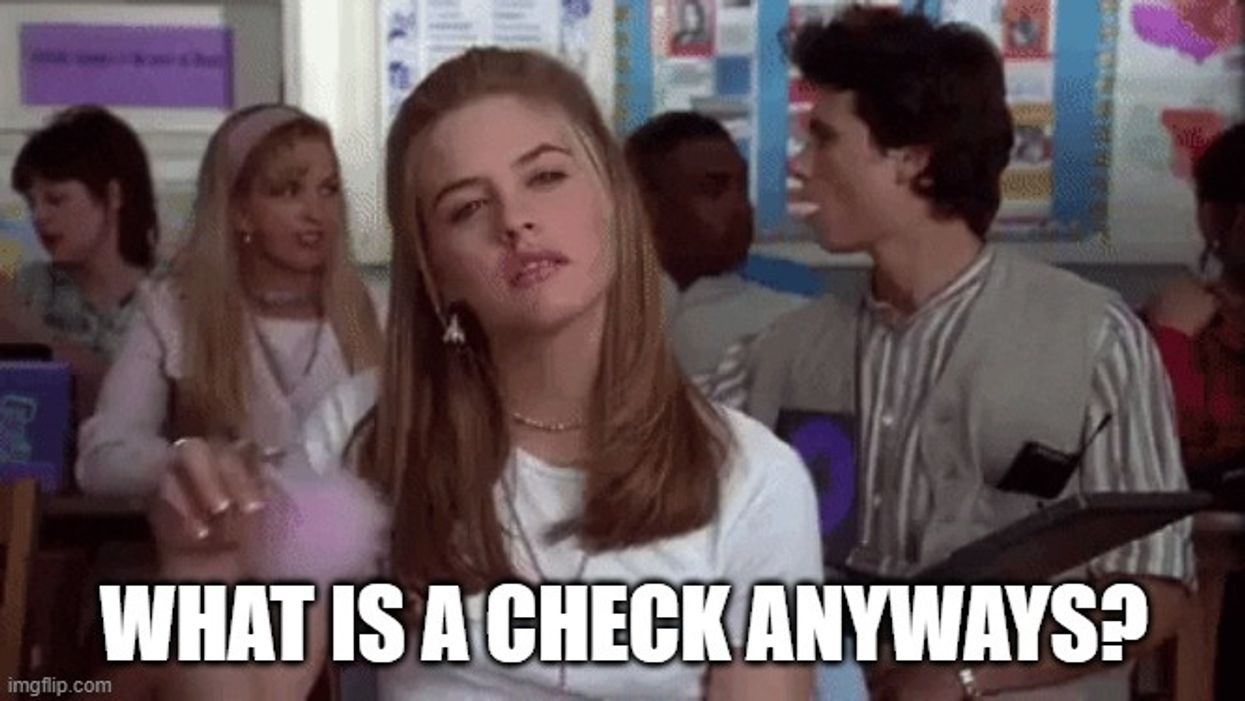 Do not depend on your child's school to teach them financial literacy, as less than half of states require high school students to take a personal finance course. High school years are the perfect time to develop your kid's financial freedom so they are prepared to make smart choices when out on their own.

Let your child earn a paycheck other than a chore allowance, whether through a job or by pursuing their own business entrepreneurship such as an Etsy shop. Your child's first paycheck can be a great lesson on taxes.
The most important thing you can teach your teen is how to keep a checkbook ledger, as well as how to fill out a check and a deposit slip. In my time working at a bank, the majority of teens and younger adults I encountered had almost no prior knowledge about basic banking transactions. While the argument against keeping up with such tasks is that banking is now mostly online, there is no direct way to keep exact track of your account balances without some sort of ledger entry. Card swipe and electronic transfers have become nearly instant ways of making transactions on checking accounts—but not everything instantly goes through your account.
Help teens set long term savings goals and encourage them to always put a percentage of their income into savings. One great savings incentive is to set up a savings match with them. I once had a banking customer that told her children she would match whatever they put into their savings account by the time they graduated.
Teach them healthy credit card habits. It's important for teenagers to learn the dangers of credit card spending, but I am an adamant believer that every parent should help their child get a first time credit card at the age of 18 to instill good credit habits.
Help them create a budget. Sit down with them and together figure out their monthly income. If they have any monthly expenses (gas, cell phone, etc.) subtract that from their monthly income to figure out how much money they have left for spending and saving.
We use social media to keep up with the latest in the worlds of pop culture, politics, fashion, and music, so why not the world of finance? Whether you want to keep up with financial trends or get some quick money advice, we've gathered a list of five of the best personal finance influencers you need to follow.
1. J Money, Budgets Are Sexy
Good idea to think about ;) . https://t.co/QNq0fMpsic

— J. Money (@J. Money) 1579528910.0
J. Money is a Mohawk rockin' husband and father who has been in the blogging business since 2008. His casual and easy to comprehend writing style makes learning about the financial world easy for anyone. J has received 12 industry awards and recently posted about his achievement of reaching a net worth over $1 million. If nothing else, you should at least follow him for his "dad worthy" money jokes!

2. Michele Schroeder-Gardner, Making Sense of Cents
Is Thrift Store Reselling Good Or Evil? https://t.co/QJTxFpraTI

— Michelle Schroeder-Gardner (@Michelle Schroeder-Gardner) 1581013505.0
Michele Schroeder-Gardner has been writing for her blog, Making Sense of Cents, since 2011 and has over 20 awards to show for it. She started her blog sharing how she paid off $38,000 in student loan debt in only 7 months. She now travels full-time. She's currently living on a sailboat with her husband. She shares best practices for paying off student loan debt along with some great tips for making money online. Plus, following her travel journeys is worth the follow alone!
3. Erin Lowry, Broke Millennial
Yes, it's true. I did write a guide to help my friends travel hack their way to my bachelorette party. Read the st… https://t.co/4aTSuMtTi6

— Broke Millennial ® (@Broke Millennial ®) 1579206589.0
When I discovered Erin on Twitter, the first thing I noticed was her coined hashtag, #GYFLT (get your financial life together), which I naturally thought meant get your f***ing life together. The author of two books in the financial industry, Erin graduated from college debt-free and has been featured on CBS Sunday Morning, CNBC, and Fox and Friends. Upfront and hilarious, she breaks down the often confusing and scary finance world for Millennials.
4. Tina Hay, Napkin Finance
What is #Bitcoin ? @napkinfinance https://t.co/49O603mvBl

— Barginex (@Barginex) 1579852825.0
What better way to guide you through the financial world than through pictures drawn on napkins? Tina is the founder and CEO of Napkin Finance, a site that makes money easy to understand through visualizations drawn on yes, you heard right, napkins! As their website so bluntly puts it, Napkin Finance is "everything you need to know about money in 30 seconds or less." Napkin Finance has collaborated with companies like JP Morgan, UBS, Michele Obama's Better Make Room Initiative, and the United States Olympic Committee. These bite-sized lessons make learning about money fun and quick.

5. Lily, The Frugal Gene
How To Stay Frugal When You Have Spendy Friends #frugalliving #savemoney #moneyhacks https://t.co/RuoO2HvMfo https://t.co/rB8CLAex4K

— Lily | The Frugal Gene ✌ (@Lily | The Frugal Gene ✌) 1581075859.0
Lily and her husband write for their blog, The Frugal Gene. She is a first-generation immigrant from China who was raised in San Francisco. Lily shares how her journey out of a life of poverty was the key motivator in attaining FIRE (financially independent, retiring early). Lily was able to pay off all of her student loan debt with only a part-time job in eight months! She shares interesting and unique tips on saving money, and she has been featured on The Cut, Rockstar Finance, Tiller Money, and Money.

The transition between college and the real world can be a bit of a culture shock.
Going from classes, studying, and an all-inclusive dorm situation to working full-time and needing to uphold your apartment, body, and personal life can be a major challenge on your mental well-being and your wallet. Luckily, there are plenty of shortcuts to making your life a little easier here and there. If you're a young man in your 20s, here are some of the best saving tips to get you through your next work week.
1. Buy a good electric razor
While it might seem counterintuitive to spend money to save money, sometimes bulkier upfront payments should be viewed as long-term investments. This is especially true for essential household and lifestyle products, where the more expensive, high-quality versions usually last a long time and ultimately save you money compared to their cheaper, easily breakable brethren. When it comes to shaving (a necessity for almost any man), a great electric razor will end up costing hundreds less than disposables in the long-run.
2. Start cooking at home
Eating out is definitely easier for anyone on-the-go, but eating in is a whole lot cheaper. And if you're looking to save some money, buying groceries and cooking for yourself is one of the most substantial ways you can do so. If cooking isn't a skill you've honed, start simple. Buy a basic cookware set on Amazon and start experimenting with eggs and pasta sauces. Grill up some chicken. You'll be surprised how far you can stretch a few dollars when you're making your own food, and it's not a bad skill to have with roommates and significant others, too.
3. Buy in bulk
Most things are cheaper in bulk. Luckily, most essentials are also available in bulk quantities. Large sets of socks, underwear, and shirts may seem bland, but they're also very cost-effective. Similarly, many food items can be bought in bulk too, especially if you have access to a Costco or similar club membership. That being said, always be careful not to buy more quantity of any product than you actually need. It's only saving money if you end up using it.
4. Game online
You've probably never seen anyone recommend playing video games to save money before, huh? Well, it's true, entertainment can get very expensive. From various streaming subscriptions to consoles to newly released games, every purchase adds up. But nowadays, many of the most popular games are free-to-play, with major hits like Apex Legends costing you nothing outside of the Internet service you already pay for. Of course, optional cosmetics are always a cash-sink, but if you can avoid those, your entertainment expenses just got a whole lot cheaper.
5. Get a therapist
Seriously, life is tough sometimes, and society often puts unfair stigma around men's emotions. Consider therapy an investment in your lifelong well-being. Even if you can only afford it once a month, having someone to openly talk with about all the issues in your life, whatever they may be, provides an amazing outlet for stress. Never let unfair social pressures prevent you from taking care of your mental health.
Ultimately, it's a rough world out there for 20-somethings of any gender. Make sure to prioritize your well-being over financial decisions. It's okay to splurge every now and again. But if you can save a little bit every so often, it'll serve you well as you move into the next stages of your life.
---
Dan Kahanis a writer & screenwriter from Brooklyn, usually rocking a man bun. Find more at dankahanwriter.com