Meet Jane.
Jane is a thirty-something homeowner with two young kids. She walks into her local bank one day to talk to someone about taking out a loan to replace her outdated furnace. She wanted to put it on her credit card, but she got herself into trouble with credit cards when she was younger, so she wants to look at other options. After talking with her a while, her personal banker, Joe, suggests a home equity line of credit, to which Jane replies, "A what?"
I met many customers like Jane during my time as a personal banker. Many people simply don't know what or how home equity lines of credit work.
A HELOC (home equity line of credit) isn't for everyone, but it often can be the perfect solution for many. First off, you have to be a homeowner and have equity in your home.
What is home equity?
The equity in your home is what you truly own, debt-free. Let's say Jane's house is valued at 200k and she has a mortgage balance of 60k. This would mean that Jane's home equity value is 140k. Over time, the more you pay off any lines against your house (mortgages), the higher your equity value goes. Home improvements that increase the value of your home also raise equity.
A home equity line of credit works much differently than a mortgage or home equity loan. I find it best to view it as working similarly to a credit card. You may draw funds out of the line of credit only as needed. Therefore, technically you can take out a HELOC without ever actually touching the money and having to pay it back.
How much do I qualify for?
Typically, most banks will let you borrow anywhere from 75% to 90% of the equity in your home. To figure this out yourself, take the value of your home, subtract any loans against your home, and multiply that number by the percent the bank will let you borrow. Jane's banker tells her she is able to borrow up to 80% of the equity in her home. You would multiply 140k by .80, coming to a figure of 112k being the maximum amount Jane can borrow. It's important to note that you do not need to borrow the max available. Keep in mind that your debt to income ratio and credit score can also affect how much you qualify for.
How much should I take out a line of credit for?
This is the number one question that was asked to me by customers looking to take out a line of credit. And really, there is no right or wrong answer. You can always take the max available, but you don't have to. There are things you need to consider when deciding how much to borrow. If you are a person who is easily tempted to use that money, even when it's not needed, it probably isn't best to request the max amount unless you know that you will be able to afford the monthly payments.
On the other hand, I also tell people it can be a good idea to take more than you need right now, so you have it as a "cushion." One of my customers came to me to request a HELOC to update her kitchen. Although she qualified for a much higher line, she insisted on only taking what she needed at that time. Not even a year later she came back to me. She had used up the entire amount available on the line of credit and now needed more to fix her roof. She had to go through the entire application process again to do a HELOC increase, and she wasn't happy that it wasn't as simple as saying "I need more money" and having the money readily available. This is the reason I tell people to have a cushion. That cushion can be a lifesaver in emergencies.
What can I use my HELOC to pay?
Most people assume HELOCs can only be used for home renovations, but, in reality, you can use the money for anything. A HELOC can be a great tool to consolidate credit card debt. According to the federal reserve, the average credit card rate was around 15% in 2019, and that rate is often higher for people without excellent credit standings. In contrast, the average HELOC interest rate, according to Bankrate, is around 6%.
What's the application and fee process?
Before heading to the bank, make sure you have the following documents:
W2s / 1099 forms
Last 2 years federal tax returns
Recent pay stubs
Proof of any other income
The application process usually takes anywhere from a few days to sometimes weeks, depending on how much information the underwriters may need. The bank typically does an appraisal of the house. In some instances, they may need access to the inside for appraisal, although this is typically not necessary.
After the HELOC is approved, the bank will schedule a closing date and time for you to come in and sign the mountain of paperwork. It can seem like a lot, but you will receive copies of everything, and you have three business days to look it over and cancel if you want.
Common fees associated with HELOCs are lender fees, annual fees, and cancelation fees. Do yourself a favor and research lender options before applying, as there are plenty of banks that do not charge most of these fees. When I worked at M&T Bank, the only fee applicable to a HELOC was a cancelation fee, and that only applied if the line was closed entirely within the first three months.
Your phone is getting larger, the world is getting smaller, and every app developer is competing in a large pool of identical clones. Whether you have an IOS or an Android, your app store is overflowing. It doesn't matter if you're browsing for "Productivity," "Games," or yet another photo-editing app (we don't judge), the choice paralysis alone is enough to force you into a hasty purchase. Even if you're savvy enough to know that reviews are not always trustworthy, the temptation to see for yourself if an app is worth its cost is greater when the price tag is only $0.99 or $1.99. But of course, that's exactly what app developers are counting on. All in all, app shopping can be more frustrating than mining the depths of Amazon when all you want is to restock your dish soap but end up checking out with an espresso machine.
The secret to savvy app shopping? Depending on what kind of app you're looking for, some types are more worth your money than others.

Best
Weather Apps: Free weather apps are often laggy and inaccurate, so if your daily routine requires you to be on-the-go, it's worth the investment not to get caught in the rain in the middle of your work day. For $4.99, the Carrot weather data app is both a predictor of capricious Mother Nature and a game. Dark Sky, on the other hand, is so specific in its location that it can keep you up-to-date about temperature changes and weather conditions no matter where you are for $3.99.
Directions: DON'T TRUST GOOGLE MAPS. Free map and direction apps aren't just laggy; they're often downright inaccurate. Updated maps can keep you informed about traffic conditions, construction work, or other inconveniences that would otherwise severely delay your plans. Some apps like Guru Maps Pro cost a hefty $49.99 in exchange for minute details and offline access, while other simpler GPS systems are available for both Android and IOS.

Security:
Big Brother may not be personally targeting your data and whereabouts, but he is interested in selling your information to literally whoever is willing to pay. Invest in password protectors and privacy apps in order to keep your data private. LastPass Premium may cost
$36.00
annually, but it includes a password manager. Other than that, many anti-virus programs now come with mobile protection and password protectors. Be sure to check for that specification when you're shopping for the best program.
Worst
Cloned Games: We get it, games are great. Why on Earth does your phone need Internet if you're not going to kill time playing puzzle games while waiting in line at Target? But be careful about what games you invest in. Many let you play lower levels, just enough to get sucked in, and then hit you with a pay wall. Just be wary; some of the most popular iPhone games are really just rip-offs of other games. This not only steals your money in exchange for a subpar game; it rips off developers.
Fake Security Apps: At worst, a fake security app will steal the very data you're trying to protect. At the very least, it will steal your money in exchange for a pretty icon on your phone that looks legitimate but actually does nothing for your security. Take an extra hard look at the developer and see what else they've produced before you buy.
Photo Editing: This can be a toss-up, depending on your love of selfies. Admittedly, if your job or creative hobbies involve visual arts, it might be worth investing in a reliable editing app. But you know you'll be using it for selfies. Leave the 'gram alone.
Losing your wallet is a terrible feeling.
One moment you're on solid ground, going about your daily business, and the next, you're in free fall. If you're in this situation, frantically searching through your pockets and coming up empty, realize that most of us go through this at one time or another. Here are some steps to take to make sure you minimize the amount of time and money you spend making up for your carelessness.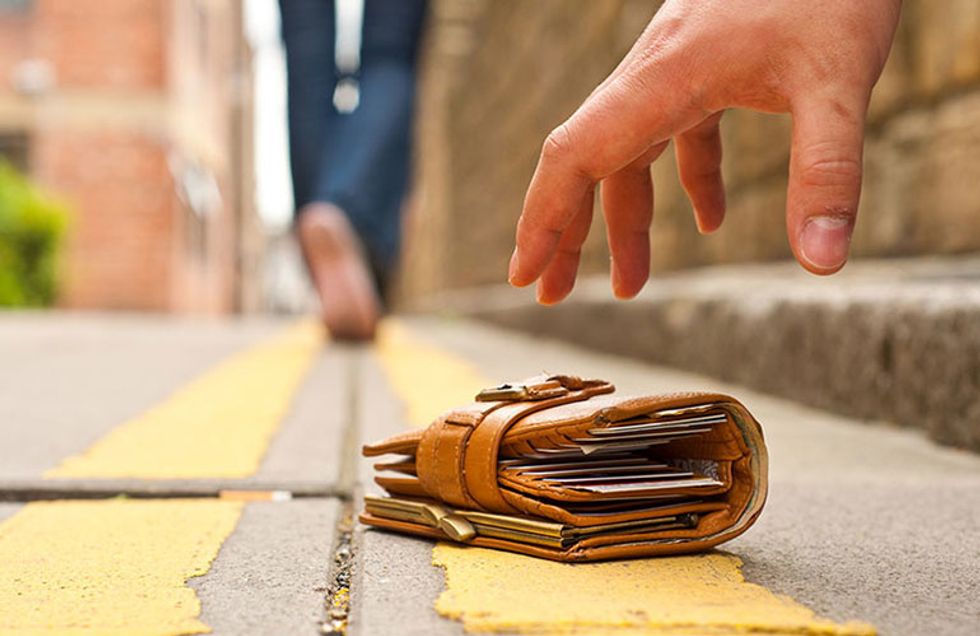 Readers Digest Asia
Part 1: Evaluate the situation
Don't Panic
If you've lost your wallet, don't panic. Take a deep breath. Losing a wallet isn't fun, but if you do this right, the consequences will be relatively minimal.
2. Check to make sure the wallet is lost
Before you dive in, do a quick search to check and see if you can find the wallet. Call the last few places you remember making a purchase or using your wallet, even if you're sure they're not there. Check all your bags, pockets, and every nook and cranny you can think of.
Part 2: Deal with your credit cards
3. Check your bank statements for charges
Whether you had a MetroCard, a social security card, a license, or three old sticks of gum in your wallet, you'll want to take stock of what you've lost. If you had your key in your wallet, consider changing your locks. Consider changing your passwords to any accounts that might have been connected to your bank information. Take note of any lost library cards, medical insurance cards (you'll need to cancel those too if they were lost), or other cards that might be important, and notify those organizations as needed.
4. Cancel or lock your credit or debit cards
This is a quick, easy, and important step you can take to prevent any fraudulent charges. Most banks allow you to lock or cancel your cards quickly via their website. If you think your wallet is lost somewhere in your house, not stolen, locking the cards is a good way to avoid having to order new ones. However, if you see fraudulent charges, cancel the cards immediately.
5. Call your bank
When you call your bank, tell them that your wallet was stolen, even if you aren't sure thats what happened. During the call, you can also put in an order for an expedited card. Once you report a lost card, you cannot be held liable for fraudulent charges. Make sure you also let your bank know if you were carrying any blank checks.
6. Contact anyone who might share your cards and let them know to cancel their cards
This step speaks for itself. Also, think of any recurring charges that might run into an issue if your card is canceled and address those as needed.
Part 3: Deal with your other cards and lost items
7. Make a list of everything that was in your wallet
Whether you had a MetroCard, a social security card, a license or three old sticks of gum in your wallet, you'll want to take stock of what you've lost. If you had your key in your wallet, consider changing your locks. Consider changing your passwords to any accounts that might have been connected to your bank information. Take note of any lost library cards, medical insurance cards (you'll need to cancel those too if they were lost), or other cards that might be important, and notify those organizations as needed.
8. Contact the DMV about your drivers' license
Most people carry their licenses in their wallet, so you'll probably want to get in touch with the DMV. To replace a driver's license, you'll often need to visit the DMV in person (be sure to bring your birth certificate and social security card or military ID). Every state has different DMV requirements, so check yours out
here.

Part 4: Get the legal details in place and consider identity theft
9. Inform the authorities
You'll want to file a police report when your wallet is lost, especially if identity theft is a risk. Call your local police department's non-emergency number and ask them to file a report. You'll need to make the report in whatever area you think you lost the wallet in.
10. Inform the social security organization
If you lost your social security card, immediately report that to the Social Security Administration.
11. Create a fraud alert
Losing your wallet means you're entitled to a free credit report and fraud alerts. Even if you've canceled your cards, it's a good idea to put a fraud alert on your account, which will be free for 90 days and will alert you in the case of suspicious activity. Call these numbers to do so:
Equifax®: Equifax.com/CreditReportAssistance
1-888-766-0008Experian®: Experian.com/fraudalert; 1-888-397-3742
TransUnion®: TransUnion.com/fraud; 1-800-680-7289
Part 5: Damage control
12. Figure out what you need to do now
As you wait for your cards to arrive, you might be wondering how you're going to pay for everything. Most of the time, if you know your social security number and have some form of identification, you can go to the bank and get them to pull out money for you. If you're overseas, you can have relatives wire you money through Western Union.
13. Make sure this won't happen again
In the future, consider only keeping a few things in your wallet to minimize the consequences of losing it. Consider also how you might keep your wallet more protected. Realize that there's nothing you can do now except look to the future.
Signing up for a new credit card can offer you a great means of stretching your spending power.
It also builds your credit score and nabs you some neat bonuses for signing up or spending money depending on the kind of card you get. But it's also important to keep your credit card's interest rate in mind. The APR – or annual percentage rate – is the rate of interest you'll be hit with if you fail to pay off your monthly credit card bill on time.
Many stores offer their own credit cards nowadays, many offering extra benefits for frequent shoppers. But some of these store cards are also notorious for especially high APRs and relatively lame bonuses, too. Here are the worst offenders:
Even for the most hardcore gamers, 29.24% APR is a bad deal, especially when coupled with the GameStop PowerUp Rewards Credit Card's terrible rewards. The sign-up bonus is 5,000 points (roughly $5 in-store credit) for standard members, or 15,000 points (a whole $15) for GameStop PowerUp Rewards Pro members, which as an entirely separate GameStop subscription that already costs an extra $15.
Featuring a horrendous 30.24% APR for a personal account, Staples More Account Credit Card only gives you 5% back on Staples purchases and free shipping on orders over $49.99. So unless you're buying a ton of office supplies on a near-constant basis, there are plenty of other cards with way better savings, rewards, and benefits packages, along with much lower APR.
If you're buying lots of diamonds at retail for whatever reason, Zales The Diamond Card might seem tempting. It offers $50 off on your birthday, free shipping, and 10% off on jewelry repair services. Of course, this comes with a whopping 29.99% APR, which barely does anything to make up for a nice discount on a single day once a year.
The Piercing Pagoda Credit Card isn't just bad. It's unimaginably bad. With a 29.99% APR and the sole benefit of $25 off on your birthday, there is no reason that anyone should ever get a Piercing Pagoda Credit Card. With no extra benefits or cash back for Piercing Pagoda purchases, even someone covered in piercings who constantly buy's new studs and rings gets no real mileage out of this massive dud of a card.
With the highest APR on this list at 30.74% and no benefits or rewards to speak of, the BrandSource Credit Card might actually be one of the worst credit cards ever made. Why would anyone buy it? What could you possibly hope to gain from this card, aside from horrible fees should you fail to make a payment. You're better off going with Piercing Pagoda. At least they give you a measly $25 on your birthday.
Overall, store credit cards don't tend to be the best way to go if you have other credit card options. Their benefits tend to be limited and sometimes even nonexistent, and their APRs are unusually high. Be careful when signing up for a new credit card, and be sure to do your research. Liking a store isn't a good enough reason to go with their card.
---
Dan Kahan is a writer & screenwriter from Brooklyn, usually rocking a man bun. Find more at dankahanwriter.com