"I'm living so far beyond my income," wrote e.e. cummings, "that we may almost be said to be living apart."
If you find yourself in a similar financial predicament, it's likely time to stop making poetic quips and take a hard look at your financial reality. Is it time to ask for help? Asking for money from friends and family can be a dicey proposition, but if it's the difference between you and the poorhouse, it's time to put your pride aside and ask for help. How do you do it? Take our best advice.
Step 1: Get Real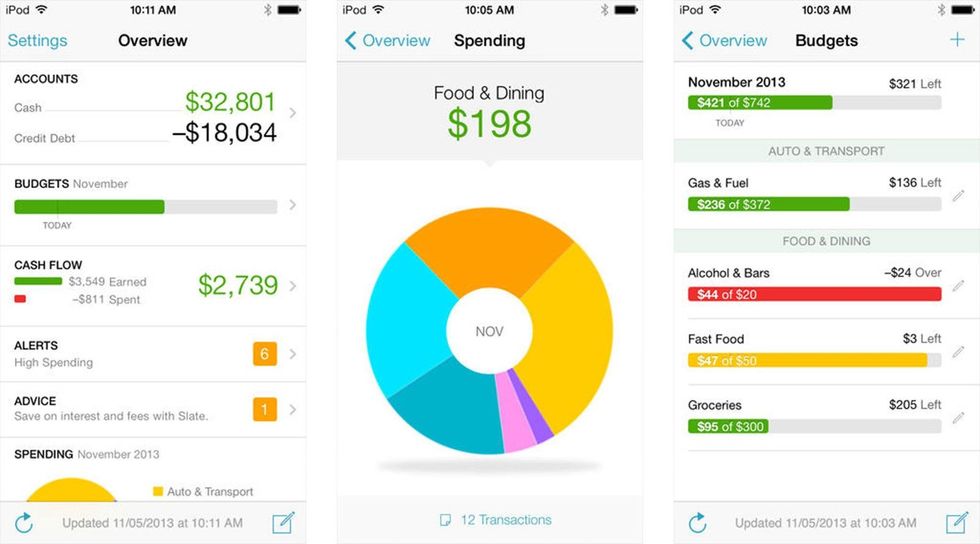 The Mint appYalantis
"You can't ask for help when you're still going out on weekends and blowing a couple hundred bucks on cocktails and breakfast," writes Puckermob. "You have to go through your expenses with a fine tooth comb and see where you can really be saving and what's just nonsense."

Weekend warrior fun might be the tip of the iceberg. Are you spending $9.99 per month on apps you don't use? Do you subscribe to magazines that hit the recycling bin before your bedside table? When's the last time you actually went to the gym that costs $89 a month?
A site like Mint can help you see trends in your spending, where you're overspending, and where to cut back. It can be tempting to stick your head in the sand, but when it comes to finances, knowledge is power; being more aware can help you set a budget you can stick to.
Financial responsibility is not just about slashing costs. Can you make more money by driving Lyft after work or asking for a raise?
"Before you ask for a loan, make sure you've already taken positive steps towards improving your finances," advises Consumerism Commentary. "You aren't ready to take the responsibility of a loan from a friend or relative before improving your financial situation."
Step 2: If You Need Help, Don't Wait
"It is easier to admit that you need help than it is to deal with the consequences of being too prideful and allowing a situation to get too far out of hand," writes Eric Nisall. "The worst time to accept the fact that you need assistance is when it is too late."
Don't wait until the bank has started foreclosure proceedings and your bank accounts are so empty that they're incurring overdraft fees upon overdraft fees.
Step 3: Ask the Right Person
Ask someone who has money to give and isn't in a financially perilous position themselves. If they're retired and on a fixed budget, out of a job, or dealing with stacks of their own bills to contend with, your request may seem inconsiderate and tone deaf.
Step 4: Come Prepared
Create a document that shows how exactly how much money you need and what it will go toward. Not only will this demonstrate your competence and responsibility, it will help give the person you're asking a clear vision of what this money is for.
Step 5: Come Up With the Terms for Repayment
If you were to approach a bank or financial institution for a loan, terms of repayment would be outlined out the outset. Give your friend or family member the same clear-cut vision for how they'll get their money back. How long will it take you to pay back the loan? How often will you send them payments? Even small payments, made regularly, will establish trust.
Step 6: Pay Interest
This offer demonstrates that you're not just casually hitting someone up for cash because you can. By offering to pay interest, you're not only showing your responsibility, you're also expressing a form of respect. "Hey," your offer says. "I know you could be racking up compound interest on this money, but you're helping me out instead. Thanks." Insist on paying interest at the minimum rate they'd be able to earn from a high-yield savings account, about 2 percent.
Step 7: Put It All In Writing
Promissorynote templates designed specifically for loaning money to family and friends are available online. Putting the agreement in writing is another way to make the loan official and not just some loosey goosey handshake agreement.
Step 8: Pay the Loan Off Early
If your financial situation improves sooner than anticipated, pay the loan off early. "It will be a nice surprise, and on the personal relationship side, it might win you back 'points' you may have lost," says Consumerism Commentary. "At the very least it shows that you are not only a man or woman of your word, but you make extraordinary efforts not only to meet your obligations but outperform."
<
One of the biggest questions millennials have today is: should I own a home, or should I just rent?
If you buy, you get a return on your money and an opportunity to build real wealth. If you rent, you are just throwing that away or financing your landlord's funds to put their kids through college.
On the other hand, renting means more freedom, more flexibility. It means you can move across the world in an instant (okay - as long as it takes you to sublet your apartment on Gypsy Housing). There's a lot of appeal to that.
If you know you want to buy a house, there's a bigger challenge: "Do I even make enough money to own my own home?" It's probably the most important question you will ask yourself in the process of becoming a homeowner. However, the results of what this really looks like can be astounding.

According to Forbes, the cost of living in some of the fastest growing cities in America can range from $42,161 (Detroit, MI) and $53,384 (Albuquerque, NM) to $58,504 (San Antonio, TX) and $58,973 in Columbus, OH. These figures include not only your mortgage payment, but enough financial resources to live comfortably, make your mortgage, pay your utilities, and maybe even save a little to put away for retirement.
The median cost of homes in areas such as San Antonio is about $172,400, according to Zillow. This means if you put down a $25,000 deposit and financed $152,400, you would be looking at around $800 per month for the mortgage payment, at 5% interest for a 30-year fixed rate mortgage. This rate assumes you have a credit score in the range of 680-700. Plus, you may need to add escrow fees, which include homeowners insurance and real estate taxes if your loan terms require it.

So owning a home can actually be pretty affordable. The first step is to start saving up for a down payment. It's usually recommended to put down about 20% of the purchase price. This will also reduce the size of the loan you need to borrow from a lender. There are also certain mortgage programs–like the FHA loan program–that allow qualifying buyers to make small down payments in exchange for agreeing to pay for private mortgage insurance.

Another important factor in obtaining financing is your credit score, according to Tyler Frist from Citizens Bank. This is why credit is so important. It's how banks assess the likelihood that you'll be able to pay back your loan. This will also impact the interest rate you qualify for and the terms of your loan.
If you're applying for a mortgage with a significant other, it's also important to note that they'll take the lower score between the two of you. So when you are working on building your credit, you may find it more strategic to pay off one person's debt sooner than the other.

When it comes to your credit score, don't blame the bank. They're just trying to protect their investment. We are talking hundreds of thousands of dollars. Instead, get ahead and work on your credit before it comes time to make major purchases and life-altering decisions.
Keep an eye on your credit score with apps like Credit Karma. Smart moves like paying credit card debt and submitting bill payments on time will help you to maximize your score.
Another great way to build wealth when saving for a home is to automate your savings, so that when you get paid through direct deposit, like most of us, money is automatically put aside into a housing fund. Create a plan to tackle debt and reduce spending on frivolous items so that you can save in the long run.

Owning your own home means owning equity. This gives you leverage when making financial decisions and taking on debt. We often think of debt as a bad thing, but it can be a good thing, even necessary, such as when you're taking a line of credit to start your own business or obtaining a mortgage to finance a home purchase. And even if you're not ready to commit to a mortgage, you'll have the resources to make an educated home purchase in the future.
It's the end of the month and you get your credit card bill, eyes pop out of your head and you think, WHERE IS ALL MY MONEY GOING? You've stopped eating out, you only buy cheap coffees, and your clothing and travel budget is nonexistent. You think you have no more room to cut costs. I am here to tell you that you do! There is hope at the end of the "very broke" tunnel. I know this because despite all of my penny saving tricks, I needed to find a way to save another $100 or more a month and I found it. It's your recipes man! Yep that's right. You think you are being thrifty by cooking home-cooked meals but let me tell you where all the extra money goes…it's those darn recipes!
Recipes are a total money sucker. That's where your "stay in and cook" plan starts to get expensive. Let's play this out. You make the frugal decision to stay home and cook. What's the first thing you do? Google a recipe that has you flying to the store to pick up all the missing ingredients you need for this home cooked delight. Before you know it, you have a jar of masala seasoning (of which you only need a teaspoon), a bunch of leeks (of which you only need one), and a jar of sun-dried tomatoes (of which you only need a quarter of). You use your new ingredients one time, and are on to the next recipe, likely throwing out, or never using the other leftover un-versatile ingredients. Stop this, stop buying ingredients you only use once a year, stop googling recipes that require additional trips to the store, stop wasting money…and no, I am not saying stop eating. Well I am, I am saying stop eating food that requires you to waste money and start REVERSE MEAL PREPPING.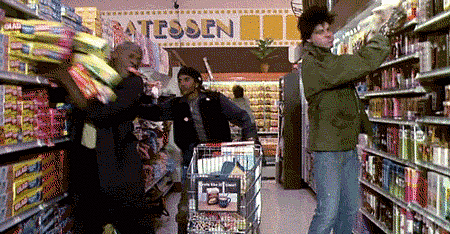 What the heck is reverse meal prepping (RMP)? It's cooking backwards! No, I don't mean put your back to the stove while you try to simmer your veggies. I mean make a weekly grocery list, stick to it, buy your staples, some proteins, some veggies, some fiber, complex carbs etc… When it's time to cook, type in three main ingredients you have in your house like chicken breast/broccoli/rice or salmon/pasta/green bean or potato/egg/cheese...you get the idea. NOW google. Recipe's will pop up with those ingredients. If any recipes pop up with additional ingredients you don't have you can either leave them out, or google a substitution for that ingredient.
Sounds obvious right? I have so many people ask me "what gave you the idea to make that!?" and I simply say, I just googled a couple ingredients I had on hand. I care about being healthy, but I am a very flexible cook. If a recipe calls for onions and all I have are scallions, it's fine. If a recipe calls for sweet potatoes and all I have are regular potatoes…yep you guessed it, it's fine. This way at the end of the week, or year, you wont throw out hundreds of dollars of food, and you won't head to the store to purchase hundreds of dollars of additional ingredients.
A few tips to make your Reverse Meal Prepping successful:
Have a well stocked spice cabinet
Have a variety of condiments that have a long shelf life
Only buy one meal's worth of meat/veggie protein at a time (unless you are prepping lunches and stuff).
Buy veggies that you know you love (not the I "should eat this" kind)
Minimize the purchase of foods that expire within 7 days, more trips to the store is better than throwing out food
Don't be afraid to get crazy in the kitchen and mix ingredients you never thought would go together! Breakfast Pizza and Hotdog omelets can totally be a thing!
Focus on healthy ingredients, not magazine worthy presentation
Let the RMP Begin!