The phrase "long term care" refers to the services that a person with a chronic illness or disability (typically due to age) may need on a daily basis over an extended period of time. It's designed to help the person perform everyday activities that they may not be able to do on their own anymore.
Long term care is not an unusual subject for millennials. In fact, a study conducted by AARP reported that of the current estimated 40 million caregivers in the US, 1 in 4 are millennials. Maybe this is why more and more are expressing their concerns over the future of long term care.
#MedicareForAll covers dental, vision, hearing aids, long term care, & mental health therapy. It will cost ZERO at… https://t.co/ihpFns1scU

— Dr. Victoria Dooley (@Dr. Victoria Dooley)1581530702.0
The six common everyday activities addressed by long term care include the independent ability to perform the following tasks:
Eating
Getting Dressed
Walking or transferring
Bathing
Toileting
Continence
Long term care insurance policies are designed to cover the costs of the expenses that occur from long term care needs. It is not limited to just medical expenses. In most instances, the benefits are triggered by the inability to perform at least two to three of the everyday activities. Once the benefits kick in, they can cover the following:
Nursing homes
Assisted living
Adult daycare services
Home care (grooming, bathing, cleaning)
Home modification (Ramps, grab bars)
There are a slew of options and ways to customize long term care policies, so the cost depends on the age at which you take the policy out, your current health, the length of time you want your coverage to last, the elimination period (number of days you choose to be disabled before benefits kick in) so there is much you should consider when choosing your distinct policy's terms. Before purchasing any policy, here are some things to consider:
How much will I need? Sadly, we aren't fortune tellers, so it's hard to say whether or not you will need a policy that will cover you for a longer or shorter duration of time, but it may be smart to look into your family health history if you can.
How do you think you will receive possible long term care? If you don't plan on ever having children, long term care insurance may be vital for you. On the other hand, someone who hopes that their children will care for them may not want to purchase as much coverage if they believe they will get care from a family member.
How much money do you plan on having later in life? Again, another silly sounding question. We all want to be millionaires in retirement. Depending on what type of career you hold, or plan on having, you may not need long term care if you plan on being in the pool of the wealthiest Americans.
Genworth has a great tool you can use to see an estimate of what you would pay for long term care insurance. However, the youngest age available on this handy calculator is forty. This is most likely because most Americans don't purchase long term care insurance before that age, although it is possible to get it beforehand.
Even though long term care insurance premiums are lower the younger you purchase it, it really isn't necessary to purchase much before the age of forty, so buying it too early can unnecessarily cost you more. You also shouldn't wait too long if you do decide to purchase a policy. According to the Genworth premium calculator, the same policy that would cost a forty year old $341 annually would cost a fifty year old $491 and a sixty year old $627!
It's also important to keep in mind that employer health insurance does not cover long term care needs, and Medicare insurance will only cover nursing home stays up to 100 days. That's with a daily copayment of $164.50 after the 20th day. Medicare's home care services are also very limited in what they will cover. According to the study conducted by the Associated Press-NORC Center of Public Affairs research, only 1 in 10 of those aged 18-39 are confident that Social Security, Medicare, and Medicaid will maintain their level of benefits when it comes time for them to need these programs.
Just looking at the current national median monthly out of pocket costs of long term care is enough to scare anyone. The current monthly costs are immense, but looking at the forecasted costs in 50 years is enough to make me hope for a quick and young death (kidding, obviously)!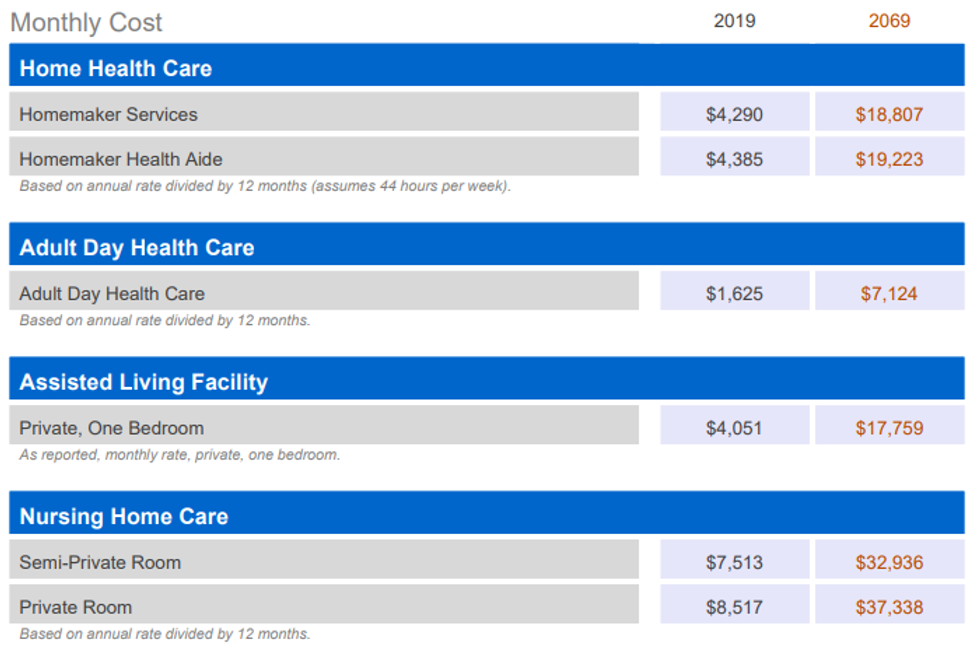 As many millennials have other financial priorities to worry about, you should be financially well off before considering any long term care insurance. Check in with a trusted financial advisor and discuss your needs and options with them first.
We use social media to keep up with the latest in the worlds of pop culture, politics, fashion, and music, so why not the world of finance? Whether you want to keep up with financial trends or get some quick money advice, we've gathered a list of five of the best personal finance influencers you need to follow.
1. J Money, Budgets Are Sexy
Good idea to think about ;) . https://t.co/QNq0fMpsic

— J. Money (@J. Money)1579528910.0
J. Money is a Mohawk rockin' husband and father who has been in the blogging business since 2008. His casual and easy to comprehend writing style makes learning about the financial world easy for anyone. J has received 12 industry awards and recently posted about his achievement of reaching a net worth over $1 million. If nothing else, you should at least follow him for his "dad worthy" money jokes!

2. Michele Schroeder-Gardner, Making Sense of Cents
Is Thrift Store Reselling Good Or Evil? https://t.co/QJTxFpraTI

— Michelle Schroeder-Gardner (@Michelle Schroeder-Gardner)1581013505.0
Michele Schroeder-Gardner has been writing for her blog, Making Sense of Cents, since 2011 and has over 20 awards to show for it. She started her blog sharing how she paid off $38,000 in student loan debt in only 7 months. She now travels full-time. She's currently living on a sailboat with her husband. She shares best practices for paying off student loan debt along with some great tips for making money online. Plus, following her travel journeys is worth the follow alone!
3. Erin Lowry, Broke Millennial
Yes, it's true. I did write a guide to help my friends travel hack their way to my bachelorette party. Read the st… https://t.co/4aTSuMtTi6

— Broke Millennial ® (@Broke Millennial ®)1579206589.0
When I discovered Erin on Twitter, the first thing I noticed was her coined hashtag, #GYFLT (get your financial life together), which I naturally thought meant get your f***ing life together. The author of two books in the financial industry, Erin graduated from college debt-free and has been featured on CBS Sunday Morning, CNBC, and Fox and Friends. Upfront and hilarious, she breaks down the often confusing and scary finance world for Millennials.
4. Tina Hay, Napkin Finance
What is #Bitcoin ? @napkinfinance https://t.co/49O603mvBl

— Barginex (@Barginex)1579852825.0
What better way to guide you through the financial world than through pictures drawn on napkins? Tina is the founder and CEO of Napkin Finance, a site that makes money easy to understand through visualizations drawn on yes, you heard right, napkins! As their website so bluntly puts it, Napkin Finance is "everything you need to know about money in 30 seconds or less." Napkin Finance has collaborated with companies like JP Morgan, UBS, Michele Obama's Better Make Room Initiative, and the United States Olympic Committee. These bite-sized lessons make learning about money fun and quick.

5. Lily, The Frugal Gene
How To Stay Frugal When You Have Spendy Friends #frugalliving #savemoney #moneyhacks https://t.co/RuoO2HvMfo https://t.co/rB8CLAex4K

— Lily | The Frugal Gene ✌ (@Lily | The Frugal Gene ✌)1581075859.0
Lily and her husband write for their blog, The Frugal Gene. She is a first-generation immigrant from China who was raised in San Francisco. Lily shares how her journey out of a life of poverty was the key motivator in attaining FIRE (financially independent, retiring early). Lily was able to pay off all of her student loan debt with only a part-time job in eight months! She shares interesting and unique tips on saving money, and she has been featured on The Cut, Rockstar Finance, Tiller Money, and Money.

"Mad Max: Fury Road" (2015)
Millennials are constantly being scolded and lectured by baby boomers who think that we don't know anything about finances. According to them, all our economic troubles are our own fault. They say that we don't believe in saving money for the future and that if we would just stick to a budget—cut out coffee shops and bars and stop wasting our paychecks on trendy, over-priced fixed-gear bikes—we could all own our own homes and begin planting some metaphorical seeds for a stable and secure retirement.
What these know-it-alls don't seem to realize is that, while we do believe in the concept of saving, our belief in anything like a "stable and secure" future has been strangled out of us by decades of inaction on climate change and the looming apocalypse it has brought on. None of their advice is even relevant to the meager subsistence that the lucky among us will manage once the world is reduced to a charred husk of human progress. That's not to say that "saving" isn't still important. If you do intend to be one of the survivors, here are some tips that might help you prepare your finances!
Everyone wants to be rich, but not everyone is good at it.
You, on the other hand, have had your whole life to practice being rich, without the distraction of developing any skills or working for a living. You make coasting through life look easy! Still, there are some pitfalls to being born with everything you'll ever need, especially when interacting with those less fortunate. So from failson to failson, here are some tips and tricks to living your best life in the shade of your parents' money-tree.
Befriend Some Poors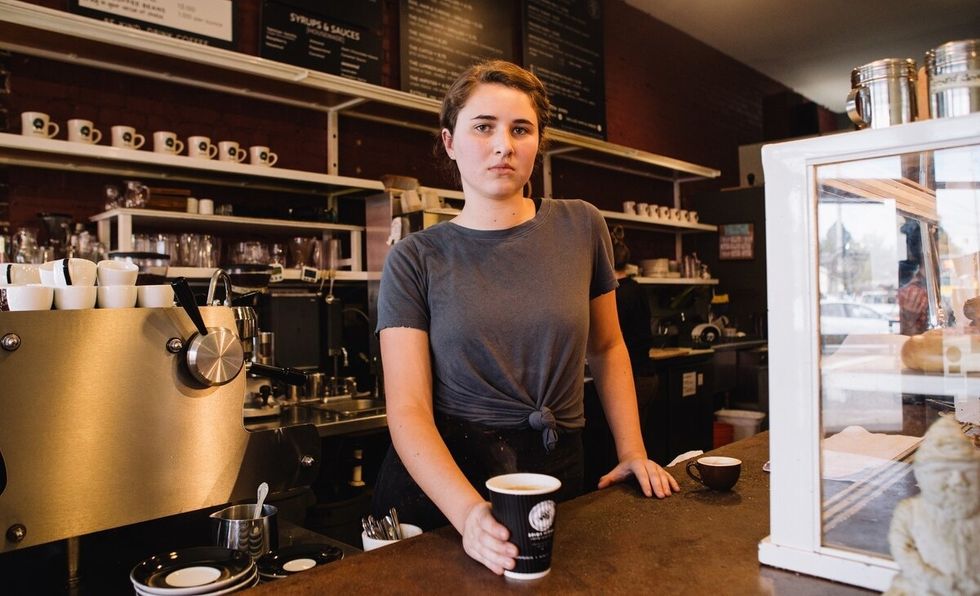 She doesn't know she wants to be your friend yet
It's important to stay grounded. If you only ever hang out with Trey and Ashlynn at the polo club, you'll lose touch with the commoners. That's not you. You're the kind of Richie Rich that lives your truth and stays humble, so it's important that you look at poor people as a tool for learning. You can find some poors studying at a public university, or even behind the counter of your favorite coffee shop. Some barista's actually make what's known as "tipped wage," which, in New York, means they make $10/hour plus tips. Here's a tip, that means they're poor! They might resist your advances at first, but you let them know that they're just as good as you, in their own way. Tell them some stories about Milan, or the crew team—oh my god, crew team stories are the best!
Ask About Your Poor Friends' Finances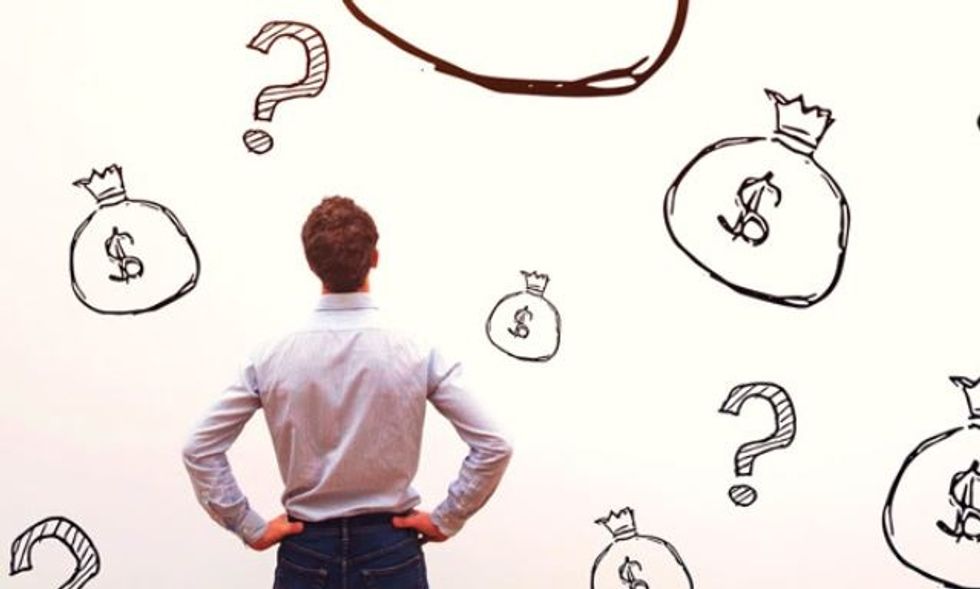 You never had to learn about money... you just always knew
How are you going to learn if you don't ask questions? If they talk about their job, ask them how much they make. If they invite you to their apartment, look around for a few seconds, then take a guess at how much they pay in rent. Make sure it's a super low-ball guess, so you don't offend them. If they mention how much something cost—anything—be sure to ask if that's a lot of money for them. You might be surprised! You can even use these questions to help them improve their finances. If they're stressing about scraping together enough for their bills this month, say "Don't you have savings?" In order to retire by 65—30 years too late if you ask me—millennials should be putting about half their paychecks into savings, but chances are that your poor friends aren't doing that. This will nudge them in the right direction.
Split the Bill Evenly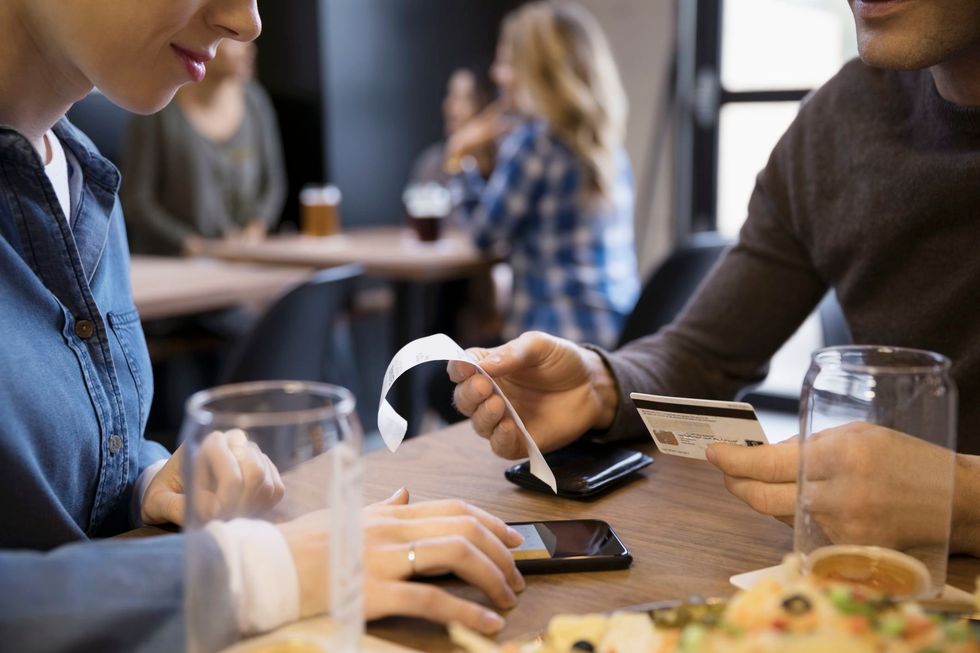 Getty Images
Going out to dinner with your working class friends? Suggest the kind of place they probably haven't been before. Per Se? Say no more. They'll probably be a little uncomfortable and try to order something cheap, but you can set expectations by giving their "braised chicken breast" a little raised eyebrow, then ordering whatever comes with the most shaved truffle. When the bill comes, show your friends you see them as your equal by splitting it down the middle.
Treat Your Luxury Goods Like Shit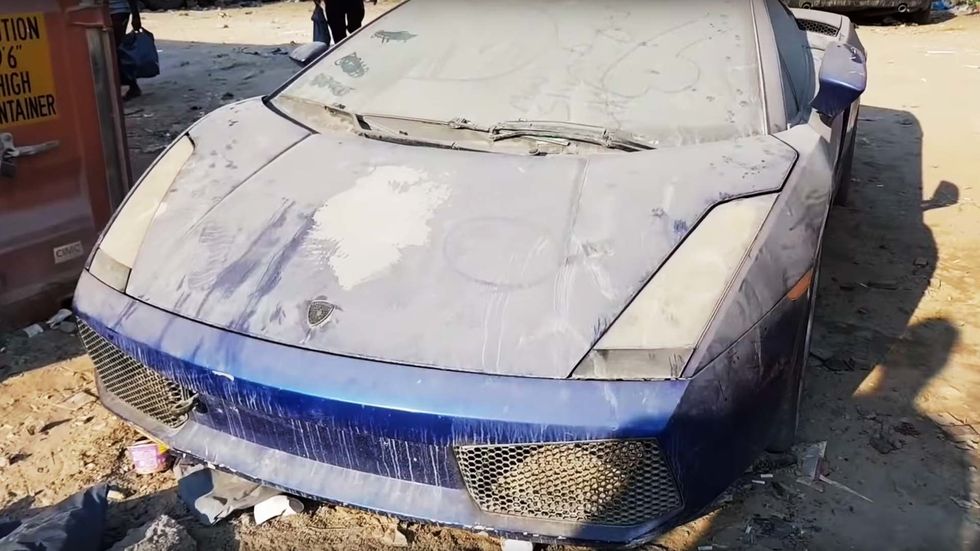 Oh, that old hunk of junk?
A lot of poor people think that the natively wealthy are all obsessed with status symbols and designer goods. Show them how superficial you think that stuff is by throwing your Louis bag on the floor like a sack of potatoes the moment you walk inside. If you take your poor friends to a rooftop bar with a pool, jump in with your Gucci loafers still on. Suggest a game of "streetball" at a public park, where they don't even charge you to play, and show up in your Balenciaga t-shirt to get your sweat on.
Talk About How Stressful Your Vacations Are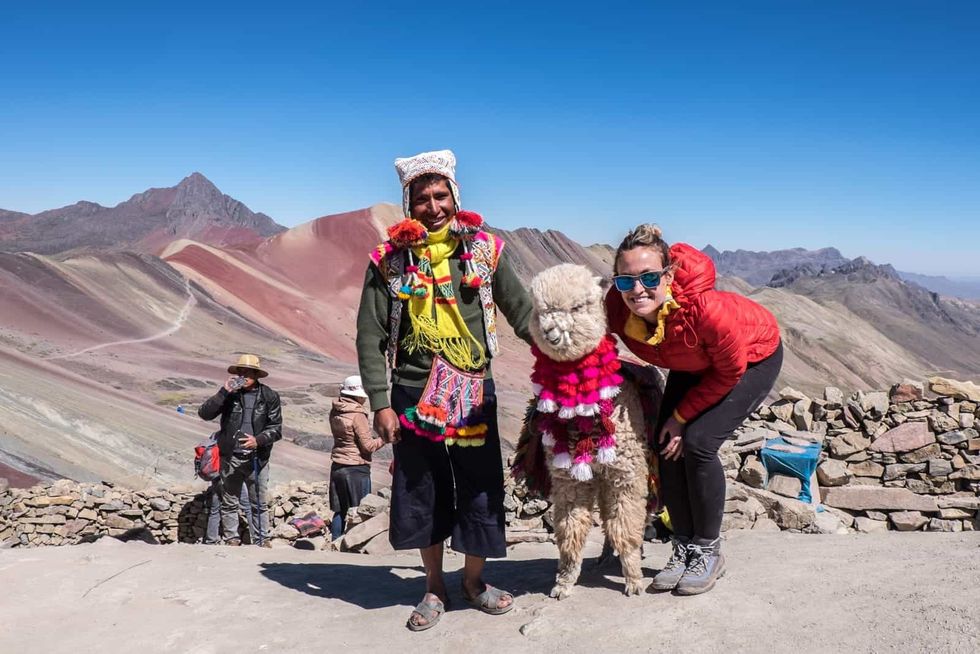 This shot seriously took like 20 takes, you guys
At this point, you pretty much get their whole deal. Their full-time job is stressing them out when they're at their part-time job, and their health insurance won't cover the yoga retreat in Iceland that you keep suggesting—blah blah blah. Show them that the grass isn't always greener just because it's treated with mink-scat fertilizer. You have your own sources of stress, and they'll feel better about their problems if you explain to them how much you had to work to "find yourself" on your trip to Peru—the llamas kept trying to eat your hair when you were posing for pictures, and that porter who carried your bags up the mountain could barely even speak proper Castellano (also, those guys only make like $30/day, so what are your poor friends even complaining about). See? Your life is hard too! Honestly, if your new friends don't get that, maybe they don't deserve you.
In fact, f*ck this whole thing. You don't need poor friends.