Study Breaks Magazine
College is expensive, and tuition rates are rising year by year. Lots of students turn to academic or sports-based scholarships to help cover the cost, and over the past few years, some students are even getting scholarships through online gaming. It's no surprise that the rapidly growing videogame space is making its way into academic institutions, given that esports are expected to be a $1.5 billion market by 2020.
That means that, just as many people ritualistically sink into their couch for Sunday football, more and more fans are going to be logging onto various sites — like twitch, the massively popular streaming service bought by Amazon in 2014 for $1.1 billion — to watch their favorite players compete in games like Fortnite or DOTA. According to the New York Times, "Over the past two years, the National Association of Collegiate Esports, which is engaged with 98 varsity programs across the United States and Canada, has helped to facilitate $16 million in scholarships, according to the executive director, Michael Brooks."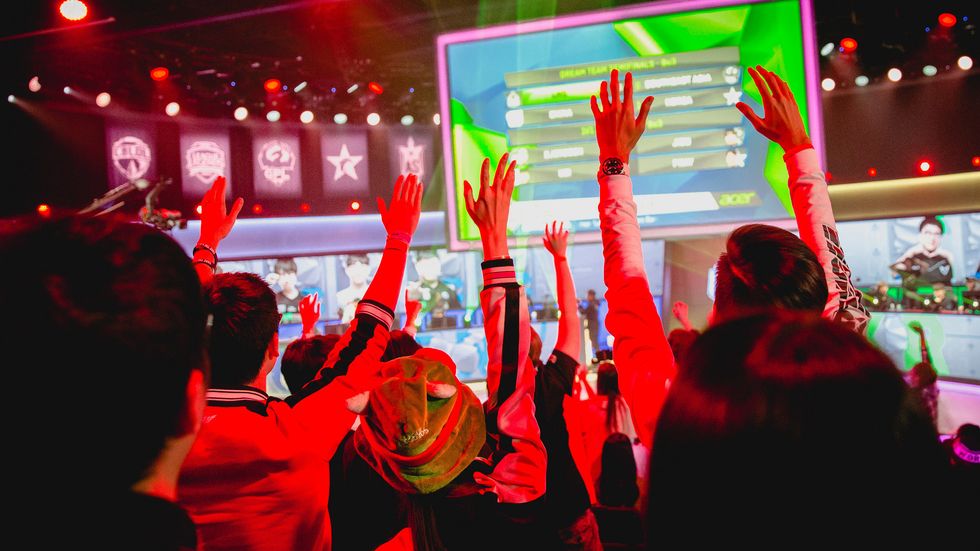 An esports tournament
Those lucky students who qualify for these video game scholarships earn money towards tuition by joining an esports team at their prospective school. For example, at Robert Morris University Illinois, there are currently 80 students on the esports team, 70 of which are receiving some scholarship money. At the University of California Irvine, there are 23 students on esports scholarships, and the team is only expected to grow in coming years. Brooks says that he expects esports to grow at an extremely rapid pace, "Certainly within five years I hope to see varsity esports be a common sight on college campuses across North America."

Other scholarships available for video game fanatics focus more on the intention to study game design in college. For example, NYU offers $24,000 in partnership with the Evo gaming tournament to a student, "who best demonstrates an active participation in the fighting game community, an interest in game design with a focus on innovating in the field of competitive games, and a legitimate financial need."
So how do you go about receiving an esports scholarship? Brooks told
Forbes
that students earn esports scholarships just as they would earn a more traditional sports scholarship, "based off of three characteristics; academics, merit, and athletic. Our member institutions award esports scholarships (which we would relate to athletic scholarships) based off a number of different traits including; player skill, academics, ability to communicate, available positions open on the team, etc." So next time you start to tell off your child for playing too many video games, consider the possibility that they may just be helping pay their college tuition.
Getty Images
As the digital realm and technology advances, new investment arenas and spaces open up. One of these spaces currently growing is eSports — essentially, video game competitions and tournaments. eSports have been around since the advent of online multiplayer gaming. However, it's only in recent years that the community has inched closer and closer to mainstream. It's still has a pretty niche audience, but it's growing. About 22 percent of male millennials watch eSports. This category even prefers to watch gaming tournaments over traditional sports. It's estimated that by 2020, 500 million people will be watching eSports tournaments. So how can investors cash in?
One example of an investment is the University of California, Irvine's eSports scholarship program. Just like traditional sports teams, the University is offering scholarships to students who will play on an eSports team representing the school. The school has also opened the first ever public college eSports arena.
However, the main avenues for investment will be outside of higher education. Currently, the main avenues for investors are in streaming, teams, and game development.

YouTube, Twitch, and even ESPN are getting in on the streaming game. ESPN has an eSports hub offering the latest coverage of leagues, tournaments, and standings. The largest prize pool ever in eSports was for Dota 2 league tournament play in 2017. Prizes totaled nearly $25 million. The most popular game streaming service Twitch was bought by Amazon for nearly $1 billion and now hosts more than 100 million users. YouTube has also launched YouTube Gaming in an effort to create a one-stop shop for gaming content — supported by advertising dollars. YouTube already hosts many, many hours of gaming content, but committing further to game streams positions the platform as a direct competitor to Twitch.
However, buying stock in these companies won't necessarily reap dividends strictly from eSports. The money they are making from gaming will likely be a very small portion of revenue for their parent companies. And forget trying to start a streaming platform of your own. Competing with these giants is not a smart play.
Leagues are a possible avenue. Just like physical sports, eSports form their own leagues to create regional, national, and worldwide championships. The two biggest leagues, in terms of prize money, are Dota 2 and Counter-Strike: Global Offensive. But these are both privately held by the Valve Corporation.

But there are plenty of publicly traded companies that you can buy stock in. This includes Riot Games, a division of Tencent Holdings, the world's largest video game publisher by revenue. It also created League of Legends, which paid over $5 million in prizes for play in its 2016 World Championship. (This is also the same league that UC Irvine offers scholarships for students to play in.) In 2017, Activision Blizzard launched a new league in Overwatch. Several big sports team owners as well as industry veterans had purchased the rights for its teams. A total of 14 teams were created. The teams sold for $20 million each. Revenue streams from eSports leagues are similar to traditional sports: advertising, media rights, ticket sales, and sponsorships.
Finally, there's game development and publishers. You can't have an eSports league without a game. As such, publishers and developers have the most to gain from this new arena. Publishers make money off of individual game sales as well as micro-transactions and extra downloadable content. Revenues will likely increase along with the increased interest in eSports. And as owners of the games and intellectual property they represent, publishers can generate revenue from their own eSports leagues.
According to a report from Juniper Research, revenue from eSports in 2017 was expected to total $1.8 billion. By 2021, that number is expected to reach $3.5 billion. With this looming opportunity, investors would be smart to get involved in some way, shape, or form.