SpaceX and Tesla CEO Elon Musk has had an interesting year so far.
In January he overtook Amazon founder Jeff Bezos for the first time in the horse race for hoarding wealth. Then he got himself mixed up in the r/wallstreetbet Gamestop insanity, boosting the movement with his "Gamestonk!!" tweet, and has remained a part of the similarly strange speculation around the meme "currency" known as Dogecoin.
Then in early February Musk announced that he was taking a (short-lived) break from Twitter following a major recall of Tesla vehicles and the explosive landing of SpaceX's SN9 rocket — the second test to end in flames in a matter of weeks. But now there are once again some positive headlines for Musk to bask in, as Tesla has turned some impressive profits in February — not from its car sales, but from a major investment in bitcoin.
Just two weeks after Tesla filed paperwork on its January purchase of $1.5 billion in bitcoin — as well as their decision to accept the cryptocurrency as payment — the price of bitcoin has risen by more than 50%, reaching an all-time high of more than $58,000 on Sunday. It has since waned from that peak, but the highly volatile digital currency is still valued well above the price at which the car company bought in.
Depending on when in January the car maker made their purchase, they might have nearly doubled their money. One analyst noted that, if Tesla had sold their bitcoin at the peak price, they would have realized around a billion dollars in profit — more than they netted in the entirety of 2021 from the sale of elctric vehicles and solar energy equipment. With that said, why would a company that ostensibly exists to make cars be investing in cryptocurrency in the first place?
Responsible Investment or Shady Business?
According to their filing with the Securities and Exchange Commission, they made the purchase in pursuit of "more flexibility to further diversify and maximize returns on our cash." But is that really what investors gave them that cash for?
If Tesla shareholders wanted to invest in bitcoin, they might have done so directly. And if they wanted someone to be using their money to make prudent investments, they could have given it to an investment firm. Surely they invested in Tesla because they believed in the company itself and in the future of the solar energy and electric vehicle industries.
So why mess with something like bitcoin, which is so far outside their supposed field? One answer is in the increasing financialization of the economy at large.
Noam Chomsky - Financialization of the Economy www.youtube.com
The value of publicly traded companies is increasingly divorced from any product they make or any service they provide to customers. Instead, their stock becomes their true product, and they boost the value of that product by buying it back from investors, leveraging their assets to receive loans, and pumping as much money as they can into profitable investments.

While those profitable investments can include expenditures for new equipment, factories, and employees, there is a limit. There are only so many people looking to buy electric vehicles and solar roofs. If the value of Tesla stock has risen so much that investing that money in manufacturing would outpace the market, then they owe it to their investors to find somewhere else to turn a profit.
This opens the question of whether they should still be considered a car company, or if they're now just an investment firm with heavy ties to the solar sector. But apart from that, there's still the question of why they chose bitcoin above other investments —especially when Musk has staked his claim on a more environmentally friendly future, and bitcoin mining wastes as much energy a large country.
Considering the currency's general upward trend — despite dramatic shifts — part of the reasoning might have to do with providing some cushion now that they're accepting bitcoin as payment. If a bitcoin millionaire buys a fleet of Teslas when the currency is at a peak, Tesla could end up losing a lot of that value by the time the cars are delivered. But if that's folded into a larger bitcoin investment that can (probably...maybe) be expected to continue increasing in value in the long term, it's not a big deal.
That would make a certain amount of sense. But if we were being less charitable, we could look at Elon Musk's personal history of using his social media to influence investment and the price of cryptocurrency, in particular.
In 2018 Musk was sued by the SEC, who alleged fraud over a series of false tweets in which Musk said he had secured funding to take Tesla private at a price of $420 per share. At the time, Tesla was valued at closer to $350 per share, and Musk later acknowledged that he chose the figure of $420 as a "funny" reference to cannabis.
That dumb joke led to a 14% jump in Tesla stock, amounting to hundreds of millions in value for Musk. But even that doesn't compare to what Elon Musk has been able to do with the value of cryptocurrency and meme stocks.
Over and over his tweets have sent their values soaring. And Tesla and SpaceX, there is no concrete output of cryptocurrency. There are no cars that can be recalled and no rockets that can blow up.
Pure Hype
While Tesla and other companies can put some distance between their profits and their actual productive output — relying more on investments, stock value, and hype — there are still real-world products at the core of the operation. When sales are down or one part among thousands is revealed as faulty, the company can take a major hit. That's not an issue with bitcoin.
While some cryptocurrencies have a value tied to a recognized asset, bitcoins only value lies in its perceived worth. And, unlike the dollar and other fiat currencies, it's not even tied toward a government's ability to collect taxes.
When more people want to buy it, the price goes up, when fewer are willing, the price drops, and there are no quarterly earnings or product reviews attached to it. Short of an undiscovered fault in the blockchain technology at bitcoin's core, the price is purely subject to hype. And that is an area where Elon Musk thrives.

With more than 47 million followers on Twitter — in the top 25 of individual users on the platform — musks often inane, memeified thoughts are guaranteed a wide audience. And when he sends some of that attention toward a meme stock like Gamestock, or toward a cryptocurrency like dogecoin, he can be sure that the value will see a spike.
Lately, however, he has been casting doubt on dogecoin and shifting his attention toward bitcoin. Perhaps he wants to see how far he can push the power of his hype.
Rather than using that power to manipulate Tesla's stock — which got him in trouble before — he could be using his considerable corporate control (with minimal personal liability) to shift his company's value into an area where he has more freedom to comment, speculate, and drive interest under the cover of "humor." That would certainly explain some of his bizarre, s***posting of late.
If so, the experiment has already paid off. Along with recent developments like the addition of bitcoin to Apple Pay, Tesla's bitcoin announcements on February 8th — along with a lot of dumb tweets — have contributed to the currency's steep rise.
Of course the alternative is that the richest man in the world is genuinely about as smart as the average redditor...which is as upsetting as it is plausible. Tough call.

<
In the first week of Wall Street trading in January of 2021, stock in the video game retail chain GameStop (NYSE: GME) hovered at a price of around $18 per share.
Less than three weeks later, on Wednesday morning those same shares were fluctuating wildly between $250 and nearly $400. This kind of growth is unheard of for an established, brick and mortar retail chain — especially when a pandemic is keeping people indoors.
So what did GameStop do to deserve this incredible rally? Absolutely nothing.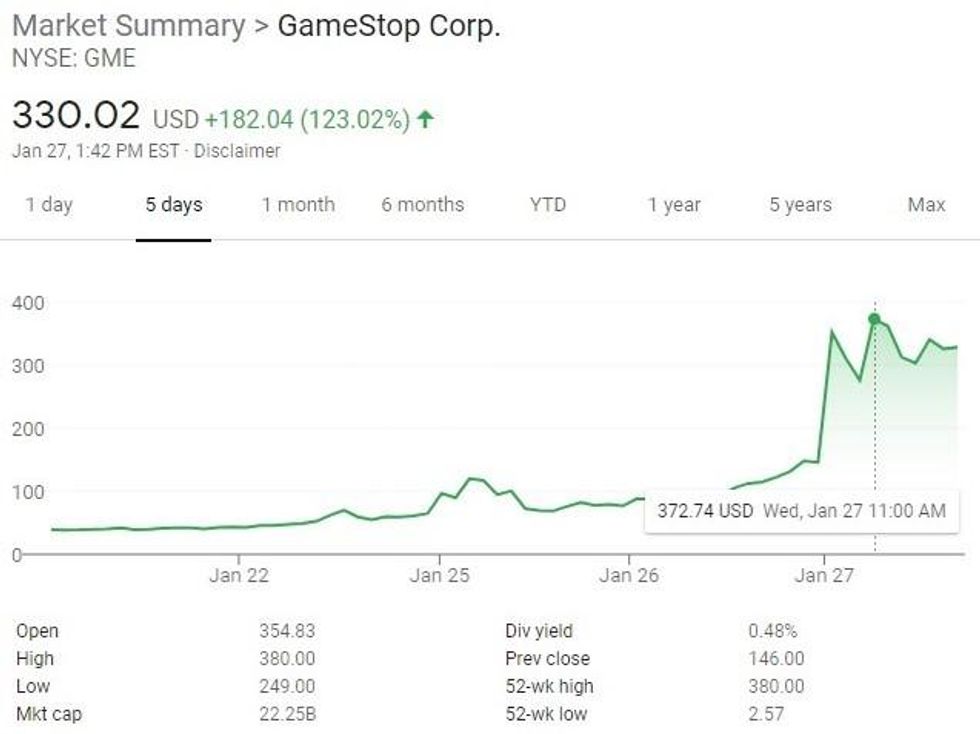 Google
If anything, you could argue that the company's lackluster performance was what triggered this incredible rise, as it was the proliferation of "short" positions — bets against the company's future value — that brought the stock to the attention of the WallStreetBets subreddit.
A subsection of reddit with millions of subscribed users, WallStreetBets describes itself as, "Like 4chan found a Bloomberg Terminal." In other words, it's a place for Extremely Online and unserious hobbyists to overanalyze the absurdly complex data that professional traders use to make investment decisions in the stock market.
Generally speaking, this leads to some pretty reckless speculation that often does not pan out well for the users. They're like small-time gamblers boosting each other up to play with the high rollers, and it's not uncommon to see a post from a redditor explaining how they lost their life savings.
But in this case they managed to turn that dynamic around. Like those little dinosaurs from Jurassic Park 2, individually they are small and vulnerable, but if they work together, they can take down the big assh**es...or, medium-sized ass**les anyway. They won't be tackling T-Rex or J.P. Morgan any time soon.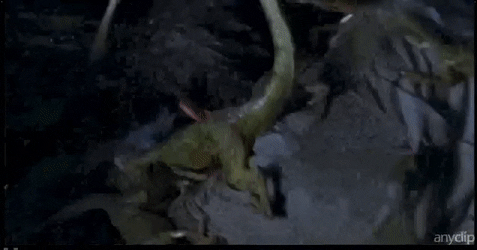 But what actually happened? The answer is complex, but the basic version requires a brief explanation of the slightly sketchy practice of short selling. Also known as "shorting," short selling inverts the standard "buy low, sell high" model of trading.

When a trader identifies a stock that they think is overvalued — because of hype, fraud, or expected trends — they borrow someone else's shares and immediately sell them at the current rate, planning to buy back once the value goes down and return them to the lender with some profit left over from the original sale.
There is also the short-call option, where — for a small fee — you offer a window of time in which to buy shares at a set price above its current value. If the stock rises above that price within the time limit, you have to sell it at a loss. But if it goes down — as you expect — you can just pocket the fee, and never have to truly own the stock in the first place.
In both scenarios you're relying on the idea that the company's perceived value will go down. But the truly sinister aspect is that — when a lot of these bets are being made against a company — it's often taken as a bad sign, leading traders to sell off their stock, driving the value down.

It's a sort of self-fulfilling prophecy that destroys businesses and small-time traders to the benefit of multi-billion-dollar hedge funds. It's the kind of trading that accelerated the financial crisis of 2009 while raking in billions for the scavengers. But if the stock's value just keeps going up — for whatever reason — the hedge fund can end up on the hook for some truly staggering losses.
Investor Chamath Palihapitiya: The GameStop story is pushback against Wall Street establishment www.youtube.com
So when WallStreetBets users noticed the overwhelming amount of betting against GameStop, they decided to intervene on the company's behalf — and to make some money for themselves while screwing over some big investors. Never mind that one of the subreddit's official rules prohibits market manipulation. It's for a good cause — kind of.

From there a strange and powerful feedback loop took hold. As more and more redditors bought shares in GameStop, driving the price above $60 over the course of a week, the incentive to treat the stock as overvalued increased — after all, there was nothing in the company's performance to justify the higher price.
Investors poured an additional $2.75 billion into Melvin Capital — one of the biggest short sellers — to cover the losses until the trend turned around. But the short sellers' dismissive attitude toward the early growth actually helped to inflate the price and spurred on the weirdos at WallStreetBets.
With some encouragement from Tesla CEO Elon Musk — who hates short sellers and generally holds a weird amount of petty grudges for a man whose 2020 earnings were literally higher than the GDPs of most countries on Earth — they drove GameStops share prices even higher. And as media coverage (hi there) spread news of this absurd battle — and the dire situation a bunch of weird hobbyists had created for Melvin Capital — the hype only grew, driving the price even higher.
Gamestonk!! https://t.co/RZtkDzAewJ

— Elon Musk (@Elon Musk) 1611695282.0
By Wednesday morning, Melvin Capital and Citron Capital — another major proponent of shorting GameStop — had both announced that they were abandoning their short selling positions and swallowing the losses...but WallStreetBets doesn't buy it. Suspecting the investment firms of attempting to let the air out of the story so they can finally profit as the inflated stock collapses back to a reasonable value, redditors have continued pumping up the stock.

But as crazy as all of this is, on some level it serves to expose the insanity that was already there. The stock market is all based on speculation and hype and speculation about the trends in hype — all operating at degrees of removal from the economic realities of the companies involved.
Is GameStop's share price artificially inflated? Absolutely.
But so are a thousand other companies that have spent tax cuts and government bailouts on stock buybacks, rather than paying their workers a fair wage or investing in new ventures. It may make for a more dramatic story — and will probably end up inspiring more regulatory pushback — but is the game they're playing worse than the short sellers themselves working to depress stock prices?
For so long we have been taught to treat the stock market as an index of our nation's whole economy. Perhaps that's why, in 2020, the one area where the government wasn't stingy with its support was in propping up the financial sector.
As a result, the Dow Jones Industrial Average quickly recovered from an early COVID crash and ended up increasing in value by 10% over the course of the year. At the same time we saw record-breaking unemployment, endless lines at food banks, and thousands upon thousands of businesses folding as a result of the protracted half-measures of our noncommittal COVID lockdown.
More than any flash crash or high-frequency middlemen, some weirdos working together on Reddit have helped to expose how unreal the whole system is. The stock market is not the economy. It's just a weird, artificial, predatory game our billionaire overlords play with the economy. And at the moment, some regular nerds are outplaying them — and potentially making millions in the process.
Please share this. There is currently $38 MILLION USD worth of shorts on $AMC When these short sellers don't hit… https://t.co/GLzA7Y2xVM

— Reddit Trading 🚀 (@Reddit Trading 🚀) 1611767995.0
There's no way of knowing quite how high GameStop's stock will rise, or what will happen to the company when it eventually crashes back to Earth — there's not really a precedent for this. But hopefully the whole ordeal will serve as a lesson for the hedge funds, investment banks, and other bloated parasites thriving in a hellish economy — that every now and then, the little guys can bite back.

As of Wednesday afternoon, the hype is still going, with the phrase "to the moon" trending on Twitter, and WallStreetBets continuing to inflate the share price of GameStop along with AMC and Blackberry — whose stocks were similarly targeted by short sellers.
After years of talk, the world's most familiar digital payment platform, Paypal, is finally embracing cryptocurrency as a form of accepted currencies for all its US users.
Bitcoin, Ethereum, Bitcoin Cash, and Litecoin will be the cryptocurrencies accepted by PayPal. "The shift to digital forms of currencies is inevitable," said Dan Schulman, president, and CEO of PayPal in an October 21st press release.
Experts in the crypto world have often linked the volatility and shortcomings of cryptocurrencies to its lack of accessibility in markets, so this new acceptance on part of Paypal might just be what's needed to propel cryptocurrency use into the mainstream economy. Paypal will develop complementary cryptocurrency educational resources on its website.
Currently, you can get on the waitlist to trade cryptocurrency on PayPal, as it's not officially tradable yet. Beginning sometime early next year, users will be able to not only buy and sell the currency but also use it to make purchases to any of Paypal's 26 million merchants.
What Is Cryptocurrency?
You may have heard the words "cryptocurrency" or "Bitcoin" before; you may even know what they are. Pop culture has long depicted futures in which money has gone completely digital. With the growing acknowledgment of cryptocurrency, that future may not be far away.
The Dutch bank ING released an extensive survey about cryptocurrency, in September, revealing that while almost three-quarters (74%) of people know that cryptocurrency is a type of digital money, nearly the same amount of (73%) incorrectly identified the governing body for cryptocurrency, or said they did not know how it worked.
Cryptocurrency is a type of digital currency secured by cryptography technology that makes it nearly impossible to counterfeit. Cryptocurrency is not controlled by any government or entity, and the middle man (AKA the bank) is cut out of the equation.
How Does It Work?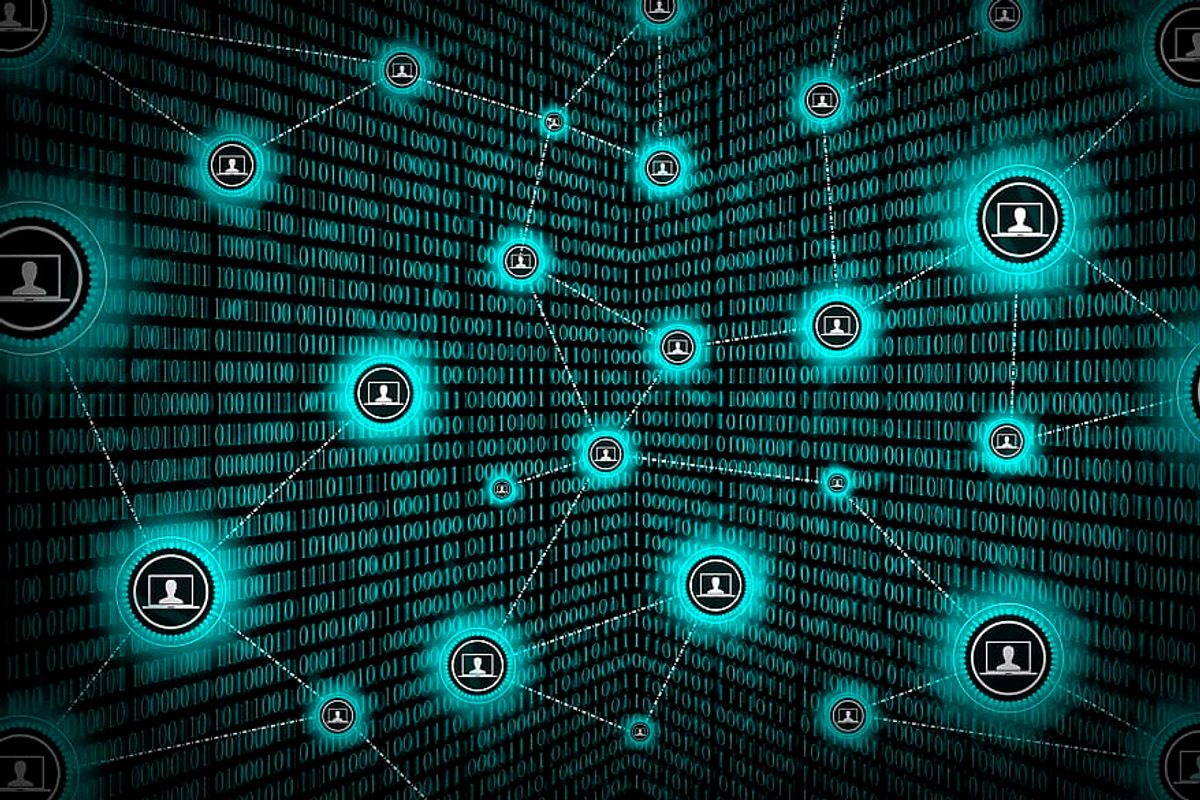 Cryptocurrencies allow you to make secure transfers online which are denominated in terms of tokens. Behind the scenes, the network shares a blockchain (digital ledger) that records all transactions.
How Can I Use Cryptocurrency?
In order to buy cryptocurrency, you need an online application, known as a "wallet" to digitally store it in. This can be done through an app such as the Bitcoin Wallet, or through a free investment app such as Robinhood.
You can use your cryptocurrency to buy goods or services from many retailers and merchants that accept cryptocurrency, transfer it directly to other cryptocurrency users, or exchange it for other digital or paper currencies.
Cryptocurrency can also be earned through
mining
, which is often referred to as the process of digitally mining for gold.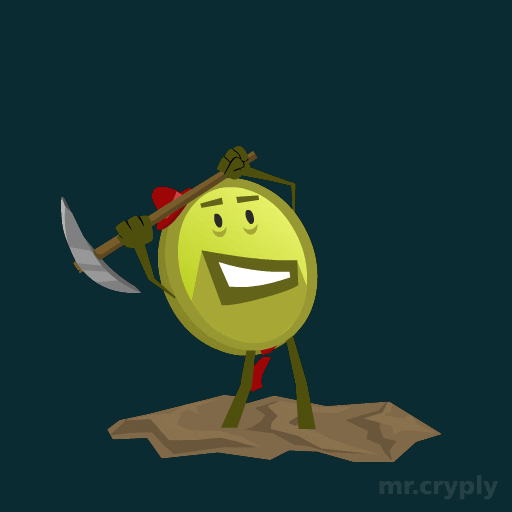 Money Work GIF by Mr.Cryply Giphy
Types of Cryptocurrency

Bitcoin was the first of its kind and is still the most popular cryptocurrency used today. Other alternative cryptocurrencies have come out since, including the Litecoin and Ethereum.
Bitcoin
The original Bitcoin code was developed in 2009 by the individual or group known by the anonymous pseudonym, Satoshi Nakamoto. Bitcoin is not owned by any individual or company. All users are able to use and develop the bitcoin software.
Today, Bitcoin is split into two different cryptocurrencies: the original Bitcoin (BTC) and Bitcoin Cash (BCH). The main difference between the two is that the latter was created to increase the speed of transaction processing. Some experts worry about the security of the newer Bitcoin cash, as the program doesn't necessarily follow the guidelines in programming set out by Nakamoto. As it is, Bitcoin still remains the most widely used of the two.
Cryptocurrency Benefits
Since cryptocurrency operates in a decentralized manner, cutting out the middleman in currency transactions (AKA the bank) can have many benefits.
Cryptocurrency transactions are instant and direct, unlike transfers that need to run through banks and can sometimes take days to process.
Cutting out the need for the bank reduces inflation and reduces fees.
Transactions are not limited by time, location, or bank holidays.
More secure transactions from cryptographic technology.
Cryptocurrency allows much clearer transparency since the data stored in the blockchains are available for anyone to view.
Cryptocurrency Disadvantages
The inability to make payments with cryptocurrency.
Cryptocurrency is unregulated, which makes it an attractive means of illegal activity and overall is considered a high-risk investment.
Cryptocurrency does not hold any intrinsic value-such as that of fiat currency backed by gold or a governing body. Berkshire Hathaway's billion-dollar CEO, Warren Buffet, is a longtime opposer of cryptocurrency. In an interview with CNBC, Buffet said that he would never invest in cryptocurrency because he believes it holds no value.
What's Next?
According to a 2019 survey, only 10% of people understand cryptocurrency. However, it does have backing from the SpaceX and Tesla founder, Elon Musk, who sees potential in Bitcoin. The future of cryptocurrency heavily relies on its ability to further reach into the retail economy.

From Your Site Articles
Related Articles Around the Web
Don't you love to see a story about someone giving back?
Not every wealthy person is a miser. Some of the richest people on Earth recognize how lucky they are and choose to share the wealth.
Just look at Amazon's Jeffy B.—or Jeff Bezos, as his friend's call him—who recently donated $100 million to food banks to help America get through the coronavirus. Wowie! So much money, and he's just giving it away!
It's a lot more than you and I and several large families put together will ever give to charity, because it's more than we are likely to earn in our entire lifetimes! It's more money than you could fit in the trunk of your car in stacks of $100 bills!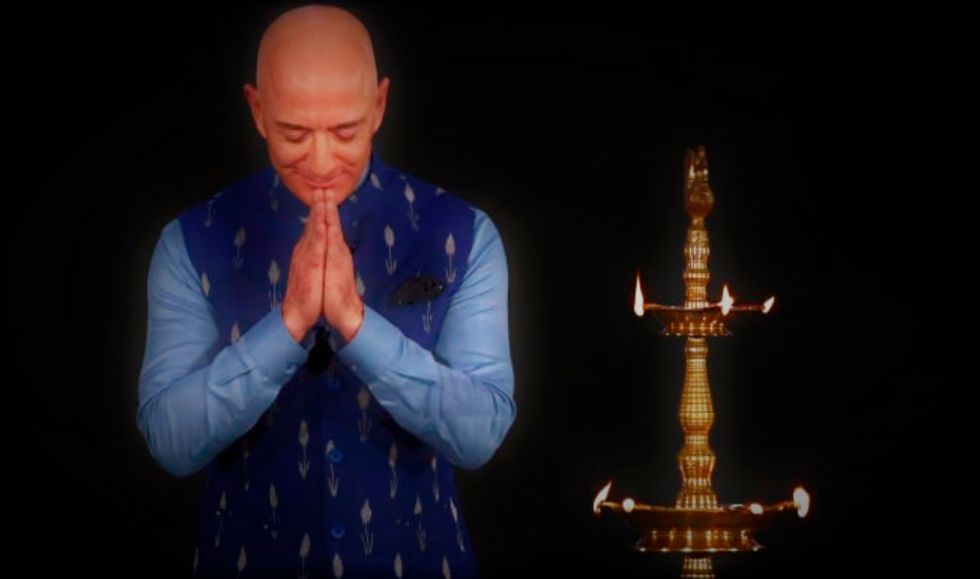 If you had that much money in a basic savings account, you and me and those several families could easily live off the interest alone! Actually, it's kind of more money than any one person could ever need or even spend on anything normal.
Sure, if you want to travel the world on a yacht, eating meals off the shaved heads of a series of world leaders, you could spend it all pretty easily. But if you just want to have a happy, comfortable life, $100 million isn't much better than an $80,000 salary.
So why don't people like Bill Gates, Jeffy B., Warren Buffett, Michael Bloomberg, Elon Musk, Charles Koch, or any of the Walmart Waltons just give away their riches and go down in history as the person who ended world hunger? At an estimated cost of $30 billion a year, each of them could feed the world's hungry for between one and five years. Or they could end homelessness in America for between two and eight years.

They could even keep a few hundred million so they could continue hunting supermodels for sport. And imagine how much those millions of people could improve their lives if they weren't constantly struggling to feed themselves or find a place to sleep.
It must not be that simple... Because if private greed was the only thing holding back transformational change, governments could have snatched up all that wealth with some steep taxes and made the world a better place. There has to be some reasonable explanation for why these people don't just give it all away…
In this series we will look at a number of prominent myths around philanthropy, including the notions that billionaires' "wealth" is substantially different than money, that their private foundations do a lot of good, and that they are patrons of the arts.
Previously we debunked the idea that charity is better than "government handouts," but today we'll look at the question of whether it's even possible for a billionaire to be generous.
The Myth:
The billionaires must know something we don't about these issues, because they're clearly smart, and would solve them if it was that easy. Just look at how much they give away! They aren't being stingy!
Why It's Wrong:
They absolutely are being stingy.
Let's look back at that $100 million donation from Jeff Bezos. At an estimated net worth of $165 billion—even after his mega-billion-dollar divorce—that "generous" sum constitutes about 0.06% of his wealth. To put that in perspective, if you had a $15,000 car, another $1,500 sitting in a bank account, and you had zero debt (lucky you), this would be the equivalent of giving $10 to charity.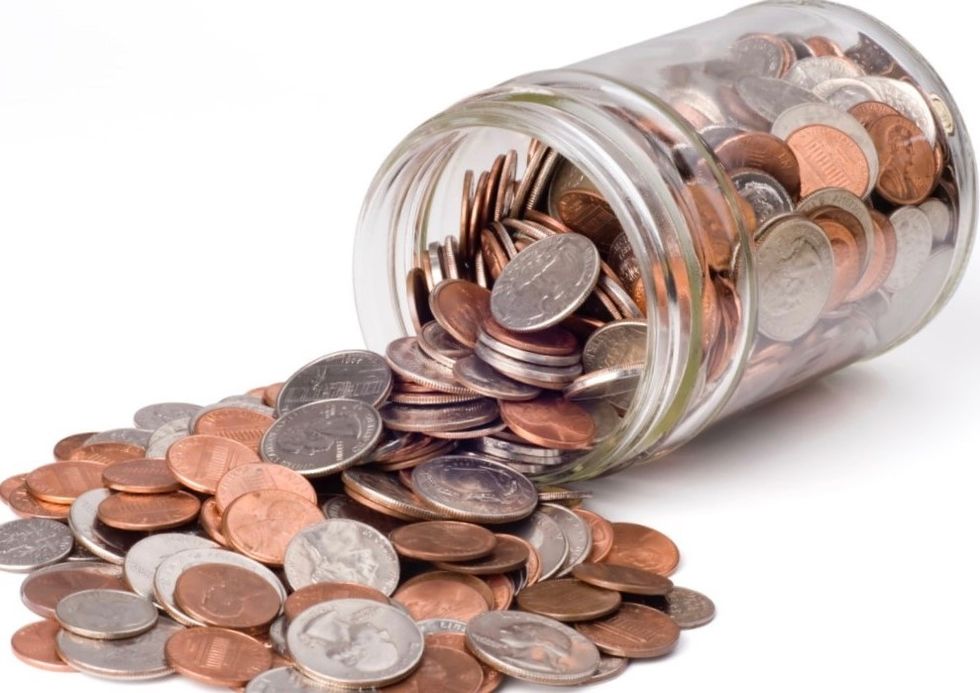 Why didn't CNN cover your swear jar donation?
It's nice and all, but it's hardly worthy of a flock of journalists rushing to tell the world about your incredible selflessness. And actually, it's much worse than that—because if you lost 99% of what you had, you'd be flat broke. If Jeff Bezos did the same, he'd still have more money than the 10 richest a**holes you've ever met.

Likewise, Bill Gates, Warren Buffett, and other "good" billionaires who have pledged to give away half of their wealth somehow still seem to get richer every year. They give away a tidy sum here and there to earn some fawning PR, all while their investments in companies that underpay their workers and destroy the environment earn them way more money than they hand out.
Everyone knows that large sums of money in a stable economic environment can easily be grown—as Uncle Phil put it on Fresh Prince, "my money makes money." But when your inordinate stacks make you further stacks on stacks on stacks, giving money away in dribs and drabs like this is entirely meaningless.
It may help some people, but it doesn't cost you anything you will even notice. It's like having a hole in your pocket that occasionally drops a few dimes on the street. Whoever is on the receiving end might appreciate those dimes, but you will literally never notice they're gone.
Billionaire Taxes
To see through the myth of billionaire generosity, you just need to look at how they reacted when they were worried that their vast fortunes might actually become appreciably less vast.
Last fall, when Elizabeth Warren looked like a contender for the Democratic nomination for president, she boosted her proposed tax on wealth over a billion dollars from 3% to 6%, and that was a bridge too far for Bill Gates who said, "I'm all for super-progressive tax systems," he said:
"I've paid over $10 bilion in taxes. I've paid more than anyone in taxes. If I had to pay $20 billion, it's fine. But when you say I should pay $100 billion, then I'm starting to do a little math about what I have left over … you really want the incentive system to be there and you can go a long ways without threatening that."
Elizabeth Warren tweets an open invitation to Bill Gates to discuss her wealth tax www.youtube.com
To clarify Warren's plan, wealth between $50 million and $1 billion would only be taxed at a 2% rate—barely touching that first billion dollars. At the time, Bill Gates was worth $106 billion. He's gotten richer since then (because that's what billionaires do...even in 2020) and is now estimated to have just shy of $110 billion. If he'd been taxed at Warren's proposed rate, he'd now be down to about $103 billion (poor guy).

Considering the stock market grows an average of around 7% each year, he could pay that 6% tax and still rake in about $1 billion each year with some basic investments. That's enough money to buy about 4400 average American homes...each year...without spending any of your original investment...
If all these numbers are starting to hurt your head, that's because you don't have the brain disease that billionaires suffer from. It's how they got to where they are. All they think about is their money—how they can use it, and how they can make more of it.
Even the ones who support slight increases in their taxes just want to quell the masses and obscure the fact that they are all ripping us off. It's the same motivation that leads them to give away some money here and there—it makes them look like good guys, and it soothes their neglected, battered consciences.
The less cautious among them aren't even interested in going that far. Michael Bloomberg spent over $1 billion not on charity but on trying to buy the Democratic nomination because if Sanders or Warren had gotten elected it would have cost him several billion dollars each year. What's the cost of his public humiliation on a national stage compared to that.
The Ultra-Wealthy Rule Over Us
These people aren't satisfied simply with having more money than anyone could reasonably spend in a hundred lifetimes. They always want more, because more money is more power; power to sway politics to their singular will, manipulate the media, and to be the absolute arbiter of which causes are "worthy," and which will continue to be underfunded and ignored.
That "incentive system" that Gates mentioned has nothing to do with quality of life at the billionaire level. Working hard to earn more money doesn't change how these people eat, where they live, how their children are educated, how often they go to the doctor…
If we taxed wealth over $1 billion at 100%—just took it all away—food banks could just have that $100 million on hand without waiting for a billionaire to be in a good mood, and Jeff Bezos' actual quality of life would be unchanged. He'd still have his last billion dollars to spend on daily baths in endangered animal parts. Yet he clings to his insane level of wealth because it allows him to be an oligarch, and to be worshipped for his generosity (without ever losing a cent).
"Generosity" for billionaires has nothing to do with how much they want to help. It's based entirely on how much they want to be praised.
I'm moving $1B of my Square equity (~28% of my wealth) to #startsmall LLC to fund global COVID-19 relief. After we… https://t.co/TtdU7W4SWk

— jack (@jack) 1586289859.0
There are possible exceptions of course. Twitter CEO Jack Dorsey recently "donated" $1 billion to COVID-19 relief—which is almost 28% of his net worth. So if he does that a couple more times he won't even be a billionaire anymore… except that he "donated" that money to Start Small Fund—his private, "donor-advised" LLC that doesn't have to disclose its financials.

Surely though, this sort of private "charitable" foundations must do a lot of good for the world, right? We'll take a look at that myth in our third installment.
From Your Site Articles
Related Articles Around the Web