Fresh flowers can add beautiful colors and fragrances to any room. They can also brighten your mood, add humidity to the air, and reduce stress levels. However, buying cut flowers every week can get expensive. Try these tips to save money by making fresh flowers last longer.
Longest-Lasting Flowers to Buy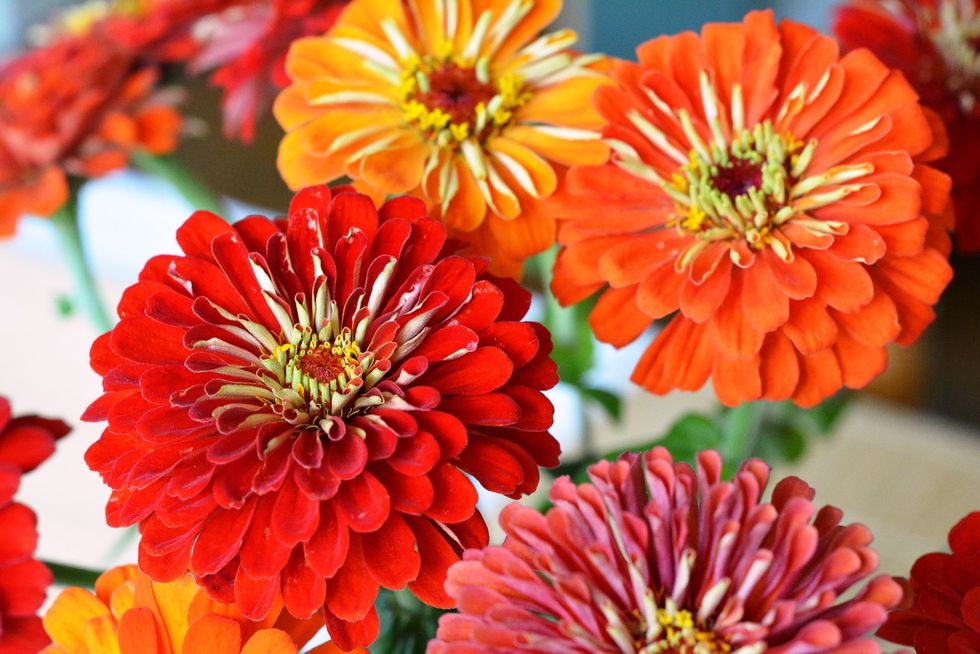 Zinnias
One of the easiest ways to save money is to buy flowers that naturally last longer. Zinnias, orchids, and chrysanthemums can last three to four weeks. Carnations can make it two to three weeks in a vase. Lilies, alstroemerias, delphiniums, and freesias can last two weeks. On the other hand, fresh peonies, gladioli, and sunflowers can last one to two weeks.

You can cut your flower expenses in half or more by buying varieties that last longer. For example, if you buy a bouquet of 12 roses every week for $30, it may last about seven days. Your monthly expenses would be $120. However, getting 12 chrysanthemums for $30 that last four weeks could save you $90 per month.
Make Your Flowers Last Longer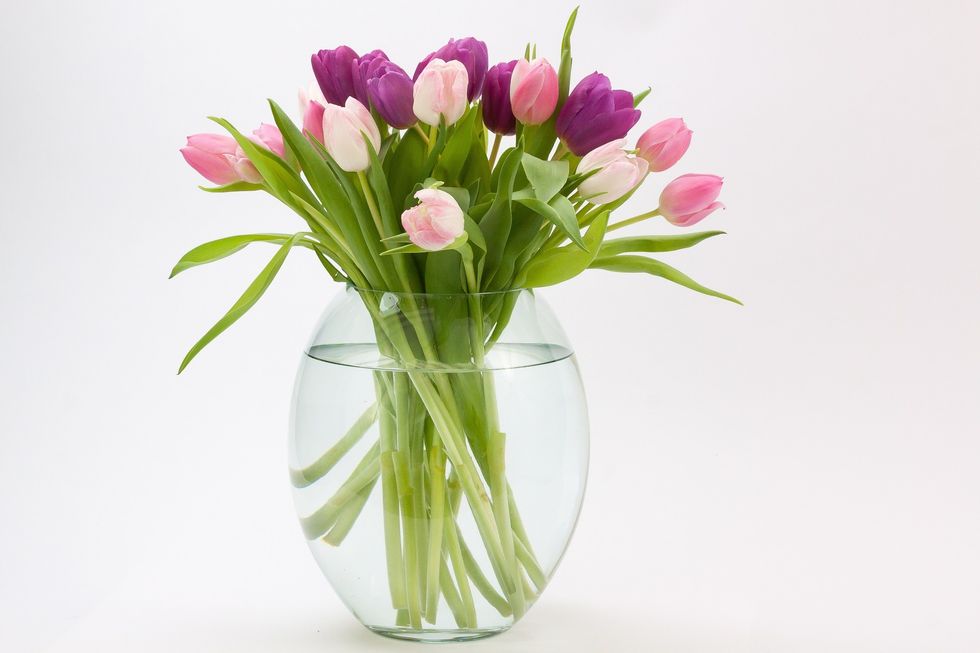 Tulips
You can make your flowers last longer by following a few simple steps. First, when you bring the flowers home, cut about an inch off the stems at an angle, so they can continue to absorb water. Second, make sure you clean the vase before putting cut flowers in it and change the water every day. This helps reduce bacteria and keeps the plants fresh longer.
Keep your flowers away from heat sources and direct sunlight. Also, avoid putting them near ceiling fans, air conditioning units, or vents because the circulating air can make the flowers lose water faster. Finally, avoid putting your flowers next to ripe fruits, which release chemicals into the air that can shorten a plant's lifespan.
Use Flower Food Packets
Make sure to use the flower food packet from your florist by adding it to the water every time you change it. Mix the packet according to the instructions from your florist. These packets contain sugar, citric acid, and bleach. The sugar feeds the plants while the citric acid maintains the pH of the water and the bleach kills bacteria.
Put Flowers in the Fridge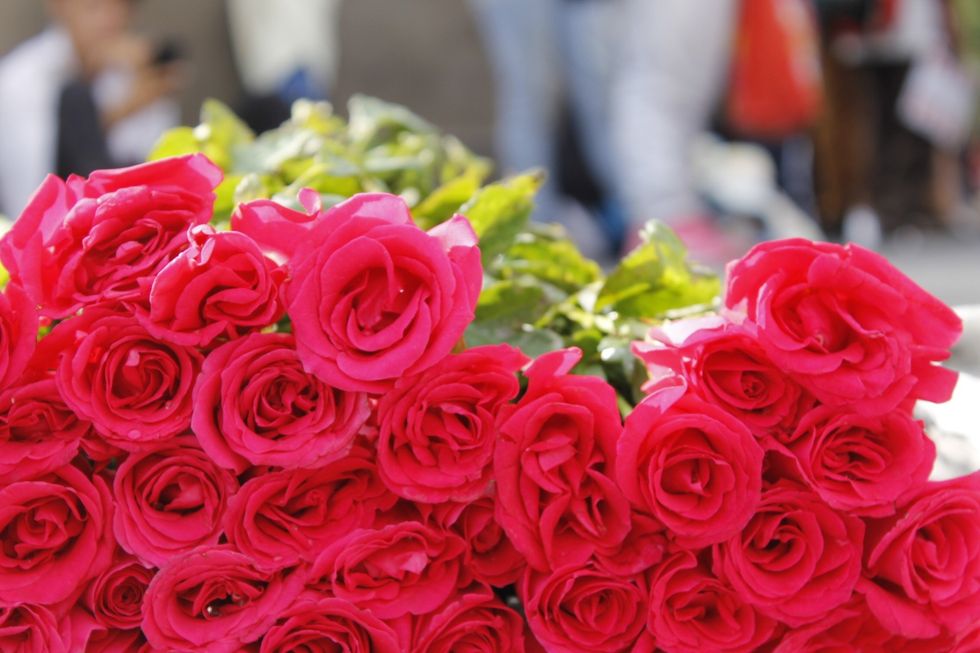 Roses
Consider keeping your flowers in the fridge at night to preserve them better. Then, take them out in the morning to enjoy them. The cooler temperatures inside a refrigerator help flowers stay fresh longer. Using this method may help you keep a bouquet for up 10 days.

Try Adding Soda
There are many home remedies for keeping flowers fresh, but adding a small amount of soda to the water actually seems to work. Try adding 1/4 of a cup of soda to your vase to keep a bouquet fresh for 10 days. The reason this method works is that soda has a lot of sugar, which flowers can absorb as food.
Following these tips can help you save money by making your flowers last longer. If you're used to buying a bouquet every week of the month, getting long-lasting flowers and taking care of them can reduce your expenses by half or more.
<
Blinq Blog
Unless you're Mackenzie Bezos or ex-husband Jeff, chances are you budget your money. You know how much of your monthly income you want to spend on groceries, rent, and leisure, and maybe you even put a portion of each paycheck in savings. But what about budgeting for a specific goal? Is it a short term or long term goal? What are the best tools for both?
Identify Your Financial Goals
Your first step should be identifying the kind of financial goal you're trying to reach. Some examples of short term goals are things like: payments toward rent, insurance or student loans, expensive personal items (new car, new fur coat etc.), travel, a wedding or other event, and home repairs/remodels. These goals are more immediate expenses that you will pay in a matter of months and often require a set amount of money up front. In contrast, long term goals are less likely to have a set amount and more likely to be things that you'd like to continue to expand indefinitely, such as retirement funds or college funds. (Of course, things like paying off a loan or a house are a combination of long and short term goals, since a single loan payment falls under short term goals, while paying off the entirety of a loan is more likely to be a long term goal).
Prioritize Your Financial Goals
The next step is prioritizing your goals. As Nerd Wallet puts it, "Work your goals around your usual expenses, focusing on needs like food and shelter first. Emergency and retirement funds are also high priority; contribute to these funds and pay off debt next. Then you can decide how to allocate the rest of your money toward your wants and other savings goals." Essentially, if you only have a small amount of leftover money each month, you shouldn't put it all towards buying a boat if you have student loans to pay off.
How to Create Your Budget
First, if you don't already have one, budget your necessary monthly expenses as precisely as possible. These necessary expenses include paying for food, living expenses, transportation, and recreation. Try to work out how much you spend on these things in an average month, and then consider if there are any areas you could cut down without great personal cost, such as eating out one less time a week. Once you have this basic budget established, create a timeline for your short and long term goals. To do this, you can use this 50/30/20 budget calculator to determine where exactly your money should go.
After you have a plan laid out, all that's left is actually sticking to the budget you created for yourself, and then you can watch your goals get closer and closer to fruition!
If you want to be the best, you learn from the best. And when it comes to wealth and investing, few on this planet have done it better than Mr. Warren Edward Buffett.
Born in Omaha, and considered by many as one of the most successful investors in the world, Buffett is one of the three wealthiest men in America with a whopping net worth of $84.9 billion. Through his annual reports, speeches, and various articles, he's shared his insights into wealth and money management. These gems of advice will enhance your money mindset.
Invest in Yourself
"Imagine that you had a car and that was the only car you'd have for your entire lifetime. Of course, you'd care for it well, changing the oil more frequently than necessary, driving carefully, etc. Now, consider that you only have one mind and one body. Prepare them for life, care for them. You can enhance your mind over time. A person's main asset is themselves, so preserve and enhance yourself."
Pay Yourself First
"Do not save what is left after spending, but spend what is left after saving."
Read Everything
"By the age of 10, I'd read every book in the Omaha public library about investing, some twice. You need to fill your mind with various competing thoughts and decide which make sense. Then you have to jump in the water – take a small amount of money and do it yourself. Investing on paper is like reading a romance novel vs. doing something else. You'll soon find out whether you like it. The earlier you start, the better."

There's Wisdom in Admitting Your Ignorance.
"There is nothing wrong with a 'know nothing' investor who realizes it. The problem is when you are a 'know nothing' investor but you think you know something."
On Patience
"No matter how great the talent or efforts, some things just take time. You can't produce a baby in one month by getting nine women pregnant."
Other People's Mistakes Are the Best Ones to Learn from.
"The best thing is to learn from other guy's mistakes. [General George S.] Patton used to say, "It's an honor to die for your country; make sure the other guy gets the honor." There are a lot of mistakes that I've repeated. The biggest one, the biggest category over time, is being reluctant to pay up a little for a business that I knew was really outstanding."
On Opportunity, Fear, and Greed
"We simply attempt to be fearful when others are greedy and to be greedy only when others are fearful."
Do What You Love
"You should do the job you love whether or not you are getting paid for it. Do the job you love. Know that the money will follow. You're rich if you are working around people you like. You will make money if you are energetic and intelligent. This society lets smart people with drive earn a very good living. You will be no exception."
Have Great Coaches, Trust Your Instinct
I had a great teacher in life in my father. But I had another great teacher in terms of profession in terms of Ben Graham. I was lucky enough to get the right foundation very early on. And then basically I didn't listen to anybody else. I just look in the mirror every morning and the mirror always agrees with me. And I go out and do what I believe I should be doing. And I'm not influenced by what other people think.
On Following the Path of Least Resistance
"I don't look to jump over seven-foot bars: I look around for one-foot bars that I can step over."
And Remember, Take it Easy...
"You only have to do a very few things right in your life so long as you don't do too many things wrong."