Getty Images
Trying to cancel your gym membership can be more tiring than actually attending that kick boxing class you've been avoiding. Getting out of your gym contract can be so difficult, in fact, that people are going to great lengths to avoid paying any penalties. After going into debt living a lifestyle she couldn't really afford, this woman forged fake documents to convince Equinox she had moved out of state. She photoshopped her name onto bills sent to her parents home in Virginia. She hadn't really moved, but it worked and she saved herself over $1,000 in penalties.
But before resorting to forgery, there are a few legal and effective ways to cancel your membership without paying. Most gyms let you cancel free of charge under certain conditions like, illness, relocation, disability, and sudden unemployment. Even if your reasons for canceling fall under those accepted circumstances, it's still not as simple as it might sound. You have to submit "official" proof from your doctor, boss, or submit proof of your new address by showing a lease or bill in your name.
Most people don't take the gym contract they sign as seriously as they should. It's just a gym membership right? How serious could it really be? But it's important to read the fine print before signing ANY contracts.
A contract for a gym membership is legally binding, so it's important to read ALL of the fine print. Understand what you're really getting yourself into, and make sure you know what the conditions are to cancel and how much you'll be charged. And get every interaction you have with gym staff regarding your membership in writing. Some employees might promise more lenient policies than are actually written in the contract.
Not moving, sick, or unemployed? You can still likely cancel without paying.
Most gyms include a clause that allows you to cancel if they stop offering all the services listed in the contract. Did your favorite hatha yoga class get cut from the only time slot you had free to take it? That might just be grounds for legal termination, without paying any fees.
If you're trying to ditch your gym membership because you'll be traveling for a few months, tending to an illness or family emergency, or even just in between freelance gigs, you can also opt to freeze your account instead of canceling it entirely. Most gyms let you stop paying your monthly membership for a certain amount of time, so long as you give them a heads up and plan to renew once the freezing period ends.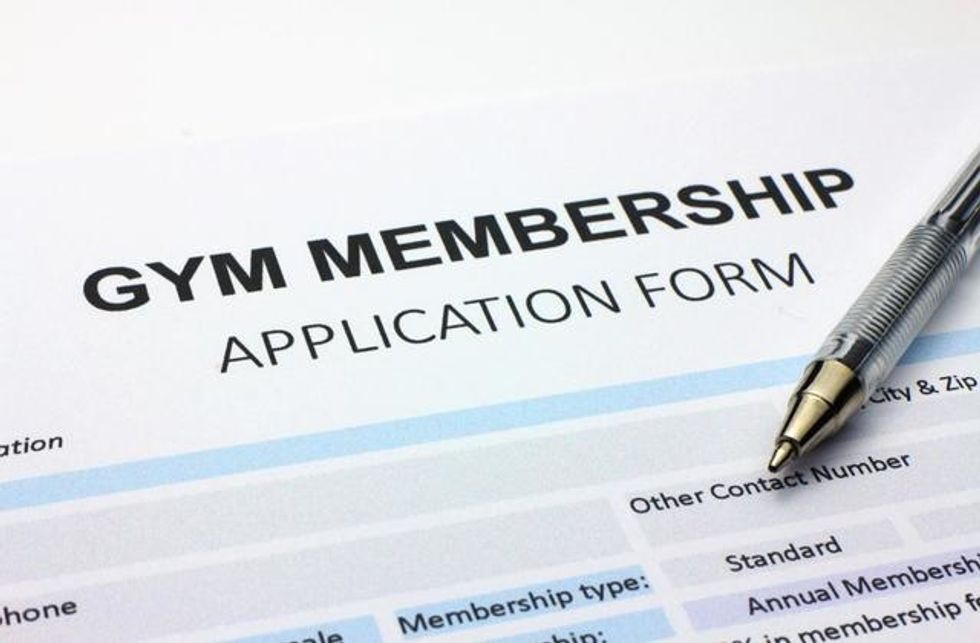 How to cancel your gym membershipUs News
How to get out of your membership if all else fails?
If the cancelation conditions don't apply to you, you're not interested in freezing your account, and you aren't willing to commit forgery, there is another option. If the terms of the contract you signed weren't explained to you before you signed, you can likely get out of it. Legally, cancellation policies have to be explained beforehand.
You can also threaten to take your complaints about the high cancellation fees and unexplained membership contract to social media. Businesses will try to avoid bad online reviews at all costs and will most likely just let you cut ties for free. Again, get every interaction in writing. If they agree to let you out of your membership without paying a penalty, ask for a written letter of acknowledgement.
If you're thinking this all sounds like too much effort and cancelling your credit card or just taking your payment method off your account is a better solution. Think again. Unpaid fees will get transferred to a collection agency. Even if the amount you owe is small, the impact to your credit could be big. It isn't worth it.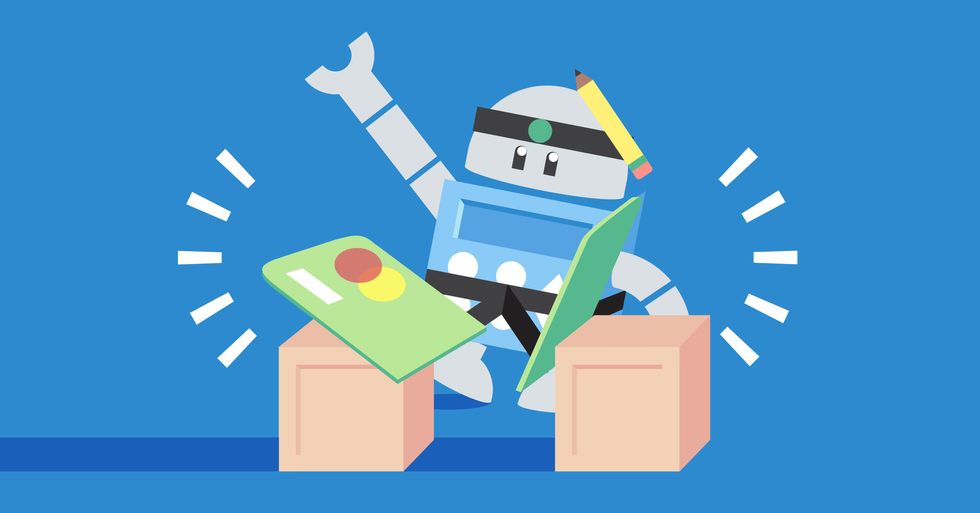 Cancel Subscriptions for FreeTrim App
Instead, consider hiring a cancelation service like Trim. This free and convenient service cancels your subscriptions for you, negotiates on your behalf, and gets you better deals on subscriptions you want to keep. Trim will even send your gym a letter requesting to cancel on your behalf. Let them do the haggling for you.
<
Shutterstock
Cooking at home more often than you eat out or order in, can be rewarding for both your wallet and your waistline. But it can also feel like a time suck that requires a lot of effort. It's hard to perfectly plan all of your meals to avoid food waste and get the most of out your produce while it's still fresh. Don't throw that stale loaf of bread out just yet though! Or let hardened brown sugar come between you and a batch of brownies again.
Here are 10 kitchen hacks to save you a little time, a little money, and a lot of frustration.
1. ) Keep Tomatoes Fresh Longer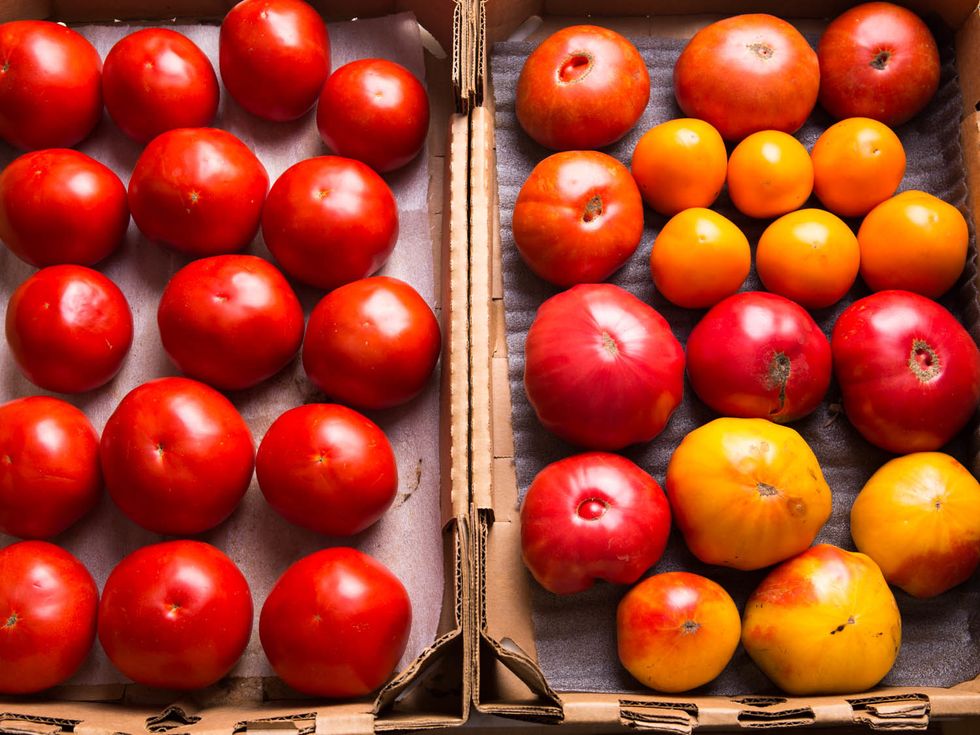 Tomatoes stored stem side downFood52
You probably already know that tomatoes are better stored at room temperature than in the fridge. While ripe tomatoes do ok in colder temperatures, storing under ripe tomato in the refrigerator affects the development of the flavor, texture, and coloring. Want juicer tomatoes bursting with flavor? Store them stem side down at room temperature.
Storing tomatoes upside can actually keep them fresh for longer. How? It stops excess air and moisture from leaving what's knowns as the scar. The scar is where the tomato was once attached to the vine. This easy kitchen hack stops tomatoes from taking on that unwanted mealy texture and helps them stay fresher longer.
2.) Stop Brown Sugar From Hardening
Hard, clumpy brown sugar is a real bummer. Especially when you're in the middle of baking something delicious. Instead of tossing it out or breaking out a hammer to try to salvage some of it, try these easy hacks first. The key to keeping brown sugar from clumping is restoring as much moisture as possible.
Make sure your brown sugar is stored in an air-tight container and then add a slice of apple, or an orange peel to the mix before sealing. The orange peel and/or apple slice restores moisture and softens brown sugar up. Within a few hours it's as good as new! Here's a guide to everything you'll ever need to know about sugar.
3.) Easy Check to See if Eggs are Still Good to Eat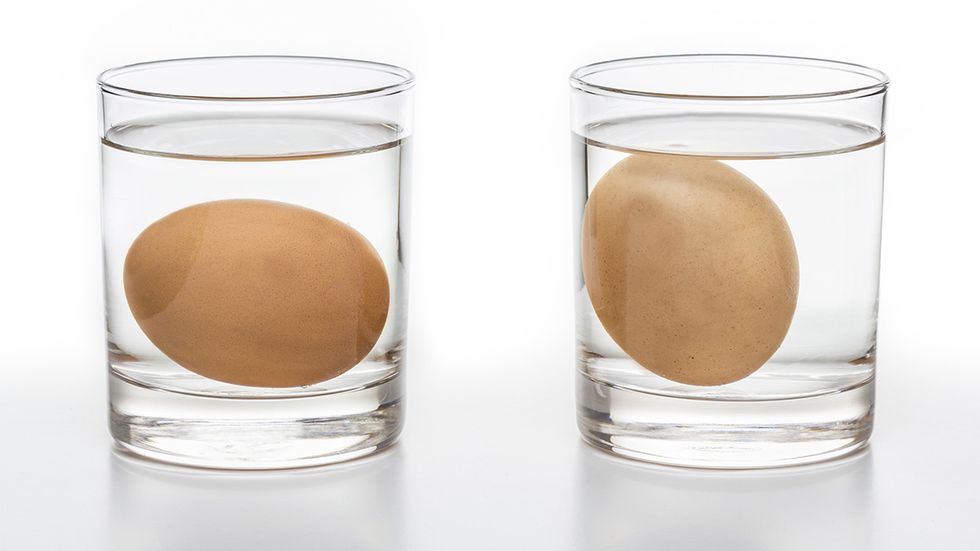 Spoiled egg testShutterstock
Not sure how long those eggs have been sitting in your fridge? Instead of cracking them open, gently place them in a bowl or glass of cold water instead. If the egg sinks, it's still good to eat. If it floats, it's time to toss it.
The liquid inside eggs slowly evaporates over time, creating a gas bubble inside. The lighter the egg, the older and more spoiled it is. The FDA's generally guideline is that a carton of eggs is ok to eat for up to 4-5 weeks after it's been packaged.
4.) Soften Butter Fast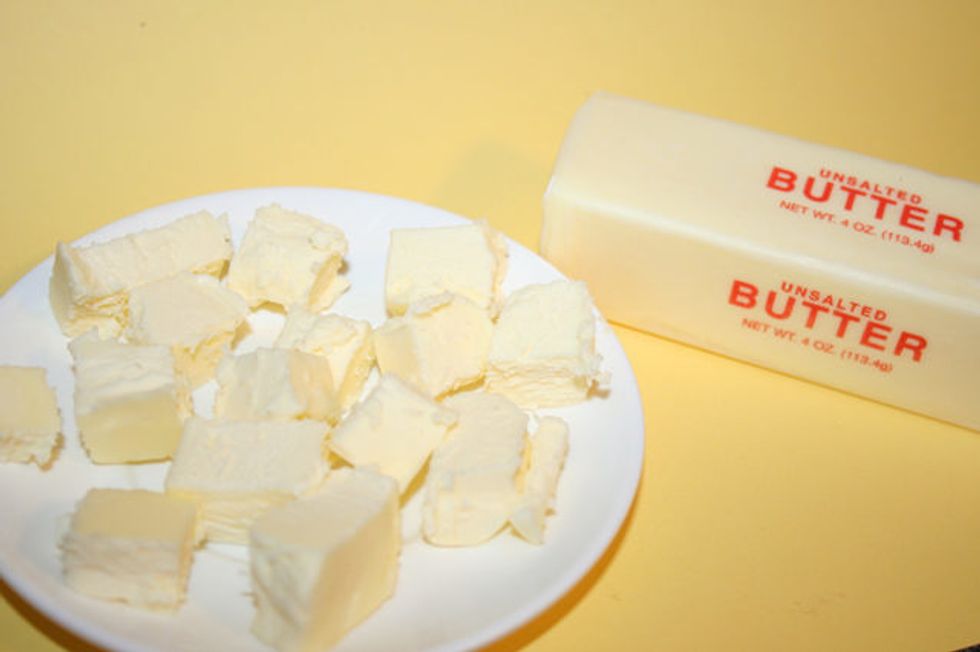 Soften cold butter quicklyEver Tricks
Baking with soft butter is almost always better, but it isn't always convenient. If you're in a rush and forgot to let your butter soften at room temperature, don't just use it cold. Try these quick tricks to soften cold butter fast instead!

Grate it, slice it, or place it in a ziplock bag and roll it flat with a rolling pin. It'll soften up pretty quickly. Another cool trick? Try Buzzfeed's warm glass hack. Fill a glass with warm water, pour it out, and then place the glass over the butter to soften it.
5.) Quickly Peel Potatoes and Tomatoes
Thin skinned vegetables like potatoes and tomatoes can be annoying to peel. Here's a way to quickly and easily peel them without even using a vegetable peeler. First boil them and then give them an ice bath. The skin will separate from the center making it easy to peel right off with your hands.
6.) Cut the Fat
If you want to remove excess fat from gravy, stews, soups, sauces, and broths there's a faster way than waiting for it to cool. Pop a few ice cubes into the saucepan or pot and the fat will rise around them, making it easier to scoop out. You can also skim a few ice cubes along the surface of the liquid to help it solidify. Remove the fat with a spoon or try soaking it up with a piece of toast.
7.) Save Wilting Herbs for Later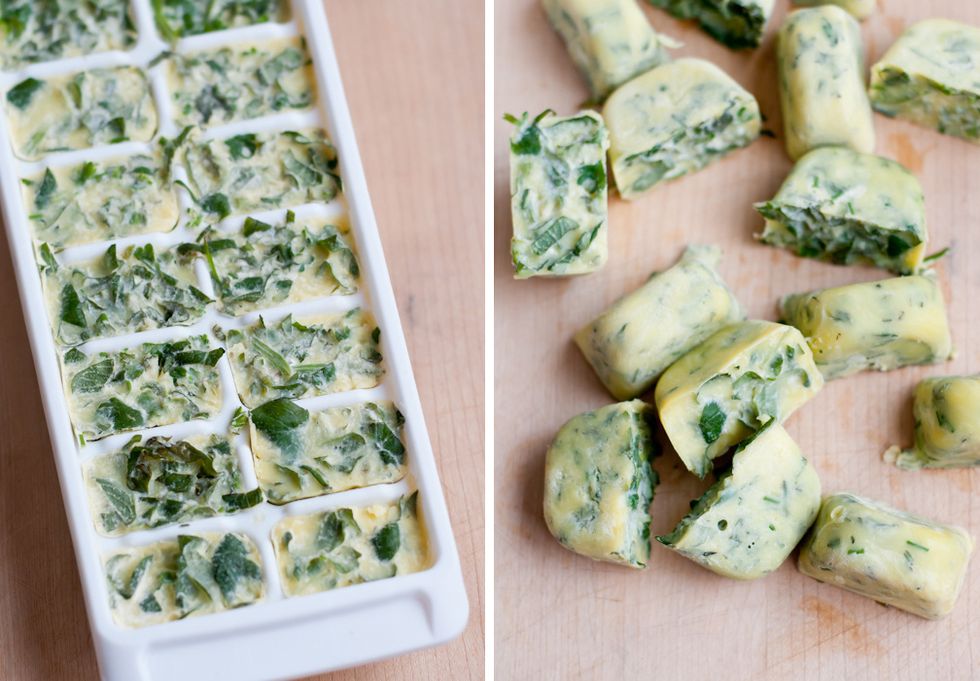 Herb and olive oil cubesRecipe Hubs
If notice any herbs looking less than fresh you can easily give them a second life with this kitchen hack. Finely chop or pulse them in a food processor with olive oil. Enough oil to completely cover the herbs. Pour the herb and olive oil mixture into an ice tray and freeze. When you're ready to use the herbs just add one or two cubes to whatever you're cooking up! You can also try this hack with citrus zest. Here's a fruit freezing guide.
8.) Put Lemons to Work
Don't toss those old lemons out just yet! Instead put them to work as an all natural, and powerful way to clean your countertops, utensils, your oven, and even the fridge. Lemon juice is one of the best natural cleaners, because of it's low ph and antibacterial properties. It's even capable of restoring rusty brass and copper.
Try using half a lemon in place of a dish sponge. Scrub away and then let the lemon juice sit for a few minute before washing clean. Lemons are actually a safer and more environmentally friendly way of cleaning than other store bought products.
9.) Restore Crusty Bread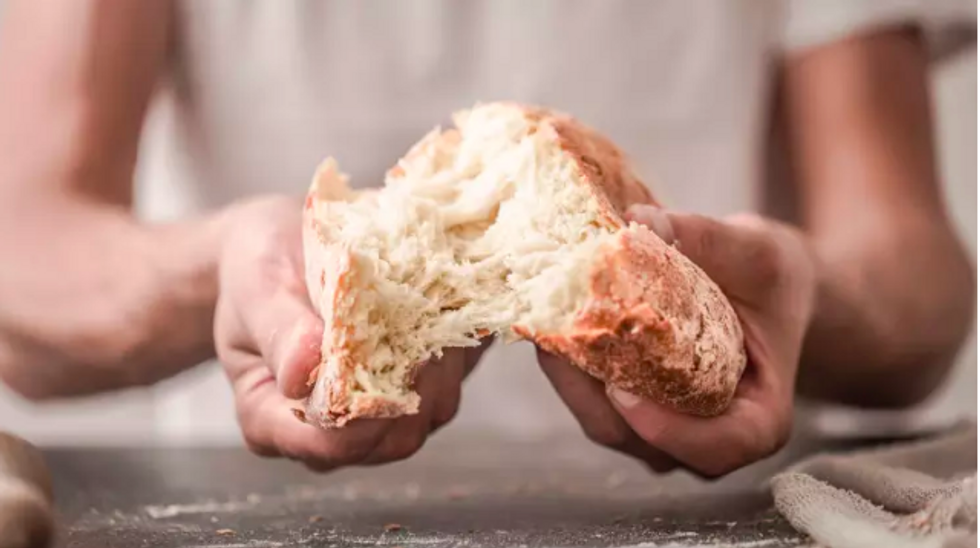 Revive old breadGetty Images
Don't throw out that stale loaf of bread either. Reviving a crusty baguette is possible with this amazing water trick. Run the stale loaf under water until the crust is completely wet. Don't be afraid to drench it.
Set your oven to 325 F degrees or on it's warm setting and put the wet loaf directly on the metal rack. Let it bake for 6-7 minutes and when you pull it out, it'll practically be as good as new. Warm, soft center and crunchy crusty exterior ready to be used again.
10) Microplane Garlic and Ginger
Finely chopping or mincing garlic and ginger can be a real time suck. Luckily there's an easier way. Microplane it! Anytime a recipe calls for minced garlic or ginger reach for a microplane zester instead of a knife.
It's faster and easier on your fingers. You can also try using a spoon to peel ginger, it actually works better than a vegetable peeler. And for the garlic? Give it a good whack with the back of a knife and the skin will fall right off.