There is nothing easy about a job interview. Etiquette says dress up, even if your interviewers arrive barefoot in blue jeans. You should smile, but not too much. You should be humble and confident at the same time. You should write a thank you note. But what about salary?

Addressing salary while moving into a new role in a new company can feel as difficult as landing the job, itself. And while finding a fulfilling position is important, your income should also be a factor. You deserve the dream job, and you deserve an income that makes that job sustainable.

According to a recent survey, only 37% of employees even attempt to negotiate for their salaries -- and in 2018, that's got to stop. Emily Post never gave us any intel on the etiquette surrounding salary demands, but fortunately, there are a few steps proven to work. You don't have to choose between decorum and financial stability.
First things first, professional negotiators recommend doing your research before an offer is even on the table. Know what people in similar positions are earning, and be prepared to defend yourself if your eventual offer doesn't comply with industry standard. This doesn't mean you should throw a number at an employer during your first interview -- it'll give you the upper hand to wait until you've got have a sum to negotiate with. But be sure you're prepared when going into this conversation. Know what your counterparts are making, and go from there.
When it comes to finally having the money conversation, finance journalist Alison Doyle recommends remaining neutral. "Negotiations needn't be adversarial, and no one has to get aggressive. If you're a reluctant negotiator, it might help to keep in mind that you're on the same side." she writes. Approach the conversation with a sense of camaraderie -- technically, there are no enemies. You both want your services.

"The team has invested time and resources in the interview process, they have consensus on hiring you and they're eager to seal the deal and put you to work. This is the perfect time to talk salary," adds journalist, Robin Madell. Ultimately, you and your employer are a unit, and they want you here. If they were underselling you, they'll want to make it right. They, too, are invested.
If you have pre-negotiation jitters, keep in mind the fact that most employers actually expect to have a little back-and-forth when it comes to salary. The number attached to your initial offer is often ever-so-slightly lower than it could be, in the event that you push back. Your reluctance to talk about money here may be polite in an old school dinner party sense, but those rules no longer apply. Certainly no one will think less of you for negotiating.
Once your discussion is actually underway, if it feels like your negotiations have come to a halt, Doyle recommends negotiating benefits. There may be some other aspect of your financial compensation with a little more wiggle room, be it an office perk, or a health insurance package. Try to take a look at the whole financial picture, and be flexible when it comes to options that don't apply strictly to salary.
There is, of course, the distinct possibility that you will never arrive at an offer that feels substantial to you. If this happens, don't be afraid to say no. Again, this might feel counter to the rules of decorum, but this is 2018, and sometimes self advocacy requires a little bluntness.
"I turned down a position I knew I didn't want, regardless of salary, and received three follow-up phone calls upping the compensation package," Doyle reports. Like with haggling, the word "no" can be powerful. Sometimes, the thought of losing you as an employee will be enough to kick a full negotiation into gear.
On the other hand, know your own situation. Don't push too hard if this doesn't feel feasible. There are times when budgeting doesn't allow what you're fighting for, and if you truly need the hours or the title, check yourself before you deliver a flat no. Walking away with less than you deserve is no fun, but it's equally problematic to walk away with nothing.
"The main reason employees aren't paid what they're worth isn't because they don't deserve it," Madell writes. "It's because they don't ask." This is important to keep in mind.
You only get what you negotiate for, and in 2018, job offer etiquette urges you to make that request. Earning what you deserve is your prerogative. That shouldn't scare you, it should empower you.
<
The Independent
When it comes to dating, a lot of the outdated, gender normative, etiquette that was once nonnegotiable, grows less and less important by the year.
It's no longer necessary for women to get married, men don't always pick up the dinner bill, house hold chores are shared, and communication is open in a way that was not a given for past generations.
Another perk of changing relationship dynamicsshould be the ability to have an open conversation about finances with your romantic partner. We've come too far to leave finances out of the equation when it comes to partnership, whether that's a restaurant bill or your daughter's college tuition. So no matter what stage of your relationship you're in, be sure to start a dialogue.
At the Beginning of the Relationship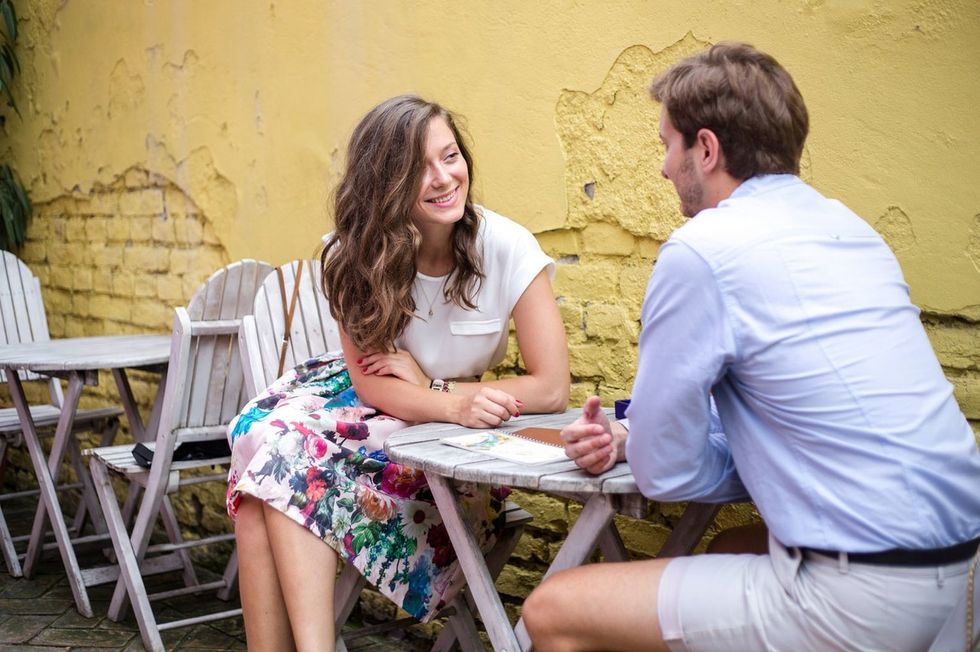 Glamour
By date three, you and your partner are certainly not discussing how you might finance a house, but that's not to say you can't get a gauge on values when it comes to money. This doesn't necessarily have to be a conversation as much as an observation.

"Ask them, 'If you won the lottery, what would you do?' I think that tells you a lot about a person," says financial planner, Erin Voisin. Telling questions like these are plenty useful for getting to know someone in a holistic way, and money is just a little part of that.
"Do they do things that are irrational or impulsive?" asks Reshell Smith, a second financial planner. "I also think people's attitudes about money comes from their family. Talking about family, parents and how you were raised — you can get an idea from there."
When you're still feeling each other out, it's good to have an understanding of the kinds of things your partner is willing to spend money on. You don't have to ask how much, but knowing if they're more inclined to drop their paycheck into a Planned Parenthood fund, a family vacation, or a pair of Nike Frees is definitely valuable information.
When the Relationship Gets Serious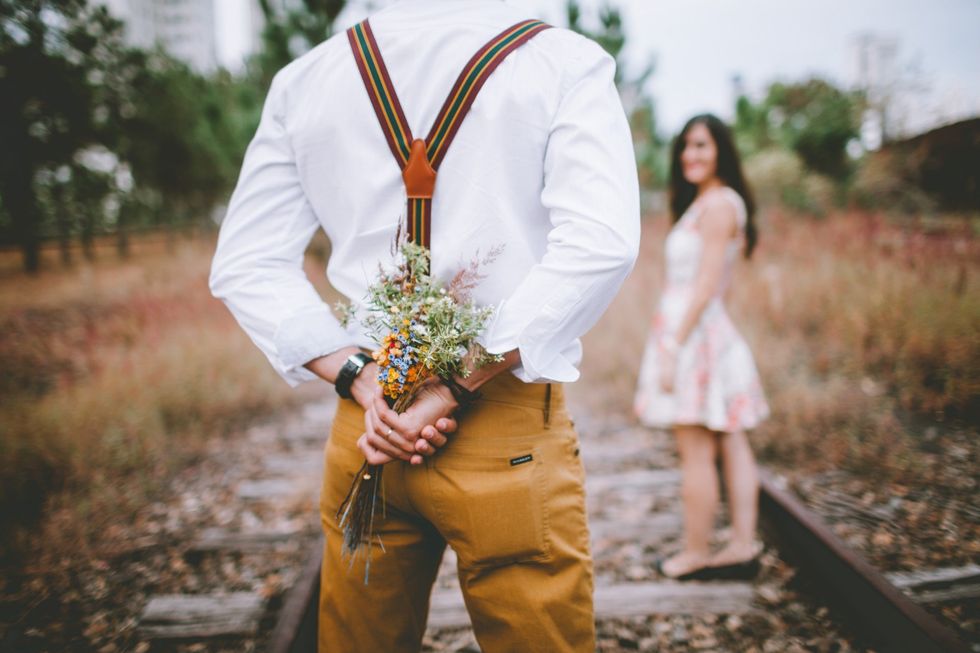 Medium
Serious is, of course, a relative term. Plenty of couples take years to say "I love you." Some take weeks. Some think open relationships are easier than committed ones. Some swear off marriage. But once you feel like you're genuinely committed to another person, there are certain money questions that need to be asked.
Voisin recommends making time to talk about the highs and lows in your economic histories. Did you invest in something stupid? Do you impulsively shop? Are you frugal to a debilitating point? "Talking about financial successes and failures is important," she explains.
If you plan to continue your relationship, you'll get in the habit of spending money on and around one another quite a bit. That means you need to know about major debts or serious trust funds (yes, this includes a conversation about credit score).
When You Decide to Move in Together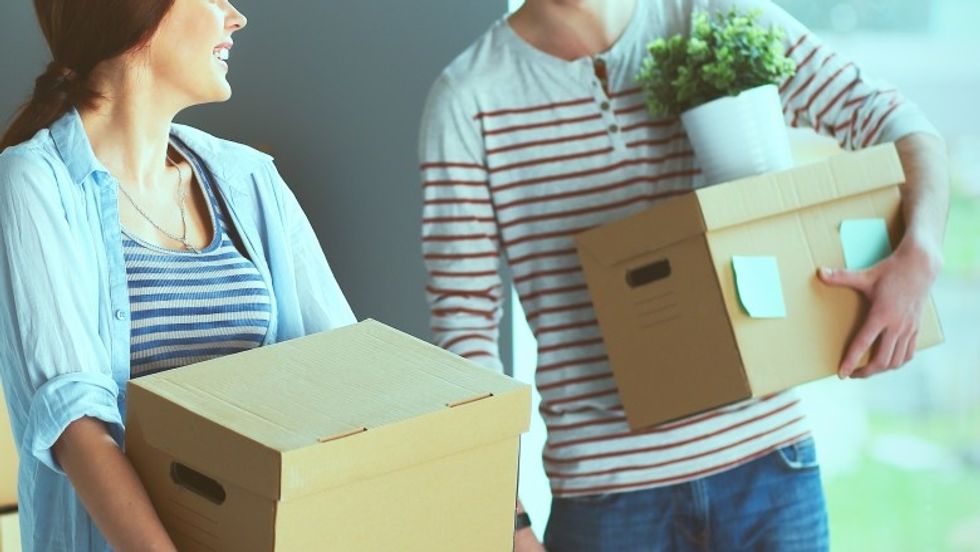 The List
This is quite possibly the most difficult test any couple undergoes — only the strong survive. Cohabitation can entirely change the way you relate to a person. Not all good friends make good roommates, and not all good romantic partners do either.
From a financial angle, living together, of course, implies splitting the cost of a home — but it also implies dictating what is mutually owned, and what is personally owned.
"If you both are living in separate places, you probably have two washers, two dryers, two TVs. These are things you can sell to raise money for a wedding or to help pay down debt," says Smith. But do you decide who has the better version of each? Whose debt are you paying off? The yours, mine, ours conversation is not an easy one.
It's recommended that you test out a joint savings account where you can deposit mutual funds. Not only does this make the financial conversation a little bit more fluid, but it also helps with division of cash when you split. Don't overthink it, but this is, of course, always a possibility.
When You Get Married (or make a long term commitment)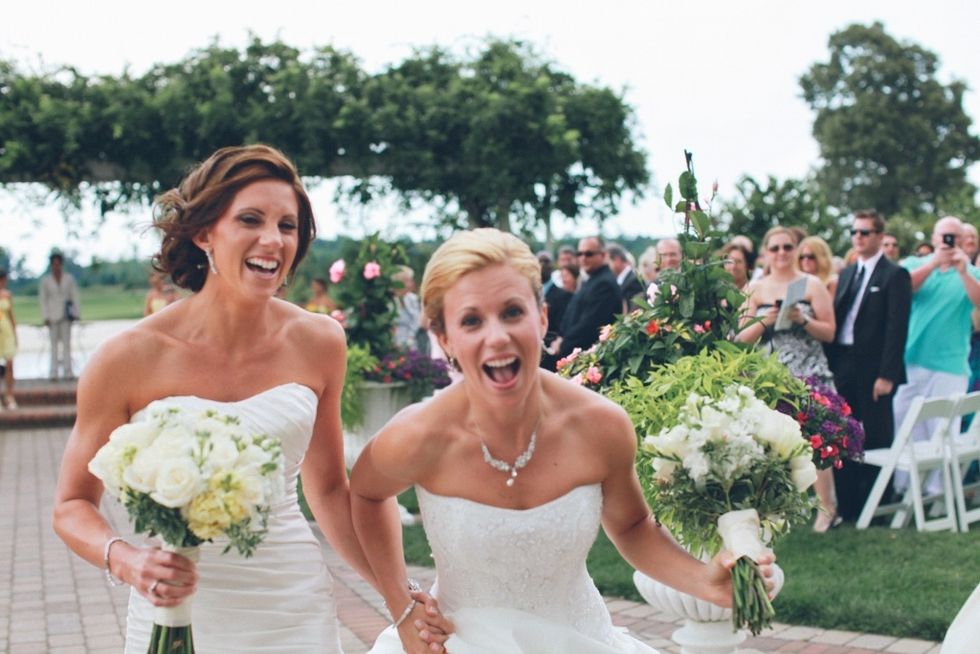 New Article World
Ok, so you survived the cohabitation test. You can actually live within the same four walls, and you still like each other — even love each other.

At this point, you should be a little more secure when it comes to sharing. Theoretically, you'll have mutual accounts 'til death do you part. We're not saying this is set in stone — but it is some form of guarantee. With your commitment, however, come conversations about retirement funds, kids, and longterm housing. That's tough stuff.
Viosin recommends discussing dependency. While of course different couples support each other in different ways, it's important to make sure the full financial burden doesn't fall on one party. "It's making sure that each person has enough … and having that conversation about what does 'taken care of' actually mean," she says.
There are plenty of ways of validating a relationship in the long term, and marriage doesn't have to be one of them. But, if you've committed to spending your life with someone, you should feel that you're both shouldering part of the financial weight, and that you both feel secure. And unfortunately, like everything else, that's going to have to be a discussion.
When Your Family Starts to Grow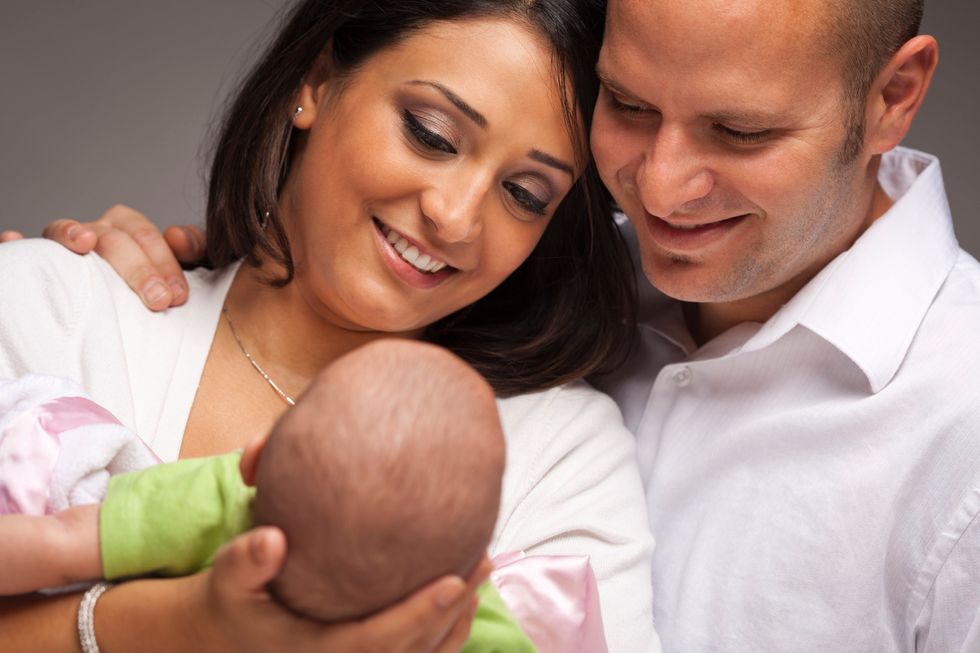 Happy Young Attractive Mixed Race Family with Newborn Baby.Tennesse Fertility Institute
Not everyone will decide to have kids — families can be defined in many different ways. You might have nieces and nephews close by, or in laws who have to move in. You might get a dog. You might adopt. You might nurse a thriving garden. Regardless of the entity, odds are, you will become financially responsible at some point for someone besides your partner.

"Once you have kids, your lives will generally revolve around them and their education," Huffpost reports. You and your partner need to take that in stride. You'll want them to have appropriate clothing, healthy food, and top-notch toys, but you'll also pour money into their education, health care and personal happiness.
"Those are conversations you definitely want to have ahead of the baby coming, because that's a very short time frame," says Smith.
If we're just talking about a dog here, the budgeting falls on a smaller scale, but regardless, it's hard factoring another body into your financial plans. On the other hand, it's a
privilege
and you ought to appreciate the fact that you've got someone around to brave the financial world with you. Money talk may never come naturally, but with the right person, we promise it will be worth it.
Few things will halt a lively dinner conversation like the question, "Should we split the check?"
In 2018, your table manners are a far less pressing matter of etiquette than how you pay for your meal. For some, dividing a check by individual order — down to the dollar — is both nit-picky and cheap. Others find it reckless and selfish to expect that your friends cover the cost of your food (and that second martini). Your waiter probably would prefer you all throw down cash, and leave your six separate credit cards out of it.
In the end, there is no right way to split the check.
Unless you run in a conveniently-sourced circle of socialites and pseudo-celebrities, odds are there's an income disparity amongst your friends. You earn different salaries, you pay different rent fees, you come from different families. And no matter how much you all enjoy the act of gathering around a table and consuming food together, that doesn't solve the looming problem of the bill.
To make matters worse, the anxiety derived from wealth gaps amongst friends doesn't end with dinner payment. According to a study in the Quarterly Journal of Economics, "How much you feel you earn in comparison to others is more important in determining self-esteem than what you actually earn" — which goes to say that the income diversity within your social circle may actually be taking a serious toll on your self-image.
Does this mean you should ditch your friends with mansions in the Hamptons in an effort to surround yourself with people exclusively within the same income bracket as you? Absolutely not.
There are, however, tactical steps that can be taken.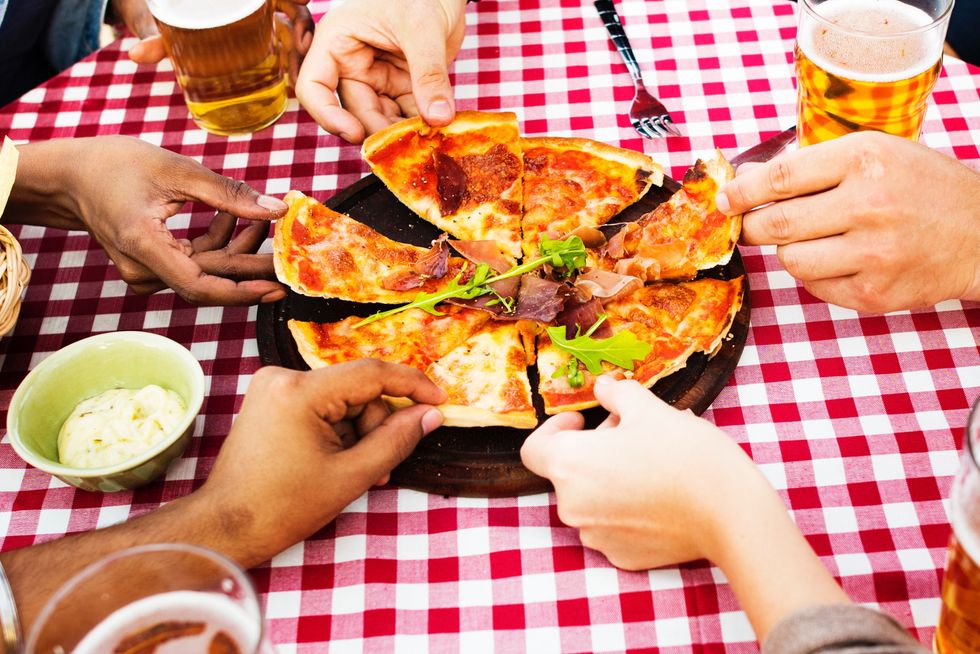 For starters, you should begin navigating this discrepancy with candid, open conversation. Don't let money be the elephant in the room. According to the Huffington Post, "Outings are about compromise, and any good plan will incorporate input from both parties." There will always be a middle ground in terms of which restaurant you select, or which AirBnB you choose. Starting a conversation means you can find that in-between space.

For the wealthier parties in this equation, navigating these disparities is just as awkward as it is for those with less "money to blow," so to speak. "It's a delicate dance so that you're not going overboard in showing how wealthy and comfortable you are," says etiquette coach Thomas Farley. "But also not going so far in the other direction, so that the person feels like, 'What? You don't think I'm good enough to go to a fancy restaurant?'"
He suggests that you try to make up for the difference without being over-charitable, by paying the tip on a split check, supplying the food for a weekend away, or covering a shared Uber.
On the other end of the spectrum, folks who are trying their absolute hardest to save a few pennies can rely on telling questions, without having to come right out and say "I sure as hell can't afford that." Town & Country recommends asking things like,"'Would it be weird if I just met you after the concert for a drink?' or 'Is there anyone else going to Nantucket that weekend who might want to share a hotel room?'"
Lastly, and perhaps most importantly of all, be sure to keep in mind the fact that your friends are your friends for a reason and this likely has nothing to do with income. "You probably have more in common with your rich friends than you think; you did, after all, become friends in the first place," says Huffington Post.
So be honest about your finances, but don't let wealth become central to your relationships. Odds are, the people you surround yourself with have far better qualities than a six-figure salary.
The self employed
"Thank you" is a powerful phrase. "Thank you" is a powerful phrase.
Gratitude and grace go hand in hand, which doesn't leave much room for push-back when you've been slighted, especially when it comes to money. Demanding a raise from an employer often feels a little like unwrapping a present and then telling the giver, thank you, but this really isn't going to cut it for me.
But no matter how remarkably skilled or utterly irreplaceable you are, no employer wants to pay you what you deserve. Most folks will save money by any means necessary, even if it's at your expense. It's not personal, it's business. Which is why the etiquette around gratitude changes in a professional setting. There are no battles won by taking your first offer — you only get what you negotiate for.
So forget everything you know about settling, and focus instead on what's next: how you're going to ask for a raise.
According to the New York Times, when you ask for a raise can be just as important as how you ask. So before you begin scripting your speech and prepping your Powerpoint, be sure to talk dates. First, set aside a substantial brick of time. This is important — this is your livelihood. It's not a case you want to make in passing, en route to another meeting.
Next, make a point to schedule your conversation in the aftermath of a personal success of yours — did you just win a big client? Publish a viral story? Ride that wave right into your boss's office. "You want to enter a salary negotiation on a high note, with indisputable evidence of the value you're contributing to the company," says Devon Smiley, a negotiation consultant. No matter how strong and consistent your work is, you want to walk in with numbers.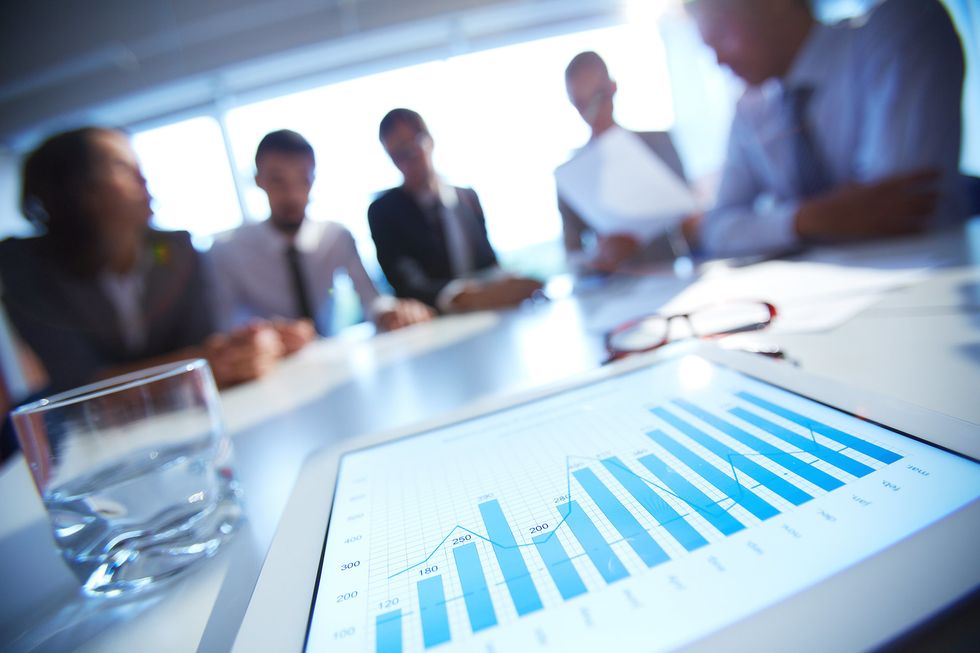 If possible, consider the fiscal calendar of your company, and determine when is the best time to ask for a raise. As much as we'd like to believe that our higher ups have the power to make financial judgement calls when they believe in them, we're all beholden to a devious, evil thing called budget cycles. "Even though discussions may not happen until April, for example, those budgets have been decided months earlier, and that is when you need to start laying the groundwork for your raise," says Ms. Smiley. Once you make your case, someone else needs to make that case to the finance department. Making sure the company is in a good financial position when you ask for your raise, can make that conversation as seamless as possible.
Once you've decided on a good time to talk to your boss, start collecting your materials. While it'd be great if the merit of your testimony was enough, numbers speak louder than words. Arrive with documents. Know what you're going to say. Treat this like a presentation you might have given in the 8th grade at a science fair. "One recommendation is building negotiation experience and training," says Dr. Alice Stuhlmacher, department chair of DePaul University's psychology department. "Practicing in low stakes situations can build confidence."
I received my first raise (a whopping 5k), having presented a six-page proposal to three different managing editors. The first told me the decision was over his head. The second told me it didn't make sense in the current context of our budget. The third made both cases before I told him I would have no choice but to look for positions elsewhere under these circumstances — an assertion that ran counter to everything my mother had taught me about decorum and gratitude. Not 24 hours later, I received a raise — and an apology.