For over 70 years, the marketing of one fruit has made it ever-present in our daily lives.
The Red Delicious, in the American consciousness, represents the quintessential apple. It's the one you see on the teacher's desk, and the one in every student's lunchbox. It's also known as the official compost food. But as aesthetically pleasing as it is to the eye, one bite reminds you that what you really want, is one of those crispy golden apples instead. So how is it that they keep selling, and we keep buying, this god awful thing? The production of this gorgeous monstrosity is finally on the decline but, how did we ever let it get this far?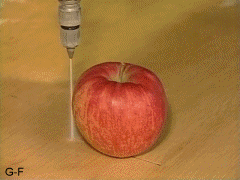 Our story starts rather innocently, with few traces of capitalist forces.
Jesse Hiatt, an Iowa farmer, came across a mutant seedling that refused to die. Year by year he chopped it down and year by year it grew back, so finally he let nature bear its course. What resulted was a thing of beauty - red with yellow stripping. It had strong, beautiful skin and a sweet, delicious taste. Hiatt named it "Hawkeye" in Iowa tradition, and boasted of the mutated beauty he'd cultivated. He entered into a contest in Louisiana, Missouri, hosted by Stark Nurseries.
The owners of the nursery, the Stark brothers, were looking for a replacement apple for the "Ben Davis," which was the apple-of-the-day at that time. The "Hawkeye" won and the Stark brothers purchased it, initially naming it "Delicious". In 1923 a farmer reported back to Stark Nurseries that a strange and beautiful mutation had occurred on one of his seedlings, producing a magnificent, crimson apple tree. Instantly wildly popular, people flocked from all over to gawk at and devour this new beauty of a fruit.

Stark capitalized off of this revelation.
By combining the new varietal with another popular seedling the bore, the "Golden Delicious," he rebranded their new apple as the "Red Delicious". Armed with their innovative new breed, they launched what would equate to a multi-million dollar marketing campaign in today's dollars, and even went as far as to send seedlings cross country by railroad.
As growers rushed to mimic this brilliant looking mutation, they began adopting new methods to control the breeding process.
A Life of Apples wrote: "This has allowed growers and breeders to choose mutations that may be redder or more 'perfectly' shaped, constantly moving the Red Delicious closer to an ever-changing ideal of a perfect apple". They also began manipulating the fruit to maximize it's potential for mass market production and longer storage. This led to stronger, tougher skin which hid blemishes and impurities.
This is why you may bite into a gorgeous apple, only to discover the mealy and tasteless fruit within.
And as they've continued making the apple redder and prettier, as well as increasing production, we've continued taking that first bite and then throwing the apple away, unsatisfied. However, it appears that our taste buds have caught on. Sales for the Red Delicious has declined. And while many of us remember the bailouts of the bank and the auto industry, President Clinton's apple industry bailout continues to be lesser known. In seems that we may be checking out the apple market again, flirting with Galas and Fujis, and Grannysmiths'.
Related Articles Around the Web
"Derivatives are a huge, complex issue." - Judd Gregg
When you hear most people talk about the causes behind the Great Recession and the 2008 financial crisis, many people place the blame on derivatives. But when asked what exactly a derivative is, we're met with stutters and stammers. In a few words, a derivative is a bet on a bet.
"We've used derivatives for many, many years. I don't think derivatives are evil, per se, I think they are dangerous. ...So we use lots of things daily that are dangerous, but we generally pay some attention to how they're used. We tell the cars how fast they can go." - Warren Buffett
Derivative: something that is based on another source.
In the world of finance, it's a contract that derives it's value not from itself but based on the performance of an underlying asset. The price of the security is based from one, or a group of underlying assets, such as stocks, bonds, commodities, currencies, interest rates, and even market indices. The derivative itself is nothing more than a contract between two parties, with the value being determined by the fluctuations in value of its underlying asset or asset group. Legend has it that the original derivative contract was between Aristotle and Thales over an olive transaction, and Aristotle wound up on the profitable end of the deal.
One of the most attractive aspects of derivatives is the flexibility in their structuring.
Because the contract does not involve the purchase or holding of an actual asset, terms can be completely modified as the parties see fit. You simultaneously relieve yourself of ownership of an actual asset, while still being able to play in the market. There are a plethora of types of derivatives for all suits and purposes. In some cases, derivatives can be used to speculate the price of an asset, hedge against risk on an asset, or circumvent issues with exchange rates.
"What we have found over the years in the marketplace is that derivatives have been an extraordinarily useful vehicle to transfer risk from those who shouldn't be taking it to those who are willing to and are capable of doing so." - Alan Greenspan
The majority of derivatives on the market are traded OTC - or Over The Counter.
These are unregulated, and typically present a greater risk to the counter party than do standardized derivatives. Standardized derivatives are regulated and traded on an exchange.
"Derivative trading with mark-to-market accounting degenerates into mark-to-model. Two firms make a big derivative trade and the accountants on both sides show a large profit from the same trade." - Charlie Munger
There are however, certain risks and criticisms attached to derivatives. Too much hidden tail risk, and in a phenomena known as "phase lock in," your hedged position can become un-hedged at the worst moment- overnight. The double edged sword in the attractiveness of derivatives lies in leverage. Because of leverage an investor can use derivatives to turn a small amount of money into large returns rather quickly. However, just as quickly, one can suffer losses far greater than one's initial deposit, often greater than one can repay.
An impressive collective $39.5 billion was lost in the past decade by banks such as AIG.
"Derivatives are financial weapons of mass destruction." - Warren Buffett
We're always trying to make our dollars go as far as they can for us. Stretching them, investing them, putting to work and watching them double, it is our due diligence to tend to our dollars and see that they stay busy and stay growing. Which often brings up the question of what exactly is the best place to send our dollars off to work? What will achieve the proverbial most bang for our buck? This article aims to size up Money Market Accounts vs Savings Accounts, highlighting the pros and cons of each and detailing some of their histories as financial instruments.
Money Market Pros
One of the most appealing aspects of a money market account is the fact that it makes the ultimate stash house for your cash. With higher interest rate payouts than a traditional savings account, many prefer Money Market Accounts to park their cash. The added advantage being that this parked cash is also extremely liquid. High yields and high liquidity make this an attractive prospect.
Money Market Cons
There are instances however when you're money can be on the wrong tail of the rat race. If inflation rises faster than your interest rates, then you're loosing purchasing power, and quickly. Also while Money Market Accounts are generally touted as fairly safe vehicles, they aren't FDIC insured, so yeah, there's that to keep in mind. also make sure you stay weary and read the fine print. Some Money Market Accounts come bearing so many fees and charges that can
Savings Account Pros
Traditional savings accounts offer security, mental piece of mind, and unlike under your mattress, the money acrues some value over time. You also have more direct access to your money, and having it be FDIC insured helps you sleep at night, knowing your dollars are safe and sound.
Savings Accounts Cons
Unlike many other financial vehicles, savings accounts offer a very nominal interest rate, so watching your money grow in a savings account can be akin to watching paint dry. In addition, while you do have access to your money, there are federal limits to how much and how often you can access monies in your savings account.
In summation, there is no right nor wrong, neither better nor worse. And you don't have to be dead split to between the two. You can open both a Money Market Account and a Savings Account and start enjoying the advantages of both. Happy Investing!
In this series we will be highlighting burgeoning entrepreneurs in the modern era. These are folks who have taken the risk of quitting or working double to quit their conventional jobs in pursuit of their passions. This is a difficult road that many never find the courage to venture upon, but the rewards are so worth it, and as you know, no risk, no reward, know risk, know reward.
This episode highlights Derrick Casey. If you've never thought that making money online was real, Derrick will change your mind really quickly. Derrick is a proverbial paradigm shifter with a goal of helping as many people as he can use their talents, and their skills, coupled with his knowledge of online marketing to develop new streams of income and secure financial freedom. Glowing with enthusiasm and passion, read on to learn how Derrick is building new and innovative income streams for himself and others.
Tell Me A Little More About What You Do And How You Got Into It
I am an online marketing consultant, mentor and motivator. I simply teach people how to create an additional income online. There's a lot of misconceptions when it comes to network marketing and direct sales. It's not something that you see or hear of everyday. So the perception is that this industry isn't real or it's a pyramid scheme or a scam. Although there are some pretty crazy stories of companies who fall under this category. It doesn't mean that the whole industry is tarnished. And I am determined to show people that what people get paid to do online. We've been doing for free for many years. I've always known about network marketing and I've tried a couple things that didn't work out for me. It wasn't until me and my family moved to Dallas, TX that network marketing became a big part of my life. I began to connect with people who were just like me. Tired of working hard every day. Living paycheck to paycheck just to pay bills. And I started to see more and more people working less hours, making more money, and being able to spend more time with their families. Which sounded way better than working 40 plus hours a week, being stuck in traffic, and living paycheck to paycheck.
Do you Remember Your First Day? What Were You Feeling?
I felt super excited, anxious, nervous. Just full of emotions because I didn't know what to expect. But I knew I wanted the lifestyle of the people that I was surrounded with now. I remember just staring at my computer when I first received my information. And all I could do was smile because I knew I was doing something that could absolutely change my family's life for the better. Then I was invited to my first event. And from that moment on I knew that I wanted to learn more, earn more, and teach others how to gain financial freedom.
What Were You Doing Before? Why Made You Want To Try Something New?
I'm still working a full-time job. In sales, of course. I love what I do, the people I work with and the company I represent. However, I totally understand that these JOBS are not guaranteed. And I am taking a huge risk if my only source of income is from my job. Because what would I do if they were to let me go tomorrow. How would I provide for my family? And this very thing happened to me not too long ago. My job was redoing their budget and decided to let me and many others go just to save money. They didn't care about how I was going to provide for my family. However, due to learning how to generate an additional income online while working my full-time job. I was still able to provide for my family while searching for a new job.
How Do You Balance Your Time?
Working a full-time job, taking care of my 4 beautiful children and wife while running an online business can get a little crazy at times. But I am able to manage. On my way to work, I am always listening to motivational speakers to start my day off right. From Tony Robbins to John C Maxwell. Great way to start the day. I work my typical 9-5 shift. While on my drive home, I am listening to something motivational to help me debrief after a long day at work. Once I get home, my children and wife are waiting for me. So from about 7pm – 9pm I eat dinner with the family, talk about how their day went. Play with my children. Get them in the shower. Read them books. Then put them to bed. From 9pm-10pm I catch up on all of my messages that I received throughout the day. From 10pm-11pm I spend some quality time with my beautiful wife. Then it's off to bed to start my day all over again the next day.
Tell Me About Your Business?
My business is very simple. Since there are millions of ways to make money online. I focus more on teaching people the basics of marketing online via social media. And how to connect with people. Once you learn the basics of marketing online and start to apply what you've learned. Sky's the limit to what you can do and the amount of money you can make in this industry. I decided to create a company called Pyramid Genius. And my slogan is "Changing Lives Financially with these so called Pyramid Schemes". I wanted to create something that created a little controversy but made people more curious about what me, my team, and my company represents. Once people say the magic words "What Do You Do?" Then we got them. Because most people are just misinformed. And my team is excited to break down the value of creating an additional income online. With Pyramid Genius, we love to have fun, make money, and make a difference.
How Much Time Per Week Would You Say You Dedicate To Your Work?
I dedicate approximately 10-15 hours a week to my business.
What Else Do You Like To Do With Your Free Time?
In my free time I love spending time with my family. Getting out of the house and going to do something fun. I also love playing basketball when I can. I also love playing piano and making music with my children. But my new found passion is becoming a motivational speaker. I love connecting with new people and learning about their journey. And inspiring them through my own life experiences. It's such a great feeling when people come across my videos and hit me up saying thank you for content that I share every day. I am just enjoying life and want to give back. Oh and I love to cook in my spare time. Preferably on the grill.
What's Next For You?
Becoming a motivational speaker. I love inspiring people. I want to be on the big stage in front of thousands of people. Sharing my story and impacting lives. I have so much to offer and so much to give. God has blessed with the opportunity to connect with people on so many levels. And it's time for me to put it to use.
Any Advice For People Wanting To Follow A Similar Path?
In order for things to change. You have to change. And to have things that you've never had. You have to do things that you've never done. It's inevitable that we will all die some day. It's what you do with your time while you're on this Earth. What legacy will you leave behind for your children to follow. If you want something bad enough. GO GET IT!!! Once you realize that no one on God's green Earth can stop you from being great but you. That's when life will begin to make sense. You are more powerful than your mind let's you believe. You're time is NOW. Not tomorrow. Not next week. Right NOW!!! Time to take action. And make it happen!!!
Interested in learning more and working with Derrick? Click here...