One of the milestones of adulthood used to be owning a home and all the renovation plans that came along with it. But these days, with over 70 percent of millennials choosing to rent over owning home, the markers of adulting have changed. Now, it's all about giving your rental some grown-up upgrades that are landlord-friendly and won't put a major dent in your bank account. Call it investing in yourself, or making your house a home without all the headaches of high-end renovations. Behold: Your idea inspiration.
Paper Your Walls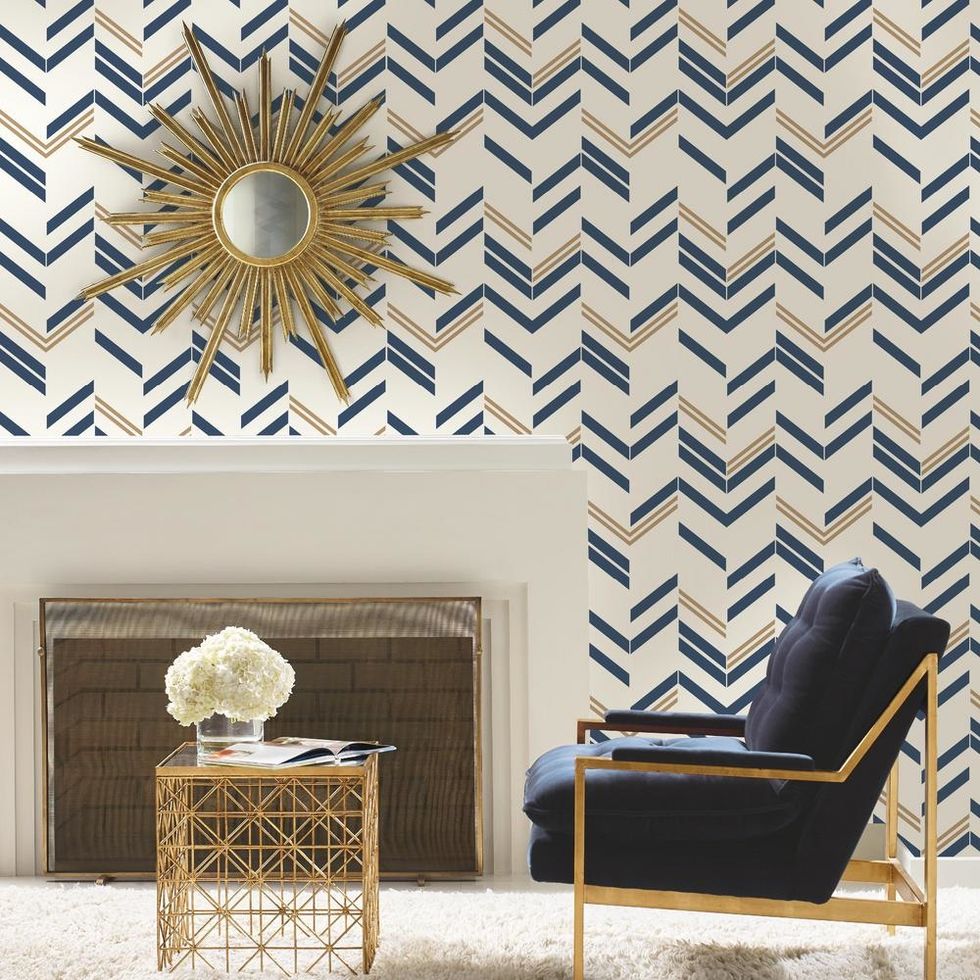 Home Depot
There was a time when wallpaper cost a fortune and required some serious elbow grease (A.K.A. glue) to apply. And should you have a change of heart, forget that paint job underneath. But things have changed with the advent of peel-and-stick wallpaper. Now you can upgrade any room in your rental without making too much of a financial or emotional commitment. Wayfair, Home Depot and Etsy all sell removable wallpaper in a variety of colors and patterns for as little as $1.25 per square foot. Give your living room an accent wall, paper your staircase or upgrade your bureau in a matter of minutes. You can also find decals and murals that give your walls a hand-painted look. When it's time to move on, peel 'em off and nobody will be the wiser.
Divide Those Rooms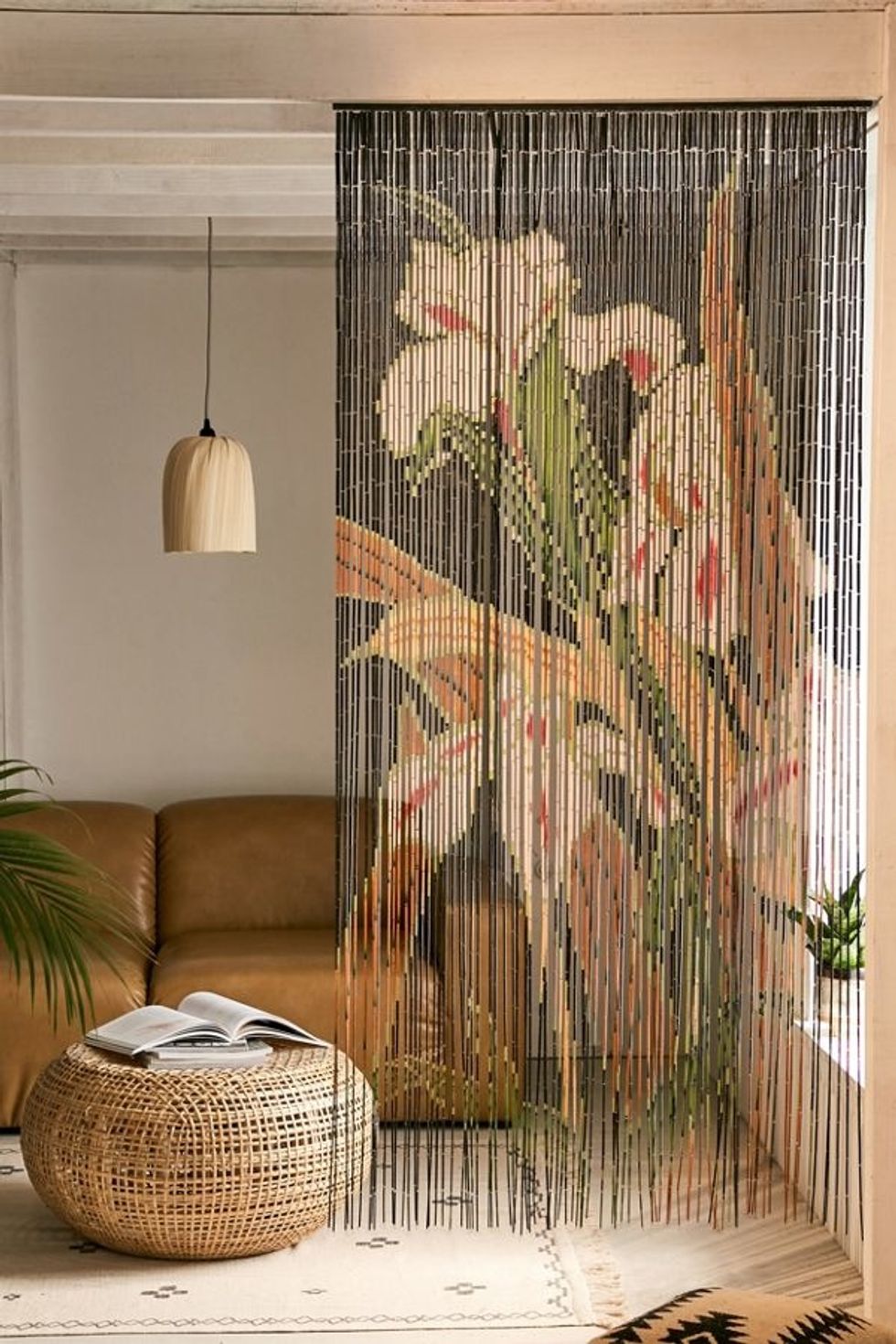 Urban Outfitters
While we wouldn't recommend hiring an architect to redesign your rental without some serious cash and the approval of your landlord, there are some low-budget tricks for dividing up rooms for more privacy. Some simple strategies include recruiting a tall bookcase or employing thick curtains and a suspension rod. (Here's has a ready-made kit for under $100). If you're feeling a little groovier, why not hang some $40 beaded or macrame panels to separate your space while still letting in the sunlight? If you're dead-set on a door, you could splurge on a sliding door kit which will run you around $700 (plus installation if you're not the DIY type), or tackle this Ikea hack which transforms elements of the PAX storage system into a partition wall and sliding door for a completely separate room. In fact, IkeaHackers.com has an archive of room dividing ideas courtesy of the low-cost furniture hub and some creative handy-work.
Upgrade the Bathroom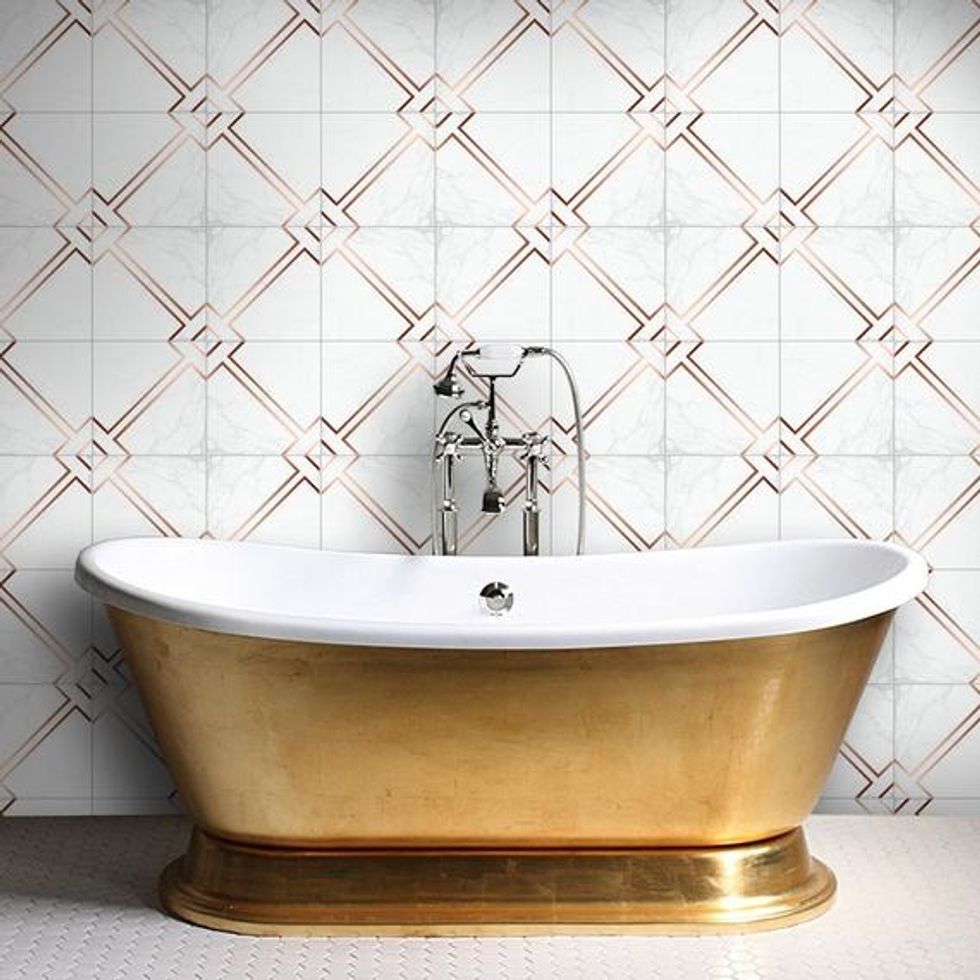 Etsy
You can spruce up a dated bathroom on a renter's budget with a few small tweaks. Architectural Digest's Amanda Sims suggests swapping out the toilet seat cover for a wooden one (about $16 on Amazon), and painting over weathered grout. If you really want to make a splash, paint or peel-and-stick your way to new walls. "Using paint or temporary wallpaper, cover the walls of your bathroom to work with the old-timey or really basic tile you've already got," explains Sims. "So if the tiles are butter yellow, make sure the walls are crisp white, or a wallpaper with a tinge of yellow that complements them…anything but sickly yellow matching walls." Another trick is to replace the bathroom cabinet with an ornate mirror for an antique look, and to swap out the standard overhead light with a more dramatic sconce, or even a pendant light. (West Elm has some reasonably priced options.)
Modernize That Kitchen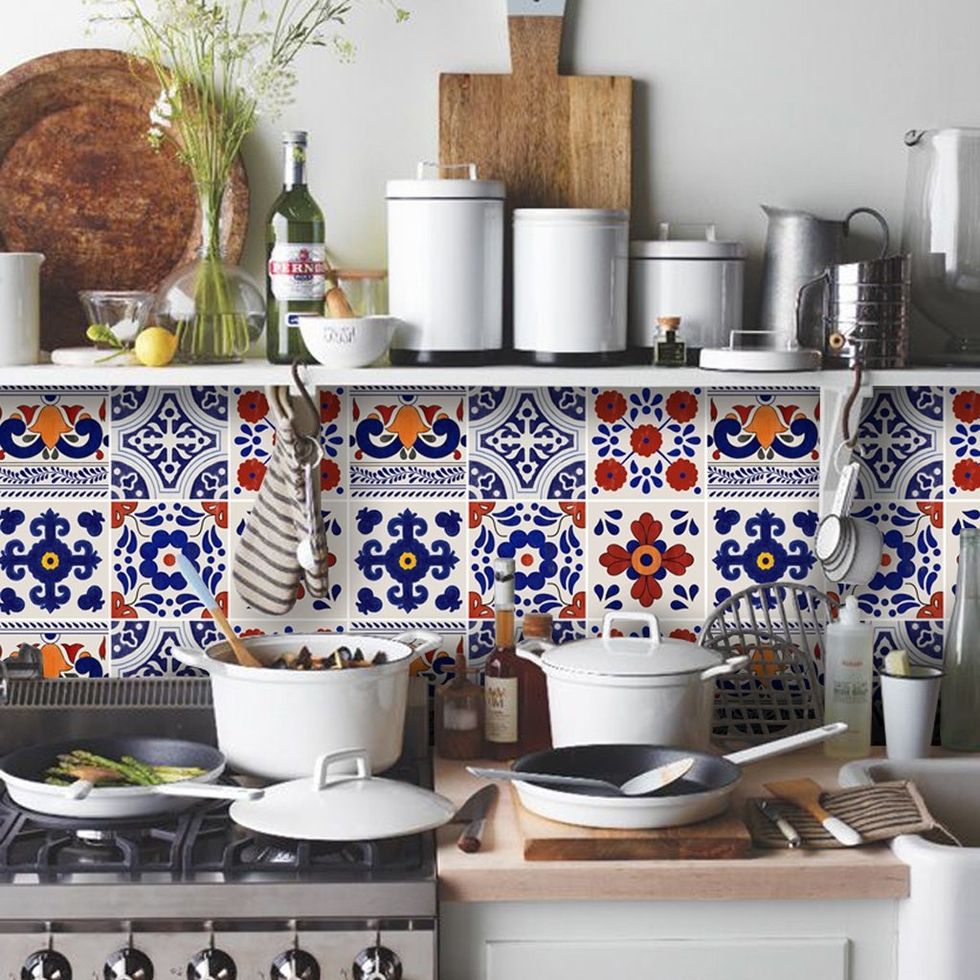 Quadrostyle
You may not be ready to replace your old cabinetry, but a simple paint job will spiff up any yellowing wood. Remodelista's Margot Guralnick suggests going with a semi-gloss, gloss or satin. "The harder the finish the better," she writes. "Matte paint on kitchen cabinets is impractical; I wouldn't even use eggshell finish. You want a surface that's durable and wipeable, so you won't be painting again for at least a few years." Next up, the backsplash. You can purchase faux, stick-on tiles (4 panels for $11.99 from Bed Bath and Beyond) or water-resistant backsplash decals (Quadrostyle has a range of temporary tiles and decals) that will add texture and character to a dated kitchen. If you're looking for an eat-in vibe in a tiny kitchen, install a drop-leaf, wall-mounted desk or table (here's one for around $30) which you can flip open when you're ready to chow down.
Maximize your closet space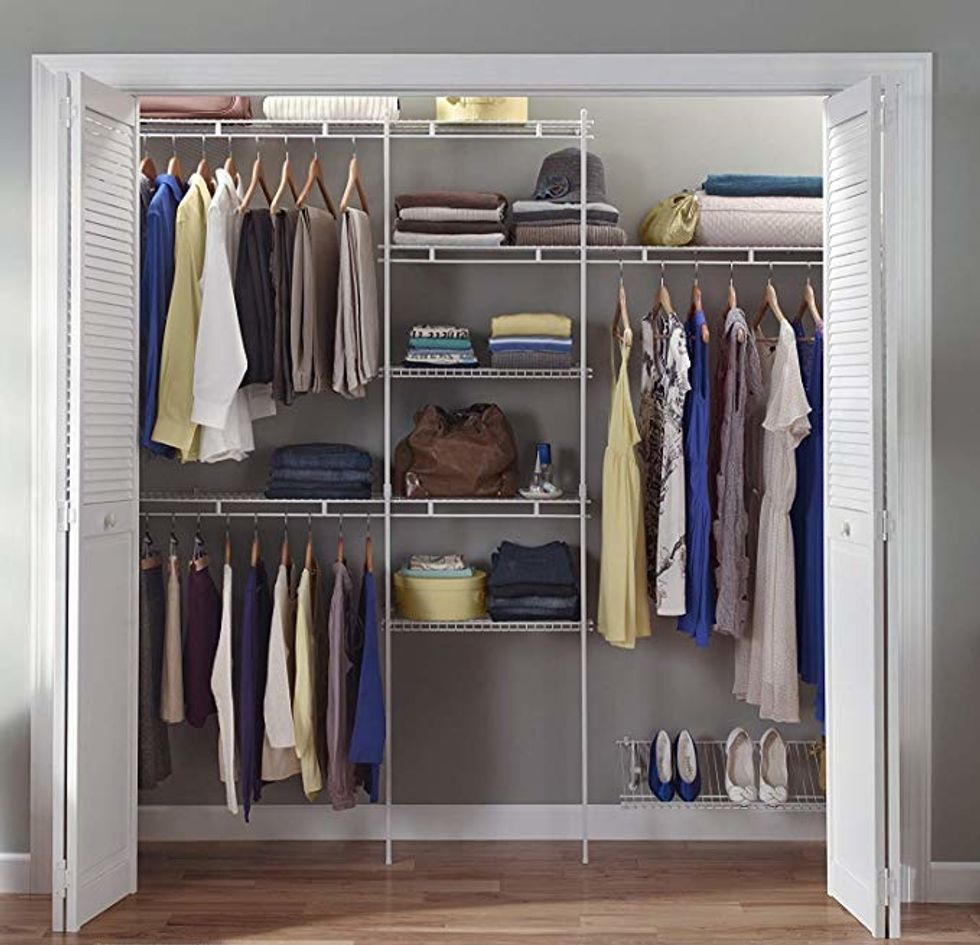 Amazon
You may think there is absolutely nothing to be done with your overstuffed closet, but you just haven't discovered the joys of closet organizers. Wayfair has easy-to-install systems starting as low as $50, while Ikea's ALGOT system is customizable to your size and storage needs. "All the parts can be easily combined and adapted to suit your needs, making this system especially attractive if you anticipate space changes happening," writes ApartmentTherapy's Nicole Lund in her roundup of the best closet systems. "It's also incredibly easy to use—the parts just click in and out of the wall brackets, so you can quickly replace or move parts around." If you're simply looking for more space in your narrow closet, look up. Install wall-mounted shelves (Amazon has a two-pack for around $50) above your hanging rod and create a storage area for suitcases and out-of-season clothes.
Use Your Nooks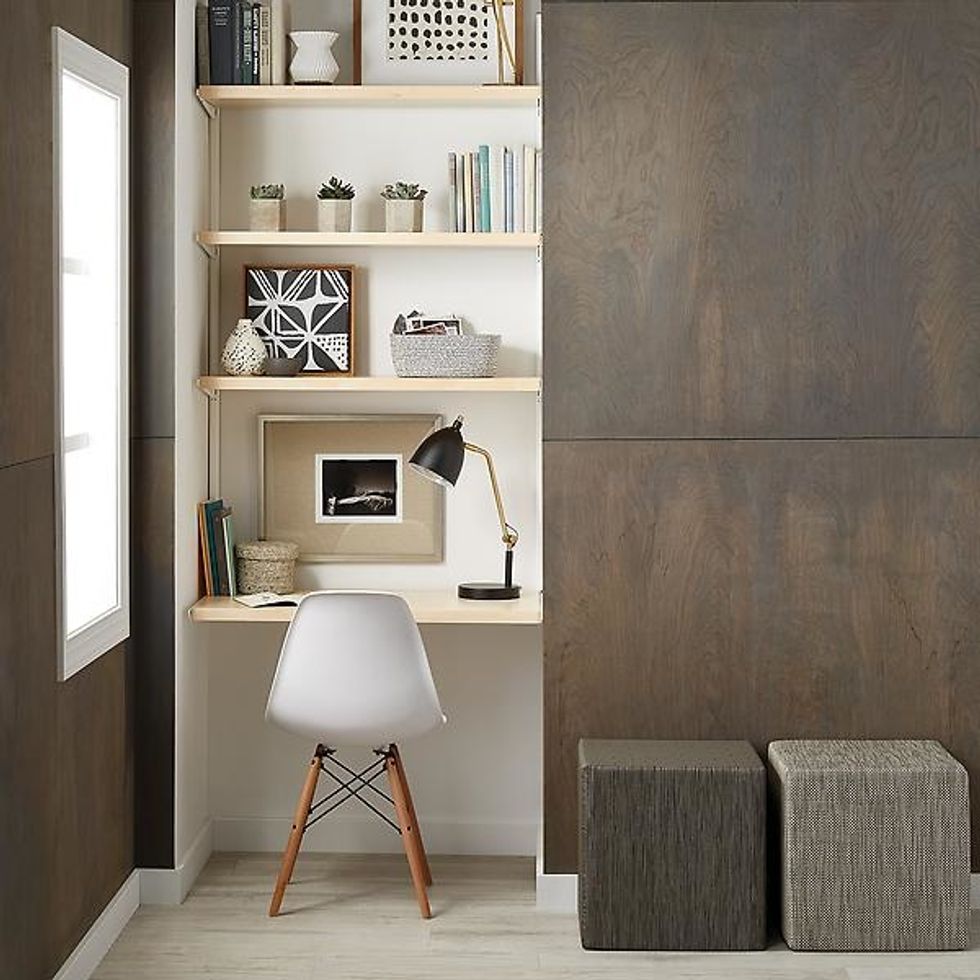 Container Store
If you have a corner in your home marked by an indented wall or "nook," it's time to creative." The nook can be anything from a workspace to a library or a cozy reading area. But in order to give it that "built-in" look on a budget, it's all about using your measuring tape. The DIY option means customizing your own shelves to create a designated area, with the help of Home Depot or Lowes. The Container Store has a desk nook model that they'll install for you for under $200. Meanwhile, Ikea's BILLY bookcase has inspired a wealth of ideas from home libraries to cozy bench nooks.
Bonus: If you're hurting for extra closet space, DesignSponge has a really creative Ikea hack for your wall nook.

Create an Micro-room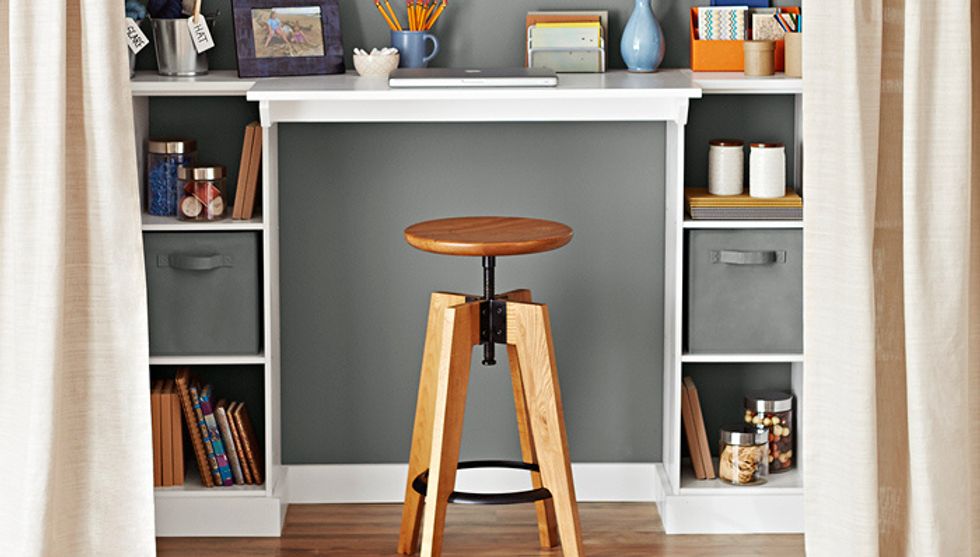 Lowes
How many closests do you really need? Is there one that might be better served as an office? All you need is a small desk, stool and some colorful wallpaper. Better yet, stick in a bar-height table and line it with your favorite booze for a MadMen-esque bar area.
According to the New York Times, transforming the closet into a micro-room has become a trend for city dwellers with small apartments. "I love working from home, but I didn't want to look at my work all the time, so I needed a closet where I could close it," jewelry designer Jane Herro, told the Times, of her closet-office. If you're looking to transform your own closet, Lowes offers a DIY guide. Meanwhile, ApartmentTherapy has a few ideas for converting a walk-in closet into an additional bedroom by adding curtains for a less-claustrophobic feel. Cover the wall with a tapestry, a soothing paint color, or a distinctive wallpaper that separates the sleeping area from the main room, and you've got yourself a new bedroom (or nursery) you'll never want to leave.