Money Talk: How and When to Ask for Financial Help
"I'm living so far beyond my income," wrote e.e. cummings, "that we may almost be said to be living apart."
If you find yourself in a similar financial predicament, it's likely time to stop making poetic quips and take a hard look at your financial reality. Is it time to ask for help? Asking for money from friends and family can be a dicey proposition, but if it's the difference between you and the poorhouse, it's time to put your pride aside and ask for help. How do you do it? Take our best advice.
Step 1: Get Real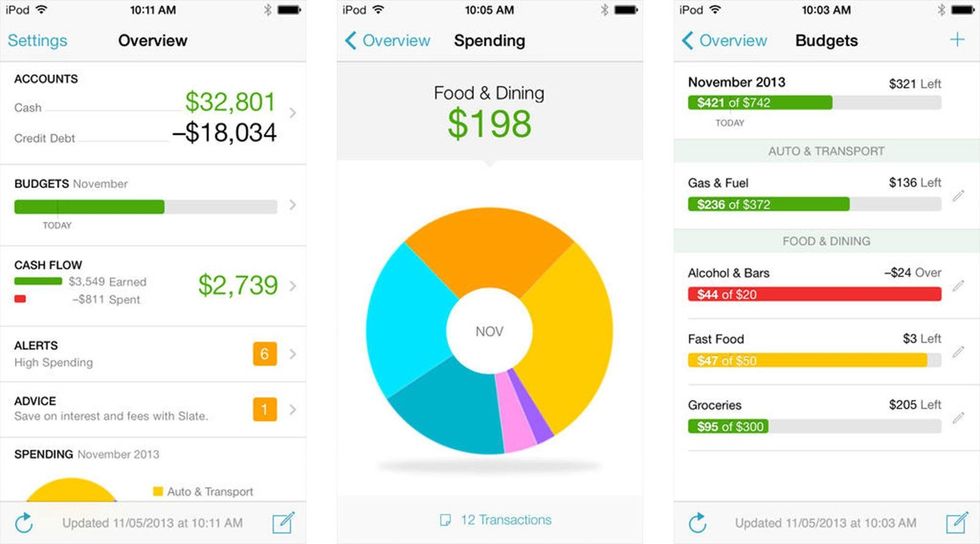 The Mint appYalantis
"You can't ask for help when you're still going out on weekends and blowing a couple hundred bucks on cocktails and breakfast," writes Puckermob. "You have to go through your expenses with a fine tooth comb and see where you can really be saving and what's just nonsense."

Weekend warrior fun might be the tip of the iceberg. Are you spending $9.99 per month on apps you don't use? Do you subscribe to magazines that hit the recycling bin before your bedside table? When's the last time you actually went to the gym that costs $89 a month?
A site like Mint can help you see trends in your spending, where you're overspending, and where to cut back. It can be tempting to stick your head in the sand, but when it comes to finances, knowledge is power; being more aware can help you set a budget you can stick to.
Financial responsibility is not just about slashing costs. Can you make more money by driving Lyft after work or asking for a raise?
"Before you ask for a loan, make sure you've already taken positive steps towards improving your finances," advises Consumerism Commentary. "You aren't ready to take the responsibility of a loan from a friend or relative before improving your financial situation."
Step 2: If You Need Help, Don't Wait
"It is easier to admit that you need help than it is to deal with the consequences of being too prideful and allowing a situation to get too far out of hand," writes Eric Nisall. "The worst time to accept the fact that you need assistance is when it is too late."
Don't wait until the bank has started foreclosure proceedings and your bank accounts are so empty that they're incurring overdraft fees upon overdraft fees.
Step 3: Ask the Right Person
Ask someone who has money to give and isn't in a financially perilous position themselves. If they're retired and on a fixed budget, out of a job, or dealing with stacks of their own bills to contend with, your request may seem inconsiderate and tone deaf.
Step 4: Come Prepared
Create a document that shows how exactly how much money you need and what it will go toward. Not only will this demonstrate your competence and responsibility, it will help give the person you're asking a clear vision of what this money is for.
Step 5: Come Up With the Terms for Repayment
If you were to approach a bank or financial institution for a loan, terms of repayment would be outlined out the outset. Give your friend or family member the same clear-cut vision for how they'll get their money back. How long will it take you to pay back the loan? How often will you send them payments? Even small payments, made regularly, will establish trust.
Step 6: Pay Interest
This offer demonstrates that you're not just casually hitting someone up for cash because you can. By offering to pay interest, you're not only showing your responsibility, you're also expressing a form of respect. "Hey," your offer says. "I know you could be racking up compound interest on this money, but you're helping me out instead. Thanks." Insist on paying interest at the minimum rate they'd be able to earn from a high-yield savings account, about 2 percent.
Step 7: Put It All In Writing
Promissorynote templates designed specifically for loaning money to family and friends are available online. Putting the agreement in writing is another way to make the loan official and not just some loosey goosey handshake agreement.
Step 8: Pay the Loan Off Early
If your financial situation improves sooner than anticipated, pay the loan off early. "It will be a nice surprise, and on the personal relationship side, it might win you back 'points' you may have lost," says Consumerism Commentary. "At the very least it shows that you are not only a man or woman of your word, but you make extraordinary efforts not only to meet your obligations but outperform."