By Tom Twardzik
You have a lot to say. You are smart and informed and you have a message or a story that will change people's lives. You've told your friends but this story calls for a large audience. You deserve to share it but you need a place where it can thrive. This is the time to start a blog, to build a home for your stories that will showcase them exactly how you want. There are many options and most of them are free. So which are the best platforms to host your blog? The nominees are…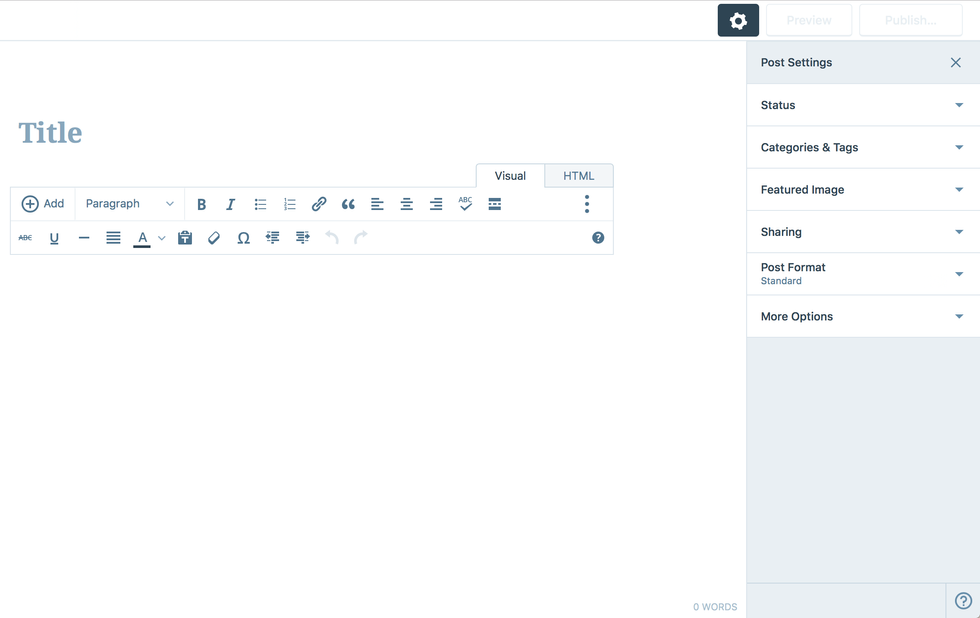 Wordpress
Wordpress is the obvious choice and, if you've spent much time on the internet, it probably leaped into your mind first. The quick facts: it's free; it has a huge audience (over 300 million); and it powers more than seventeen percent of websites on the internet. That's a significant percentage of the global internet running through Wordpress's servers and an enormous pool of people who might see your post. Of course, that's no guarantee that anyone will read a given post—sharing and marketing blogs are topics for another story. But it is quite an advantage for a beginning blogger.
Wordpress is as free as basically any other platform: that means it's free to write, to use beautiful themes, to publish and to use all of the features most amateur bloggers will need to tell their stories. If your blog takes off, $4/month is a small fee for a custom domain name, 6GB of storage space and an ad-free blog. And if you go professional, you can upgrade to the Premium tier ($8/mo.) for advanced social features and monetization options or the Business tier ($25/mo.) for limited storage, an ad- and Wordpress brand-free blog and many other tools.
Basically, Wordpress is the general, go-to platform for anyone from beginners to small businesses with plenty of free features and enough, affordable premium tiers for most other needs.
Download the Wordpress apps for desktop, iOS or Android.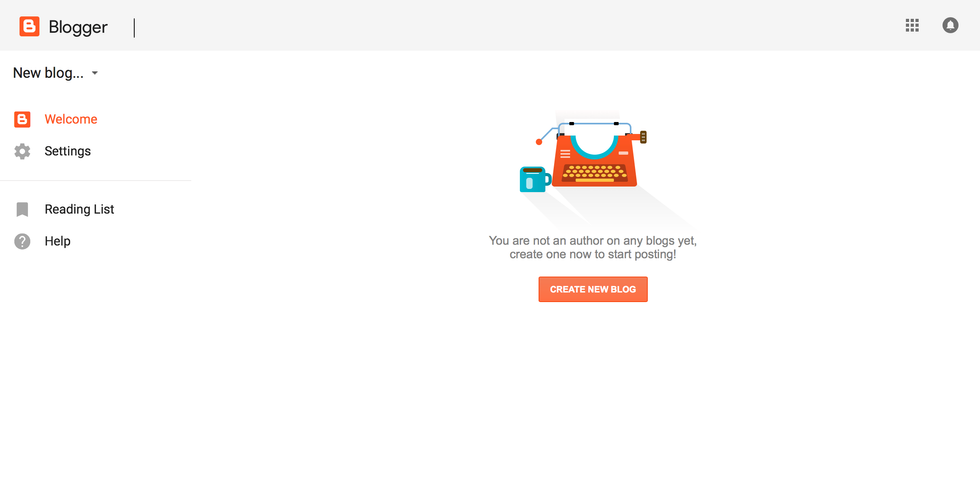 Blogger
The next best platform for most people is Google's Blogger. Google offers a simple start-up process, many nice, free themes and Google Apps integration. Because of this, it carries over the 15GB of storage from your Google Drive account, which means more free storage space than you would get from Wordpress for almost $100 per year. Blogger is simpler because it has fewer customization options than Wordpress. That means it's a faster process (with less decision-making) from conception to publication but it also means less personalization for those interested as much in the aesthetics of their blog as the writing.
Blogger does not have a premium tier: it's completely free, so what you have at the start you have for all time. This will be great for some and unsatisfactory for others, so be honest about your plans for the blog before you commit to Blogger. It also doesn't seem to have an iOS app or a desktop app, so if mobile blogging is important to you, this might be a problem.
Download the Blogger app for Android.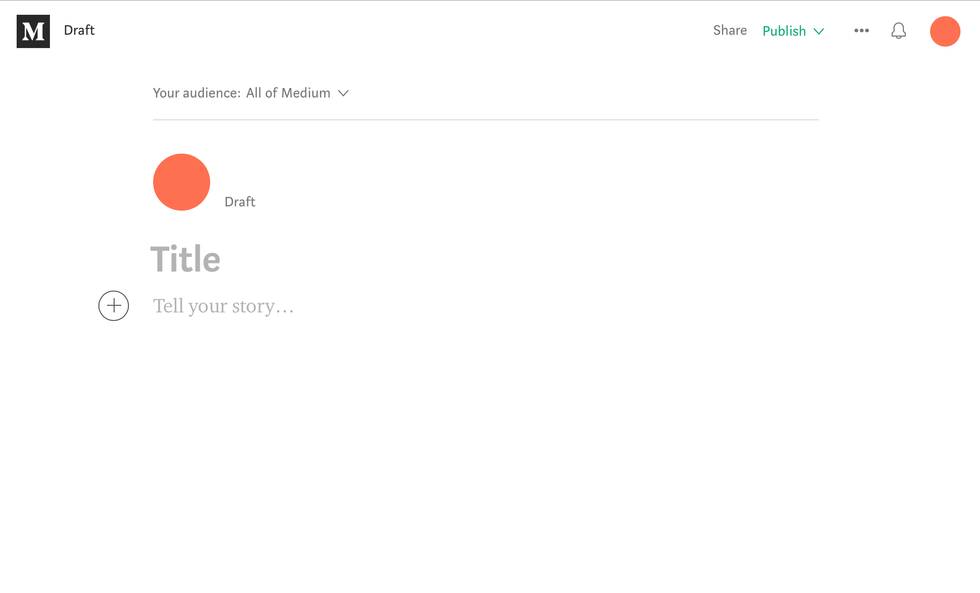 Medium
Medium is the writer's blog platform. Medium bloggers are not selling things; they are sharing stories and responding to the writing of others. Medium is entirely free to use for authors (it added a Members subscription this year for $5/mo. but it only affects how you read Medium posts) and it is focused on a simple, words-first presentation. You'll get to title, tag and add media to your post but beyond that, there is very little customization. There is no "blog" or webpage to design; writers (who are not publications) simply have profiles with their articles and the other things you'd expect: a profile picture, a list of what the author has liked ("clapped") and a list of their highlights from other articles. Medium is about reading and writing and not much else. If that sounds perfect to you (as it does to me), then you are undoubtedly the target Medium user. If you think you'll want more social features, a custom blog page or more detailed statistics, Wordpress is the way to go.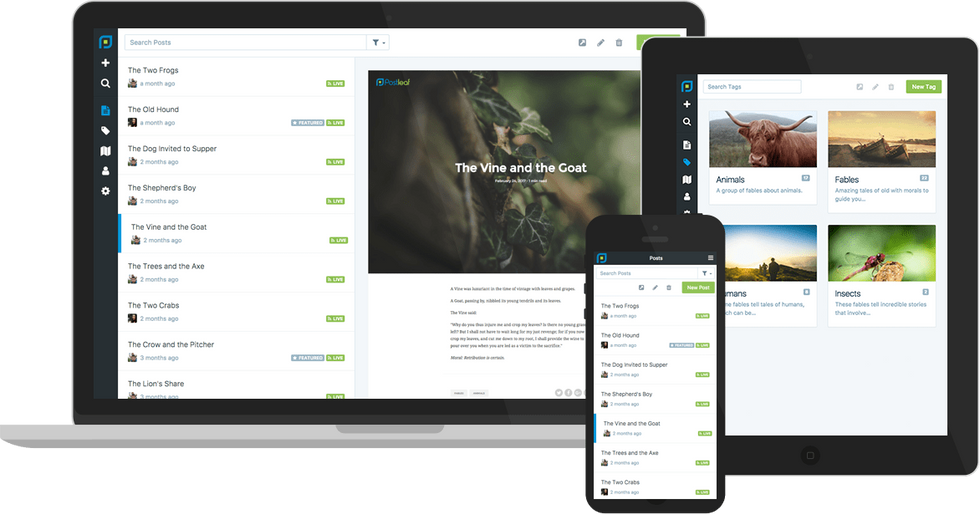 Postleaf
There is another option that lies apart from this list of blogging companies: it is called Postleaf and it is a completely free, open-source blogging platform that, because you own it, is totally customizable. However, it's bragging point is its utter simplicity. And the feature it brags about most excitedly is inline editing. This means that the post, as you type it, looks exactly like it will when it's published.
Its simple design does not equal a lack of features: it offers "Zen Mode" to focus on the text you're writing; it allows third-party widgets to be easily embedded. And it automatically generates SEO-compatible meta-data that go into those cute preview cards in your Facebook or Twitter feed. It has a file manager, uses dynamic images so an author doesn't have to resize images for four different screen sizes and lets you tag posts to keep them organized.
The installation process involves some coding words that might be intimidating for first-time bloggers and requires a web server. But you can try a demo right on the Postleaf website. Unlike an app, you'll have to download Postleaf's code to install it. But if you're looking for a completely different blogging experience and you're willing to work through a potentially-steep learning curve, go ahead and give it a try.
Download the code for free from GitHub.
Whichever platform you choose, don't get lost in the setup or formatting process. Your story is the reason that you're starting a blog and the words of that story should be the centerpiece. So go, write and share you story with the world.
Tom Twardzik is a writer covering personal finance, productivity and investing for Paypath. He also contributes pop culture reviews for Popdust and travel writing for Journiest. Read more on his website and follow him on Twitter.