Getty Images
Following current trends of corporate consolidation — think airlines and media companies — Hasbro's offer to Mattel shouldn't seem like too much of a surprise. However, many people were taken aback by the approach from three days ago.
This surprise is apparent in the fact that Mattel stock jumped 20% while Hasbro jumped 8% — investors are pretty happy that this deal is going down. But why might this be?
The Wall Street Journal first reported on Nov. 10 that a potential deal is in the works. This could be due to the fact that Mattel's shares have dropped 47% this year while Hasbro's stock prices have increased 18%.
If the two companies should combine, their shared market price would be around $16 billion. With this strong of a company value, there are many benefits that come with the impending consolidation.
Competition with electronics and tech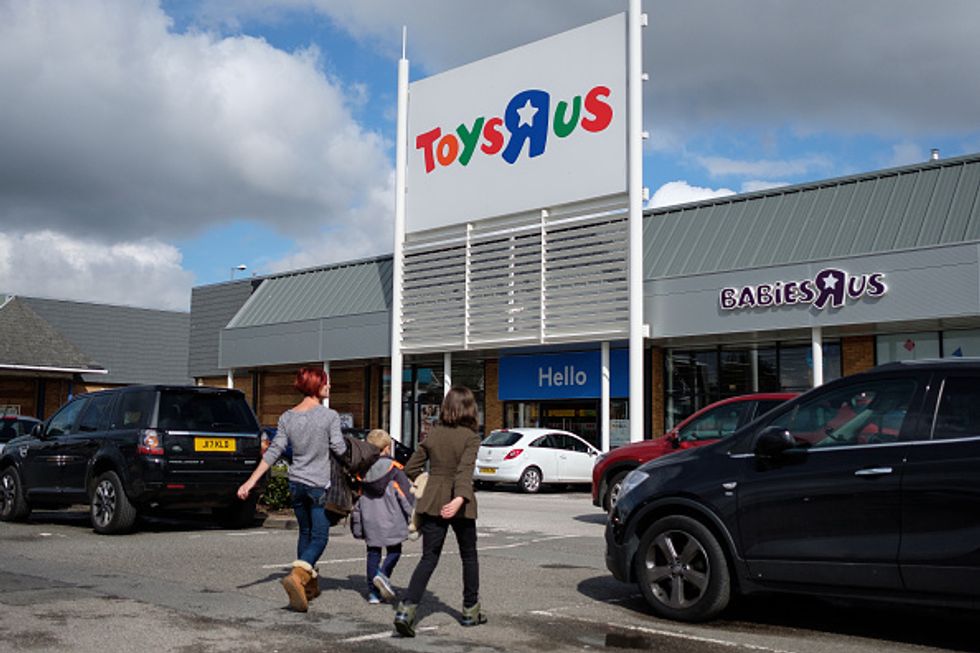 Customers walk towards a branch of the toy store Toys R Us on September 19, 2017 in Luton, England. Getty Images
This report is following the fact that Toys'R'Us has recently been bankrupted — as of now, the company owes Mattel at least $135 million which contributed to its drop in shares.

Traditional toys don't have that much appeal in the age of tablets and VR. Hasbro could be attempting to get ahead of the curve of electronics and technology by consolidating.
E-commerce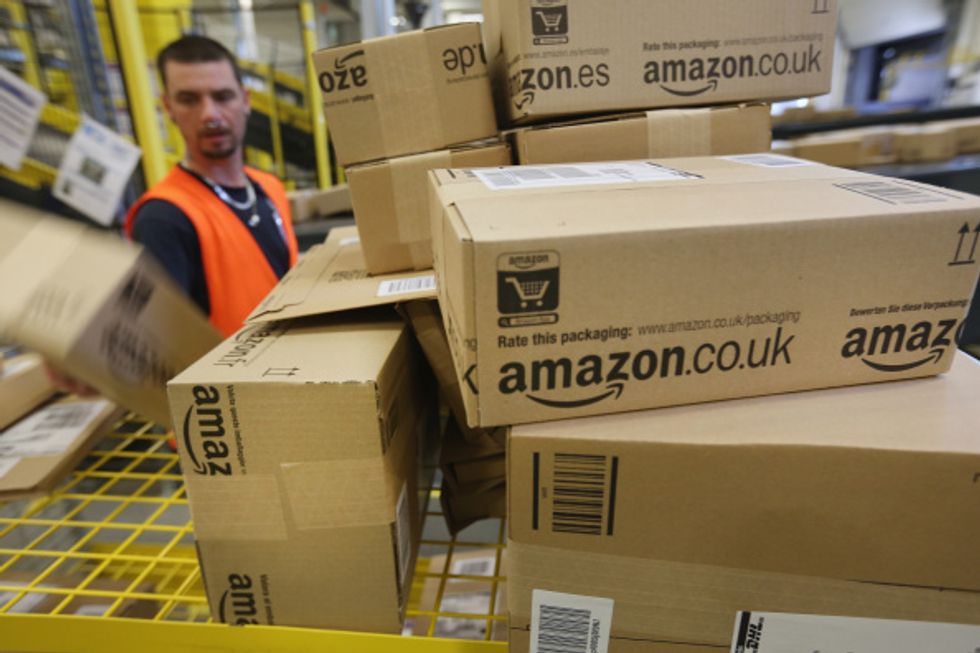 A worker prepares packages for delivery at an Amazon warehouse on September 4, 2014 in Brieselang, Germany.Getty Images
Another electronic aspect of competition may be from Amazon.com, Inc — Amazon is so popular in the current market, especially with their Prime option. Perhaps Hasbro will also expand more into e-commerce too.

Competition with other companies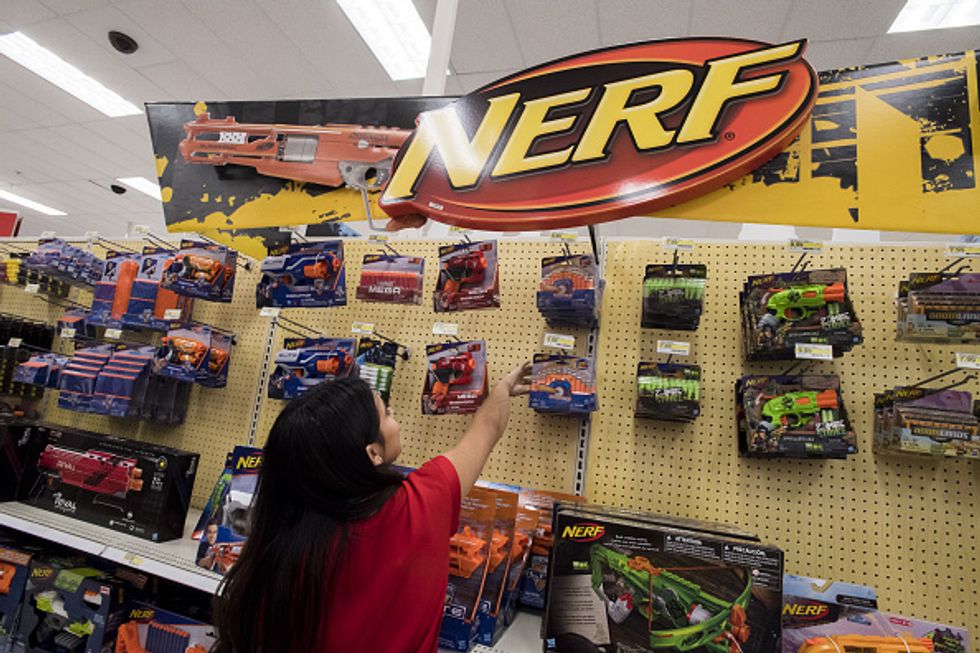 A worker arranges a shelf of Hasbro Inc. Nerf Blaster products at a Target Corp. location in Emeryville, California, U.S., on Thursday, July 20, 2017.Getty Images
Traditionally, Hasbro has made over 80 brands of toys such as My Little Pony, Nerf, Transformers, Play-Doh, Littlest Pet Shop and Monopoly, with rights to "Star Wars." If you were an '80's kid, you've probably played with these toys.

Mattel has around 20 brands such as Barbie, Hot Wheels, Fisher-Price and the coveted American Girl dolls — also brand deals with Disney, giving them an edge over the animated market.
With this takeover, Hasbro can focus on extending its influence rather than getting ahead of their competition.
Shelf space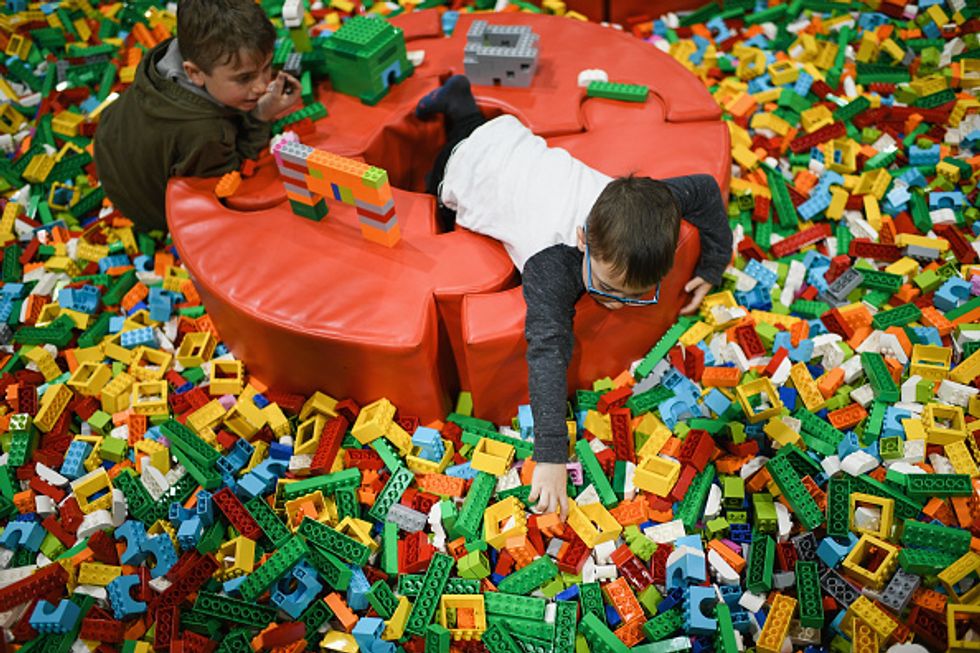 Lego enthusiasts attend the Bricklive at the Scottish Exhibition and Conference Center on July 20, 2017 in Glasgow, Scotland.Getty Images
Hasbro also probably wants more shelf space — currently, Lego controls most of the market's shelf space. If the deal goes through, Hasbro can cut out one of its major competitors for this exclusive real estate.

Why this could be disastrous
Going back to what this really is — corporate consolidation — could be dangerous to small businesses. Big companies have been demolishing small businesses — a prime example being Luxottica separating from Oakley sunglasses due to pricing. Oakley's stock prices thus collapsed.
Corporate consolidation also tricks you into thinking that small businesses are independent when they aren't really — especially with companies such as Tom's of Maine and Burt's Bees. Instead, they're both owned by large corporations.

Hasbro and Mattel's merging could thus continue this pattern of big corporations crushing small businesses.
However, this deal might not even go through — Hasbro has approached Lions Gate Entertainment, DreamWorks Animation SKG and Mattel twice before, with no success.