getty images
Americans have been facing some serious health poblems associated with desk jobs. Obesity is a serious threat and office related health problems are not being prevented. Here are some great tips to keep you from falling into the desk job slump so you can stay healthy, happy, and active… while still getting your work done!
Take a Break From Sitting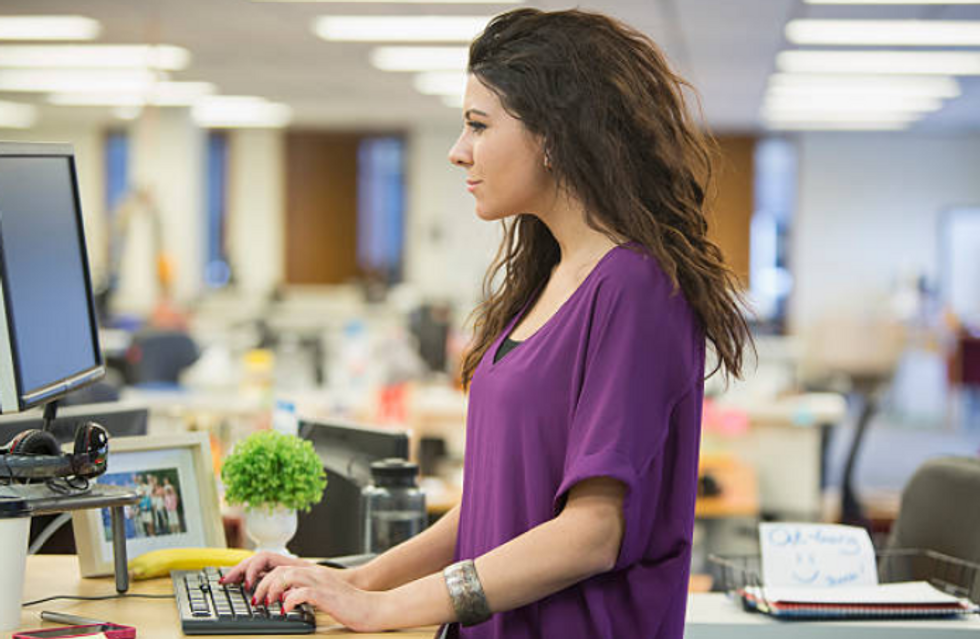 getty images
Sitting for long periods of time comes with some pretty horrible negative health effects so it's a good idea to walk around as much as you can! Results can be shown by simple changes like taking breaks from sitting at your desk to go to the restroom or to stretch your legs. A study conducted in an office found that people who fidgeted and walked around more were at a lower obesity rate!
If you are really committed then try an unconventional desk. There are standing desks which can help get you off your behind, can reduce negative health effects, and can help you stay more fit! You do need to ease into it though, you won't be able to go straight from sitting for 6 hours to standing for 6. Make the transition slowly, don't restrict yourself from sitting if you need to, and stand on a cushioned mat to help soften the new pressure on your joints.
If you can get a treadmill desk then you are able to fit in a lot more activity while working! Just walking at a slow pace instead of sitting will burn way more calories and help you stay awake and active.
Bring the Gym to your Desk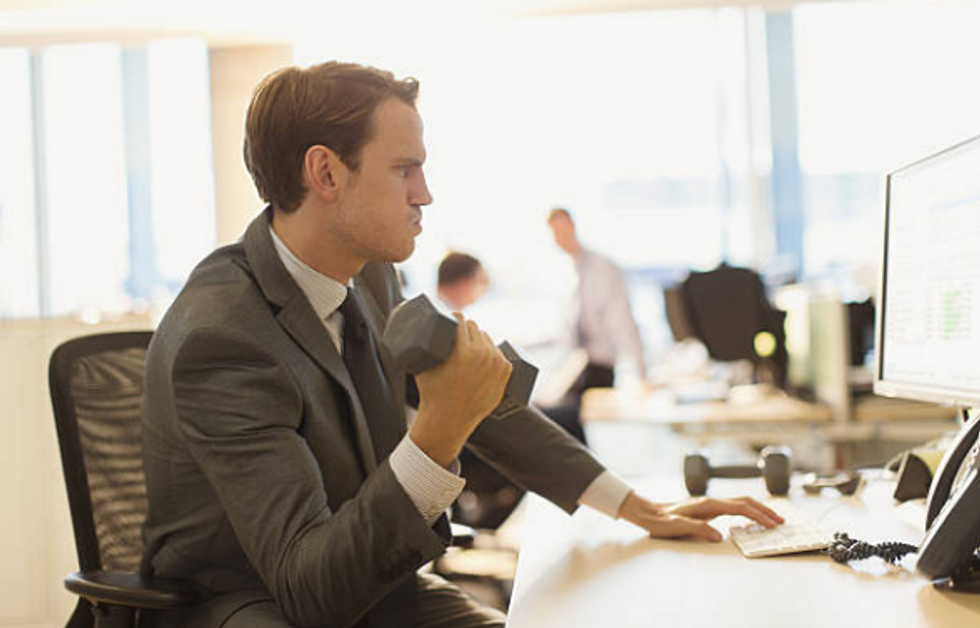 getty images
There are plenty of exercises you can do at your desk, and even some gym equipment that can fit in your cubicle. Don't take the elevator, use those stairs! Bring some weights in to get an arm workout while you're reading emails. There are plenty of exercises you can do with just a chair or no equipment at all! Do a squat, do a lunge, run in place, do a wall sit, and those are just a few options. Here are some great deskercise options!
Take a Stretch Break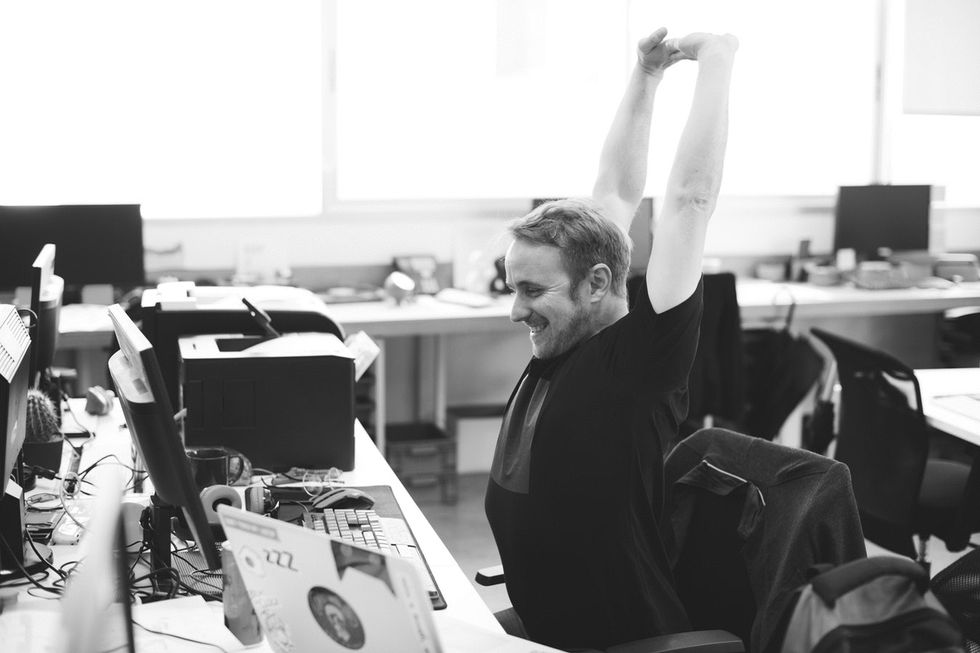 @rawpixel
Don't let your muscles get all tensed up and unhappy. Take a few minutes just to realign and relax, your body will thank you. There are so many stretches you can do in your chair without all your office mates staring. Roll your neck side to side, put your hands together behind your back and open your chest, reach down and touch your toes to stretch your legs, cross your leg over and lean forward to stretch your hips… endless possibilities.
Stay Properly Energized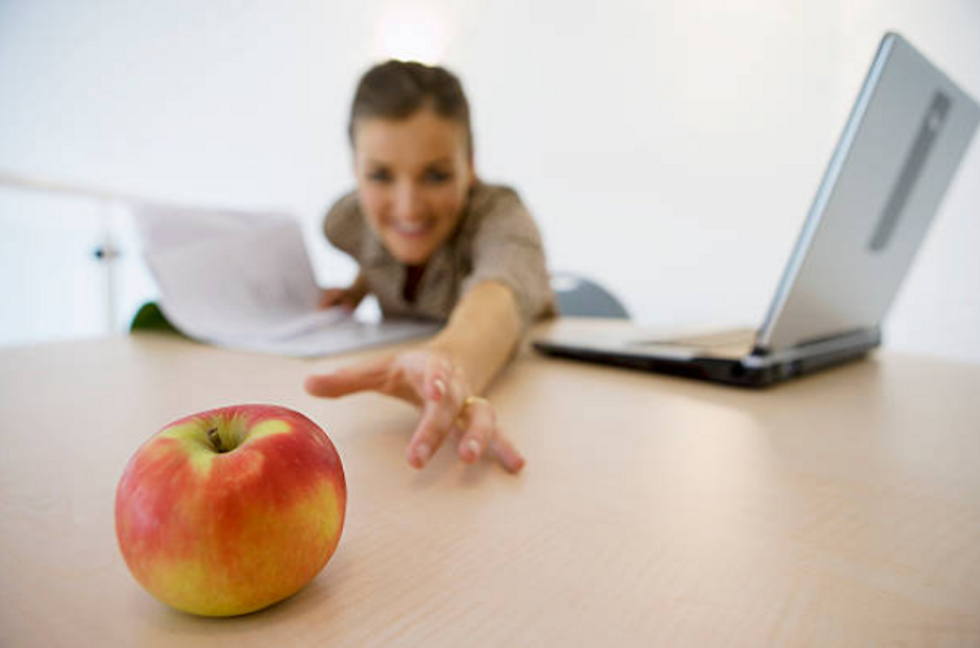 getty images
Don't skip meals, but don't over snack! Keep your metabolism healthy and happy by not skipping meals. If you miss one your body will slow down to compensate and that won't be doing you any favors. You'll also get tired faster and not be as productive at the office! If you are going to snack, don't eat mindlessly. Choose a healthy snack like fruits or nuts to give you a boost without the crazy sugar crash that accompanies junk foods. Don't eat until the bag is empty, pay attention to what you're eating and finish once you're full.