In many ways, purchasing health insurance in the age of the Affordable Care Act (ACA) is easier than ever. With an open marketplace, insurers are forced to compete with one another for your business. Still, it can be difficult to navigate a few key points: Are you choosing the right plan? When do you make your move? What is the best value for your specific health situation? Here are some resources and guidelines that are a great starting point when navigating the muddy insurance waters:
Step 1: Do your research!
The ACA allows many Americans to get subsidies for their monthly health insurance premiums. To see if you qualify for income-based savings in a Marketplace plan, use this tool:
https://www.healthcare.gov/lower-costs/
Step 2: Understand the offerings in your home state!
Each state has a unique marketplace. Here's a comprehensive guide to understanding yours: State-by-State ACA Guide. The website that produces the independent and comprehensive guide, Healthinsurance.org, has been up and running since 1994. Their website offers state-by-state information about the open-enrollment application windows, FAQ's about the qualifying events and circumstances that can help you bypass the enrollment period (for example, if you get married, lose your job, or have a child, for example), and much more.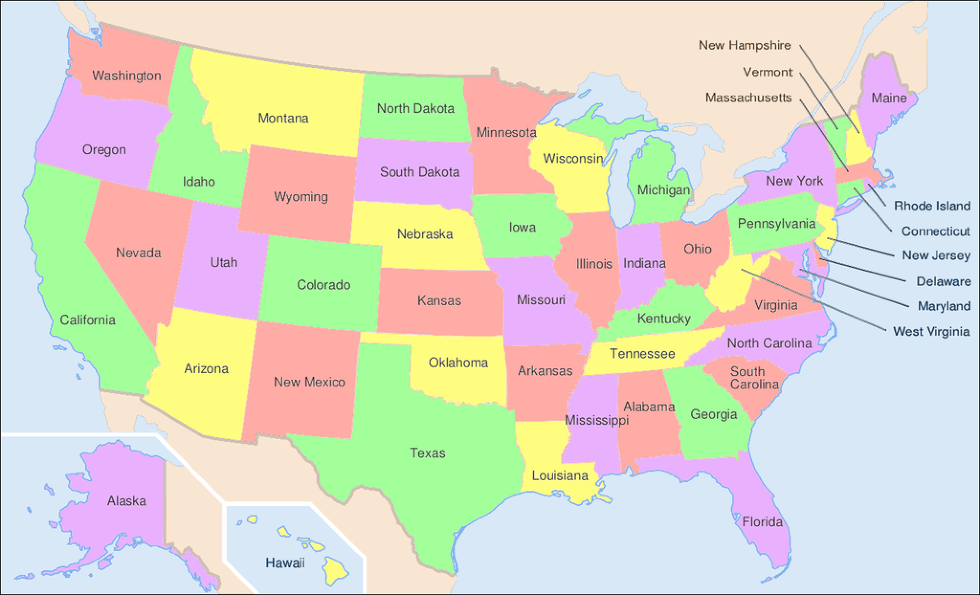 Each state has different health insurance statutes... research yours! upload.wikimedia.org
Step 3: Understand your other options
Are you a full-time employee, or is your spouse or domestic partner? It's possible that opting into a ESI (employee-sponsored) plan will be cheaper than searching on the marketplace during the open enrollment period. If you've been laid-off, it's worth checking out the Consolidated Omnibus Budget Reconciliation Act (COBRA) plan, which acts as a temporary bridge from your former employer sponsored health plan. It's important to understand that COBRA plans aren't necessarily the most affordable option, but they're great if you need quick access to the same doctors and treatments that you had under the ESI plans.
Step 4: Know the lingo
Choosing a health insurance plan can be complicated. Knowing just a few things before you compare plans can make it simpler. Here are some guidelines provided by Healthcare.gov:
The 4 "metal" categories: There are 4 categories of health insurance plans: Bronze, Silver, Gold, and Platinum. These categories show how you and your plan share costs. Plan categories have nothing to do with quality of care.
Your total costs for health care: You pay a monthly bill to your insurance company (a "premium"), even if you don't use medical services that month. You pay out-of-pocket costs, including a deductible, when you get care. It's important to think about both kinds of costs when shopping for a plan.
Plan and network types — HMO, PPO, POS, and EPO: Some plan types allow you to use almost any doctor or health care facility. Others limit your choices or charge you more if you use providers outside their network.
The HHS.gov (U.S. Department of Health and Human Services) also has a great resource that explains, state by state, who is eligible for Medicaid and the recently adopted Medicaid Expansions.
Step 5: Understand the differences between Medicare and Medicaid
HHS.gov sums it up like this:
Medicare is an insurance program. Medical bills are paid from trust funds which those covered have paid into. It serves people over 65 primarily, whatever their income; and serves younger disabled people and dialysis patients. Patients pay part of costs through deductibles for hospital and other costs. Small monthly premiums are required for non-hospital coverage. Medicare is a federal program. It is basically the same everywhere in the United States and is run by the Centers for Medicare & Medicaid Services, an agency of the federal government. For more information regarding Medicare and its components, please go to http://www.medicare.gov.
Medicaid is an assistance program. It serves low-income people of every age. Patients usually pay no part of costs for covered medical expenses. A small co-payment is sometimes required. Medicaid is a federal-state program. It varies from state to state. It is run by state and local governments within federal guidelines. To see if you qualify for your state's Medicaid (or Children's Health Insurance) program, see: https://www.healthcare.gov/medicaid-chip/eligibility/
Step 6: Know when to ask for help
There's no question that shopping for health insurance can be overwhelming. Fortunately, there are agents set up to help you across the nation that are free and knowledgeable. Use this website to type in your zip code and get access to your state's marketplace. Help is just a few clicks or a phone call away! https://localhelp.healthcare.gov/#/