The holidays should not be about fender benders in mall parking lots, going broke on overnight shipping for last minute gifts, or racking up credit card debt. They should be about not fitting into your pants come the New Year.
Just kidding. (Kind of.) In addition to eggnog and star-shaped cookies, the holidays are about love and family and togetherness. And yet Americans are planning to pull out out their wallets early and often. A Gallup poll found that US adults estimate that they will spend about $885 on gifts in 2018, with a third of respondents planning to spend at least $1,000.
Now, add a little bit more to the balance sheet, since we tend to underestimate our spending. With big, tempting sales on every page of the internet, impulse buying and overspending are hard to avoid. In December of 2017, 24 percent of millennial shoppers reported they hadn't paid off their credit card from last Christmas.
Don't let this be you. Nix the stress of overspending by sticking to these guidelines.
Set a Budget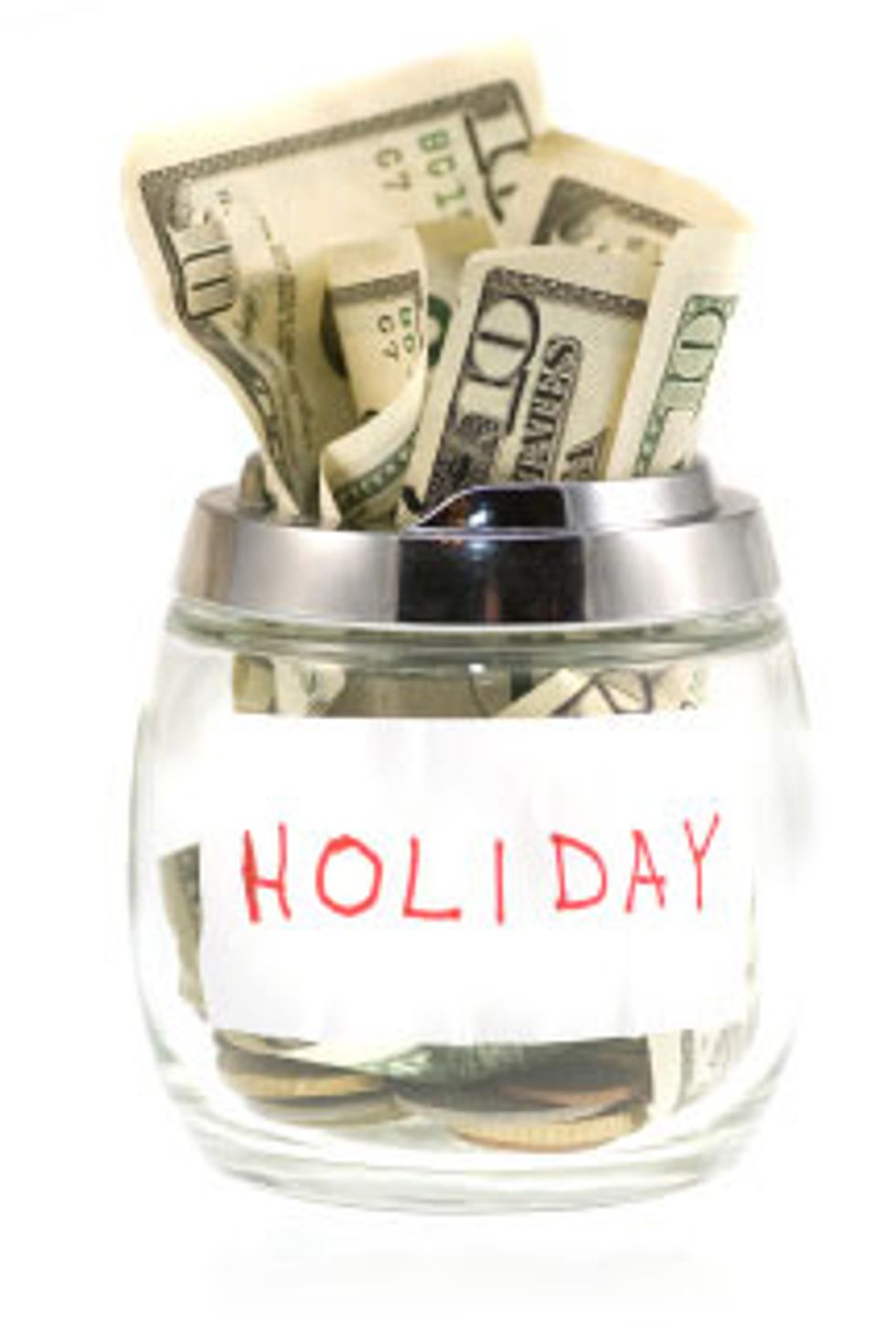 Credit Cards
Without an idea of how much to spend, the chances of overdoing it — oh, look at these cute elf-shaped pancake molds! — are as high-flying as Santa's sleigh.

Scott Hannah, head of the Credit Counseling Society, told Canada's Global News that a reasonable gift budget is around 1 percent of your gross annual income.
But if even that allowance seems too high, don't be afraid to slash it. Gifts aren't necessities, and there are a lot of variables and discrepancies that would make reasonable spending plans for families with similar incomes look very different, said Hannah.
Factor in Gift Wrapping
One budget line item you need to include is money for gift wrapping and cards. Those $5 letterpress beauties add up fast.
One of IKEA's best kept secrets is their holiday wrapping, and who doesn't love a classic and homespun brown butcher paper tied with a red yarn bow?
Make a List, Check It Twice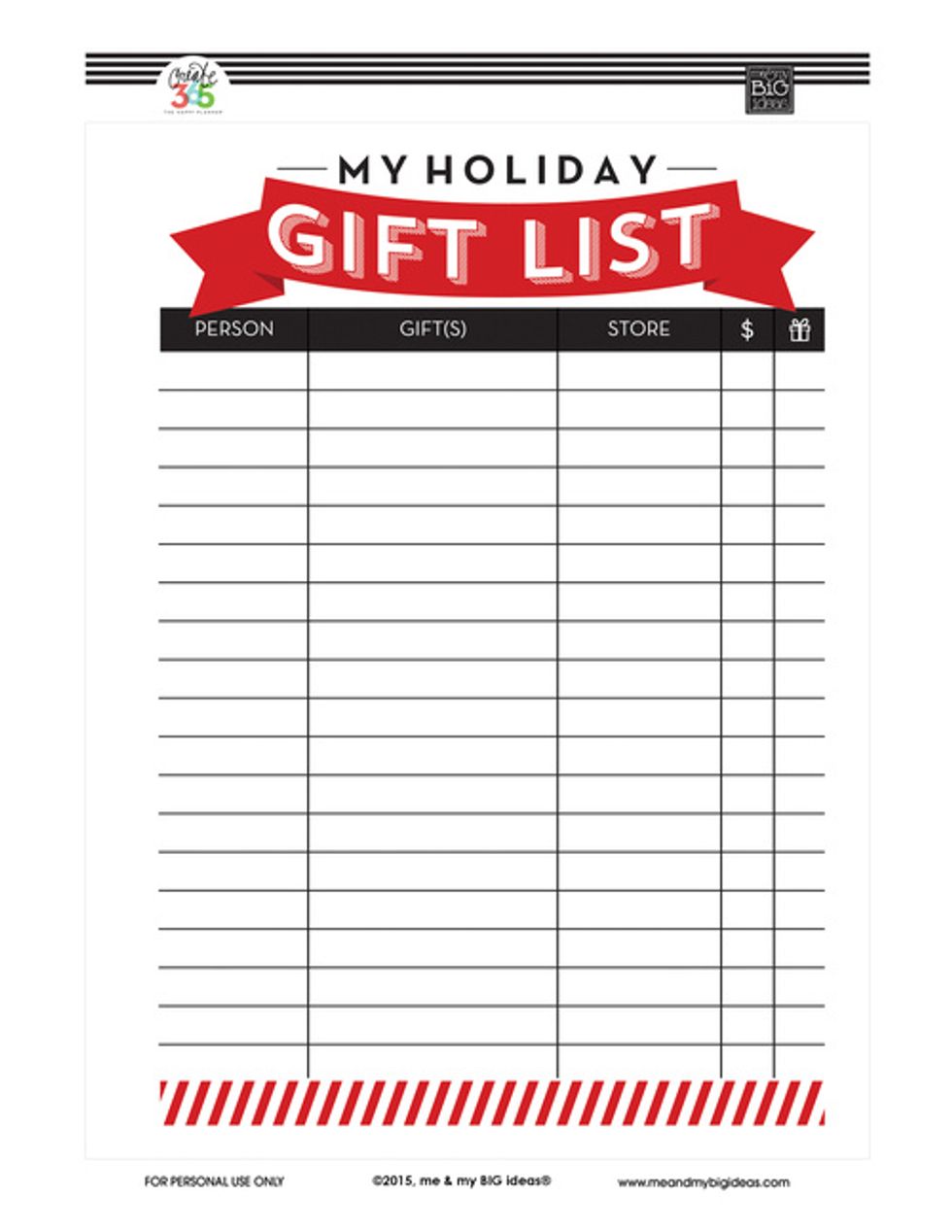 me & my BIG Ideas
Now it's time for the nitty-gritty. Make a list that includes: who you're buying for, what you're buying, and how much you'll spend in total. That last figure is key. It should equal roughly 80 percent of your budget, advises Chime, to allow yourself a little wiggle room.

Band Together
The perfect, perfect gift can sometimes come with a price tag that's beyond your budget. See if you can get a few relatives or friends to "go in" together on a special gift with you, advises The Spruce. The lucky recipient would surely rather have that Hudson Bay blanket they've always wanted instead of four smaller gifts they don't need or desire.
Nix "One for Them, One for Me"
Nearly 60 percent of people indulge in "self-gifting," reports the National Retail Federation, spending $130 on ourselves on average. When hitting stores for gift cards, 72 percent of shoppers report getting something for themselves before checkout.
Money-saving master Scott Alan Turner institutes a "no shopping on Amazon for yourself" rule for the month of December.
"If I want something, I can add it to my wishlist or ask for it for Christmas. Our rule also helps avoid splurging and spending less," he advises. "This is the season for giving, not receiving. If you find something you can't live without, add it to your wishlist. If nobody buys it for you, pick it up on sale after Christmas for yourself."
But….there are some killer sales right now and you really do need a new down coat. Far be it from us to say don't treat yourself, but be aware of how much you're spending on yourself when shopping.
Shop Early

Start now! Make your list! Make your budget! You'll be able to get the gifts you want sent via slower and cheaper shipping. The real crusher is when you wait and have no choice but to cough up for overnight shipping costs.

Don't Lose Your Mind With the Kids
Try Scott Alan Turner's rule of four: Give one want, one need, one wear, and one read.
Remember Your Intentions
Forgive the corny sentiment, but 'tis the season: it really is the thought that counts. This time of year, remember what's truly behind each gift you give.
"The point is to acknowledge that other person's positive influence on your life," writes Jennifer Wolf at The Spruce. "'Thank you' and 'I love you' are phrases that don't come with dollar amounts attached to them, so don't allow yourself to be caught up in spending more on holiday gifts than you can afford."